Dodgers outfield is crowded . . . but in a good way?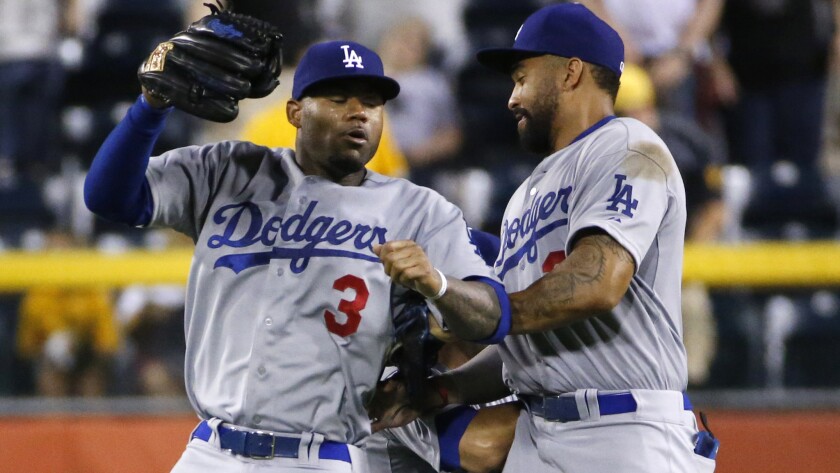 The trade the Dodgers completed Monday didn't involved Matt Kemp or any of their other high-priced outfielders.
Darwin Barney, a former Gold Glove Award winner, was acquired from the Chicago Cubs to back up at second base, third base and shortstop. The Dodgers will send the Cubs a player to be named or cash.
The Dodgers will continue to listen to offers for the likes of Kemp, Carl Crawford and Andre Ethier up to the nonwaiver trade deadline at 1 p.m. Thursday. But even in the likely case they can't trade any of them, there figures to be a measure of stability in the outfield for the first time this season.
When the Dodgers open a three-game home series against the Atlanta Braves on Tuesday, Yasiel Puig is expected to be in center field, flanked by Kemp in right and Crawford in left. That's how the Dodgers lined up during their three-game weekend sweep of the San Francisco Giants and that's probably how they will line up on most days for the foreseeable future.
Based on what Manager Don Mattingly has said, it sounds as if right-handed-hitting Scott Van Slyke will replace the left-handed-hitting Crawford when the Dodgers are facing a left-handed pitcher.
"Scott's going to play against lefties," Mattingly said. "You can pretty much count on that. If there's a lefty out there, you're going to see him in the lineup somewhere."
Van Slyke could also start in place of Adrian Gonzalez at first base.
Asked where that left Ethier, Mattingly replied, "To play all over."
As a reserve, most likely.
Mattingly made a case that Ethier, who is drawing a $15.5-million salary this season, was well-suited to be an off-the-bench player. Ethier is batting .248 with four home runs and 37 runs batted in in 88 games.
"I think Andre's been good coming off the bench," Mattingly said.
Mattingly said that of the team's five outfielders, Ethier required the fewest at-bats to remain sharp at the plate.
But the Dodgers will play on 20 consecutive days starting Tuesday. Considering Kemp and Crawford's lengthy medical histories, Mattingly probably will use Ethier to give each a day or two off.
Kemp is batting .277 with eight homers and 40 RBIs, Crawford .242 with 11 steals.
Regardless of how playing time is divided, Mattingly said he doesn't anticipate problems from Ethier or anyone else.
"At this point, you're not going to get in the way of what the team's trying to accomplish," Mattingly said.
Kemp wants to return to center field but he is flourishing in right, which is where he played when he first established himself as an everyday major league player. Kemp has not only looked more comfortable defensively than he did in center or left, he is also starting to hit.
Kemp has started the team's last six games in right field; in those games, he has batted .409 (nine for 22) with a double, a triple, five walks and four runs batted in.
Of course, this outfield alignment doesn't work if Puig can't play center.
The early reviews were overwhelmingly positive.
"If Puig could stay focused, he's our best center fielder," pitcher Zack Greinke said.
That was evident Sunday, when Puig made an over-the-shoulder catch at the warning track in a 4-3 victory over the Giants. It's unlikely any other player on the team could have made that play.
Puig has also shown some restraint. In the series opener against the Giants on Friday, he allowed Crawford to call him off a ball that was between them.
"We've been happy with everything," Mattingly said.
Introducing Barney
Barney, 28, was designated for assignment last week by the Cubs. A Gold Glove second baseman in 2012, he is batting .230 this season.
Barney is earning $2.3 million this season — the Cubs will cover a portion of his remaining salary — and will be eligible for salary arbitration for the next two years.
Up next
Josh Beckett (6-5, 2.52 ERA) will face the Atlanta Braves and Aaron Harang (9-6, 3.31) at Dodger Stadium on Tuesday at 7 p.m. On the air: TV: SportsNet LA; Radio: 570.
Twitter: @dylanohernandez
---
Get our Dodgers Dugout newsletter for insights, news and much more.
You may occasionally receive promotional content from the Los Angeles Times.