Dodgers escape with 7-3 win over Padres in extra-inning affair
Reporting from San Diego —
Eyes locked on the ground, Kenley Jansen trudged toward the Dodgers dugout. Behind him his teammates trickled off the field, a chance at victory thwarted, forced to play another extra-innings affair after Jansen's second blown save of the 2018 season. Jansen untucked his chin from his chest for a moment to scream at his glove.
It wasn't the glove, of course, feeding belt-high cutters at lukewarm speeds to the Padres in Tuesday's ninth inning. It was Jansen, a cornerstone of the Dodgers bullpen now acting like a one-man underbelly, forcing the Dodgers to play into the 12th inning of an eventual 7-3 victory.
"Right now," manager Dave Roberts said, "he's not right."
The concern extends beyond Jansen's intermittent velocity to touch on both his troubles with location and the movement of his cutter. Some of his pitches on Tuesday were "straight as a string," Roberts said. His earned-run average is 8.10. His reliability might be the biggest question mark on a team with a losing record (7-10), a group who still escaped with a win after Yasmani Grandal and Kyle Farmer each collected two-run doubles in the 12th inning.
On Tuesday, the velocity on Jansen's cutter was passable, at least after he served up a homer on a 90-mph pitch for San Diego first baseman Eric Hosmer. His command was wretched, a procession of pitches hovering over the plate or humming at hitter's waists. A leaping grab by Chris Taylor saved Jansen from giving up an extra-base hit to third baseman Christian Villanueva. But Jansen walked a batter, allowed a stolen base, balked and then let veteran Chase Headley tie the game with a double.
Little has gone right for Jansen this season. He lost in his first appearance and blew a save in his second. The drop in velocity elicited alarm. Yet before Tuesday, Jansen had begun a streak of four scoreless outings. They were not always cleanly and his cutter still hovered around 89 mph on occasion. But he was getting outs. He failed at that basic task against the Padres.
"People can criticize you," Jansen said. "Everyone can criticize you. That's OK. They deserve to criticize me. But for me, I just have to be strong in my mind and know who I am. I've done this for a long time now. I've just got to have that confidence when I go out there and continue to battle."
Jansen was unsure how to explain his performance. He knew his command was unacceptable. He has dealt with mechanical glitches since injuring his hamstring during spring training. He declined to speculate on what needed to change. He expected to find more answers after meeting with pitching coach Rick Honeycutt on Wednesday.
"I'm going to figure it out," Jansen said. "I know who I am. I know deep down inside who I am."
Jansen spoiled what might have been a tidy victory. Matt Kemp powered the offense with a two-run home run in the first inning and a sacrifice fly in the fifth. He stayed hot after homering the previous night at Petco Park, where he received hearty jeers in connection to his brief time as a Padre.
Alex Wood struck out seven and yielded two hits in 5 1/3 innings. He hit a speed bump in the sixth. After a leadoff double and a subsequent walk, Wood threw away a double-play ball. The error led to a run for San Diego and expedited Wood's departure from the game. The duo of Tony Cingrani and J.T. Chargois stymied San Diego's momentum to end the inning and protect Wood's line. Pedro Baez struck out all four batters he faced.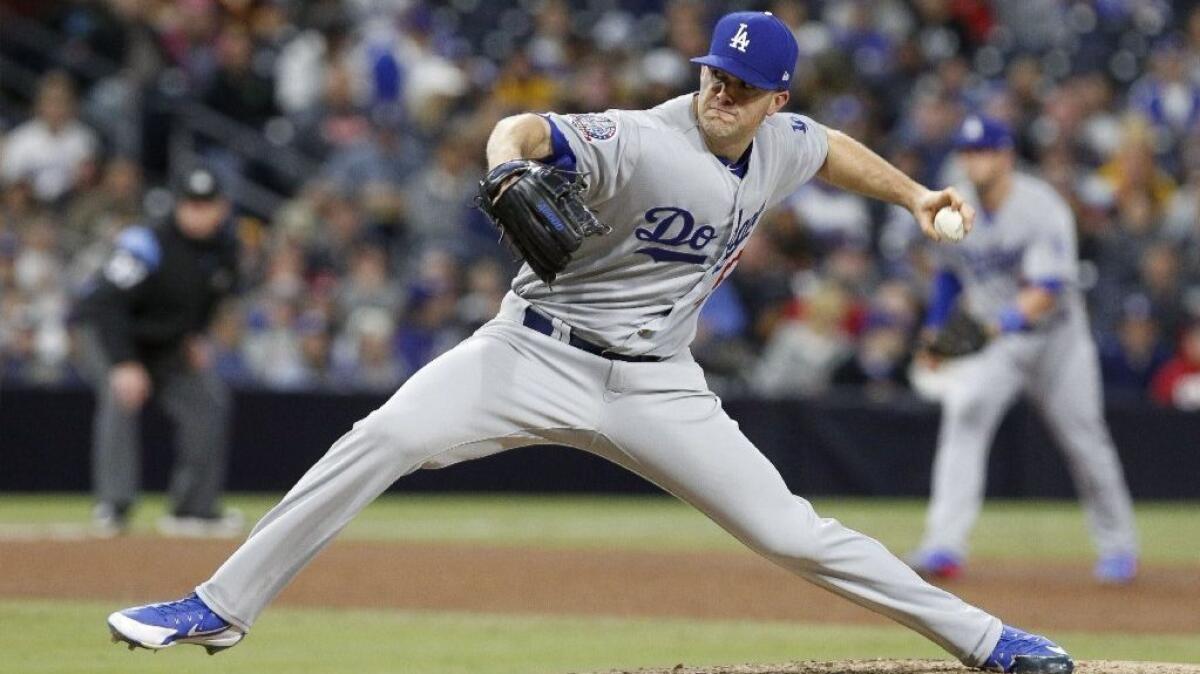 A small bit of history occurred in the second. Mitchell pumped a 1-0 cutter on the inner half of the plate toward Dodgers veteran Chase Utley. The ball connected with Utley's elbow and bounced away. Utley pointed toward it as he loped to first base. He had just been hit by a pitch for the 200th time in his career, solidifying his spot as eighth all-time in that category. No active player has been hit more often.
The bat boy carried the keepsake toward the Dodgers dugout. He handed it to bench coach Bob Geren, who pocketed it.
Wood rolled through San Diego's lineup in the first three innings. He yielded a single and nothing more. He struck out the side in the first and repeated the feat in the fourth. He spotted his changeup and curveball for strikes while using his fastball to put away batters.
In the sixth, Wood confronted San Diego's first real bit of resistance. With two runners aboard, Wood induced a potential double-play ball from shortstop Freddy Galvin. Wood spun to throw to second. His aim was not true. The ball sailed behind Corey Seager. Wood slammed his glove on the mound. A run scored. Roberts left his dugout to douse the fire with his bullpen. Wood screamed as he disappeared from sight en route to the clubhouse.
"Just a play you have to make," Wood said. "It's a little more difficult when you have to go east to west, and change the angle at the bag. I just let it run away from Corey. It's something that has to be made."
Cingrani and Chargois defused the situation. Baez racked up some strikeouts. In the ninth, Roberts called upon Jansen.
From the start, Jansen looked imprecise. Hosmer clobbered a flat fastball at his waist for a homer. Two batters later, Villanueva did the same, with Taylor intervening to protect Jansen. The location of those two pitches irritated Jansen.
"That's not me," he said.
In 2017, Jansen walked seven batters in 65 appearances. Tuesday was his seventh outing in 2018, and he issued his third walk. He missed low and high, inside and outs, on a five-pitch free pass for outfielder Franchy Cordero. Jansen has always struggled to hold runners, and Cordero soon swiped second. He took third on a balk.
Facing Headley, Jansen picked up two quick strikes. He could not finish the at-bat. His cutter touched 93 mph a couple times, but Headley managed to hold off as three pitches zoomed above the zone. A 3-2 cutter spun away from Headley, in a location that pleased both Roberts and Jansen. Headley still stroked a game-tying double.
"It just boils down to he is not executing the way he typically does," Roberts said. "We know that he's a strike thrower. But the execution of what his cut fastball does just hasn't been there."
The game shuffled across three more innings. Grandal and Farmer snapped the tie in the 12th. Josh Fields secured the save. Jansen was not on the field for the post-game handshake line. He was already in the weight room, toiling away at his anger.
"I'm really disappointed about today," Jansen said. "I'm not happy about what our players went through, the extra innings."
It was not as harrowing as Jansen's blown save in Arizona on April 2, when the Dodgers played into the 15th inning. But Roberts still needed to use three more relief pitchers to complete a game he had expected his closer to finish. Roberts sounded exhausted afterward. An unsteady closer makes life harrowing.
"We have to get Kenley right," Roberts said. "We're going to need him to accomplish what we want to accomplish. The main thing is he needs to keep his confidence. No one works harder. If the same situation happens tomorrow, we're going to run him back out there."
Follow Andy McCullough on Twitter @McCulloughTimes
Get our Dodgers Dugout newsletter for insights, news and much more.
You may occasionally receive promotional content from the Los Angeles Times.