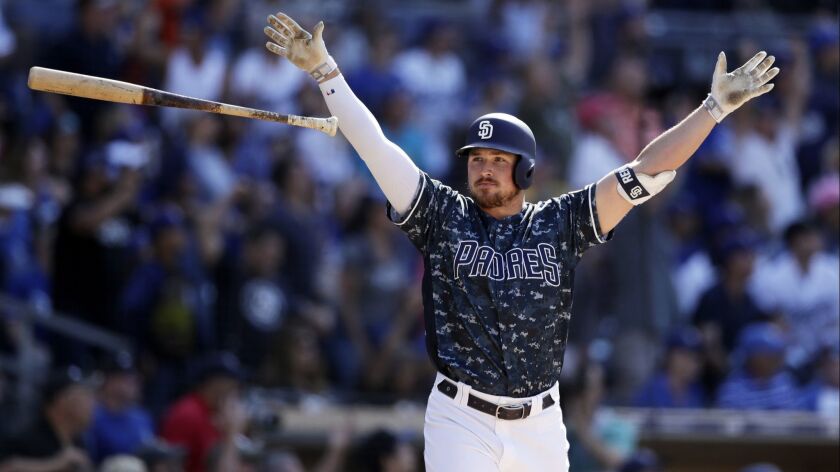 Reporting from SAN DIEGO —
Kenley Jansen's downfall in the ninth inning of the Dodgers' 8-5 loss at Petco Park on Sunday, completed by Hunter Renfroe's pinch-hit, walk-off grand slam, began in ordinary fashion, with a leadoff single by Eric Hosmer through the left side. Then things got weird.
Manuel Margot placed a bunt down the third-base line. Instead of attempting a barehanded play and tough throw across his body, Dodgers third baseman Justin Turner let the ball go, hoping it would trickle foul. It didn't. Looking to move the runners, Wil Myers dropped down another bunt, which bounced between Jansen and Turner. Neither pursued it and the ball rolled unimpeded until shortstop Corey Seager, who had been shaded toward second, ran over to field it. Jansen called it a miscommunication.
"It wasn't a great bunt," Turner said. "But my responsibility there is to make sure we get an out."
Two bunt singles and, suddenly, the bases were loaded.
"That's something that really shouldn't happen in that situation," manager Dave Roberts said. "I think J.T. thought that Kenley could get it, Kenley didn't really make an effort right there. ... It doesn't really matter whose ball it was. We didn't make the play."
Jansen initially rebounded from the snafu. He struck out Greg Garcia and got Francisco Mejia to pop out, scratching within one out of an improbable save. Roberts thought Jansen would wiggle free. So did Jansen.
Sign up for our Dodgers newsletter »
"That's the tough part," Jansen said, "because I saw myself, I visualized myself out of it."
His final obstacle was Renfroe, who entered the at-bat 0 for 6 with five strikeouts in his career against Jansen. Renfroe cracked his second pitch, a 93-mph cutter up in the zone, 429 feet.
The abrupt ending prevented the Dodgers (22-14) from sweeping their regional foes with three come-from-behind victories. They settled for two wins in a wild series with all three games decided in the ninth inning.
"They're all tough, especially the way we played," Roberts said. "I think our guys were fighting hard. You got to give credit to the Padres. They didn't relent."
Franmil Reyes emphatically opened the scoring for the Padres (19-16) in the first inning, banging a fastball 458 feet. Kenta Maeda surrendered a two-out RBI double to Mejia in the second inning and the Padres doubled the margin in the fourth to afford themselves an early lead for the third straight day. Maeda limited the damage to those four runs. The right-hander retired the final eight batters he faced before exiting after throwing 84 pitches in six innings. But the early troubles left the Dodgers to claw back from another deficit.
Frustration colored Max Muncy's first two plate appearances. In the first inning, he grounded out with two runners on base. In the third, he flied out with the bases loaded. Both outs extinguished the scoring threats. They were wasted chances, the kind teams recall with regret.
Muncy was given a third opportunitywith two on and two out in the fifth inning. It took him one pitch. Nick Margevicius offered an 88-mph fastball over the plate and Muncy hammered it for his second three-run home run off a left-hander in less than 24 hours.
Muncy sparked the second half of the comeback in the eighth inning. After falling behind 0-2, the slugger worked a walk against left-hander Robbie Erlin. Chris Taylor then fell behind 1-2 before jumping on a changeup for a two-run home run and a 5-4 Dodgers lead.
The blast left Los Angeles within six outs of another gratifying win without Cody Bellinger in the lineup for the second straight game. Pedro Baez supplied the first three in order in the eighth. Jansen was summoned to pitch the ninth for the third consecutive day. His second pitch was smacked for a single. His 20th pitch — and 55th of the series — landed in the second deck of the brick Western Metal Supply Co. building overlooking left field. It was the fourth home run he's allowed in 17 appearances.
"I'm not going to beat myself [up],"Jansen said. "I got beat on my best pitch, a pitch I wanted to throw in that situation -- up in the zone. I just got to let it out. It sucks. I'll try to not think about this one when I'm driving home, just let it out here and be ready next time."
Twitter: @jorgecastillo
---