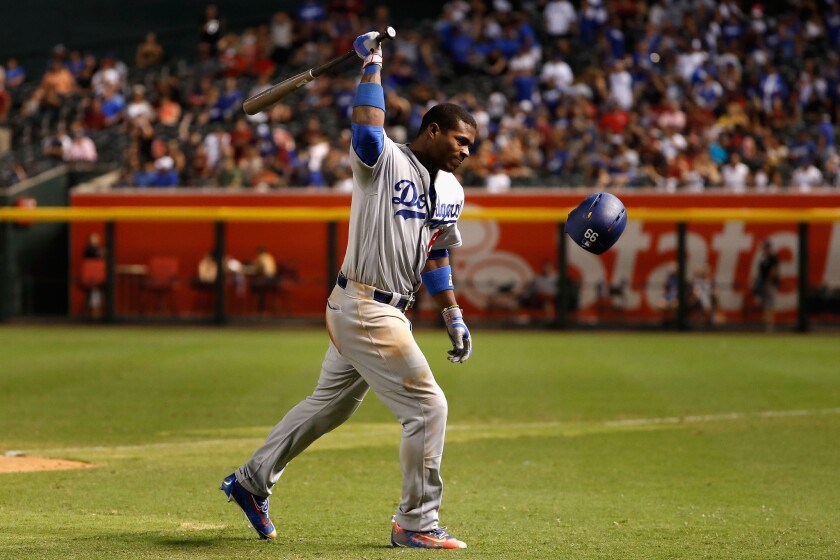 Yasiel Puig did not travel with the Dodgers on Monday's flight to Denver, casting doubt about his future within the organization and overshadowing a series of additions to the roster at the trade deadline.
Multiple people with knowledge of the situation confirmed the absence of Puig on the team plane during the afternoon. The people requested anonymity because the organization had no comment on the situation.
Fox Sports reported that Puig "stormed off" when he was informed at Dodger Stadium that he would be traded or optioned to the minor leagues. The Dodgers acquired Oakland outfielder Josh Reddick and starting pitcher Rich Hill in exchange for a trio of pitching prospects on Monday.
Reddick primarily plays right field. His arrival figured to cut into Puig's playing time. But the Dodgers may have been considering sending him to the minors so he could work on his swing, as his on-base-plus-slugging percentage resides at a career-worst .706.
The Dodgers had little to say about the matter. On a conference call to discuss the trades, general manager Farhan Zaidi chuckled at a question about Puig's whereabouts.
"I'm not going to comment on anything involving the travel party today," Zaidi said.
Andrew Friedman, the president of baseball operations, declined to comment as he indicated the team would discuss the situation on Tuesday. Adam Katz, one of Puig's representatives, also declined to talk about his client.
The silence added an air of uncertainty to a day that should have focused on the team's additions. Reddick represents an upgrade over Puig at the plate, and possesses a comparable throwing arm. A free agent after this season, Reddick has a .955 OPS against right-handed pitchers.
The Dodgers could opt to platoon Reddick with Puig. But their plans for Puig remain as unclear as his whereabouts.
"I'm not going to comment on that," Zaidi said. "We have an off day today. Anything further, we'll address and comment on tomorrow.
"As far as our outfield picture, this is a team that is not unfamiliar to having healthy depth in the outfield. We're just going to take it day by day, and put out the lineup that gives us the best chance to win."
andy.mccullough@latimes.com
Twitter: @McCulloughTimes
---