Dodgers send Yasiel Puig, Matt Kemp and Alex Wood to Cincinnati in blockbuster trade
The Dodgers completed a blockbuster trade with the Cincinnati Reds on Friday afternoon, sending outfielders Yasiel Puig and Matt Kemp, left-hander Alex Wood, catcher Kyle Farmer, and $7 million to the Reds for right-hander Homer Bailey, minor-league infielder Jeter Downs and minor-league right-hander Josiah Gray.
The Dodgers will immediately release Bailey, a veteran starter slated to make $23 million in 2019, which will leave the two-time-defending National League champions without a major leaguer in exchange for three veterans who played significant roles for the club over the years. They had other motives. Trading from their surpluses in the outfield and starting rotation to obtain assets and more flexibility was a priority for the Dodgers this offseason. Friday's swap supplied both.
The deal is a substantial money-shedding transaction, one that grants the Dodgers about $14 million more they can allocate towards top-flight talent either in free agency or the trade market without having to blow past baseball's $206-million competitive-balance tax (CBT) threshold.
While Bailey will still count as $17.5 million against the tax line, MLBTradeRumors.com projects Puig will make $11.3 million in arbitration for 2019 and Wood will make $9 million. Kemp was on the books for $20 million against the CBT threshold next season.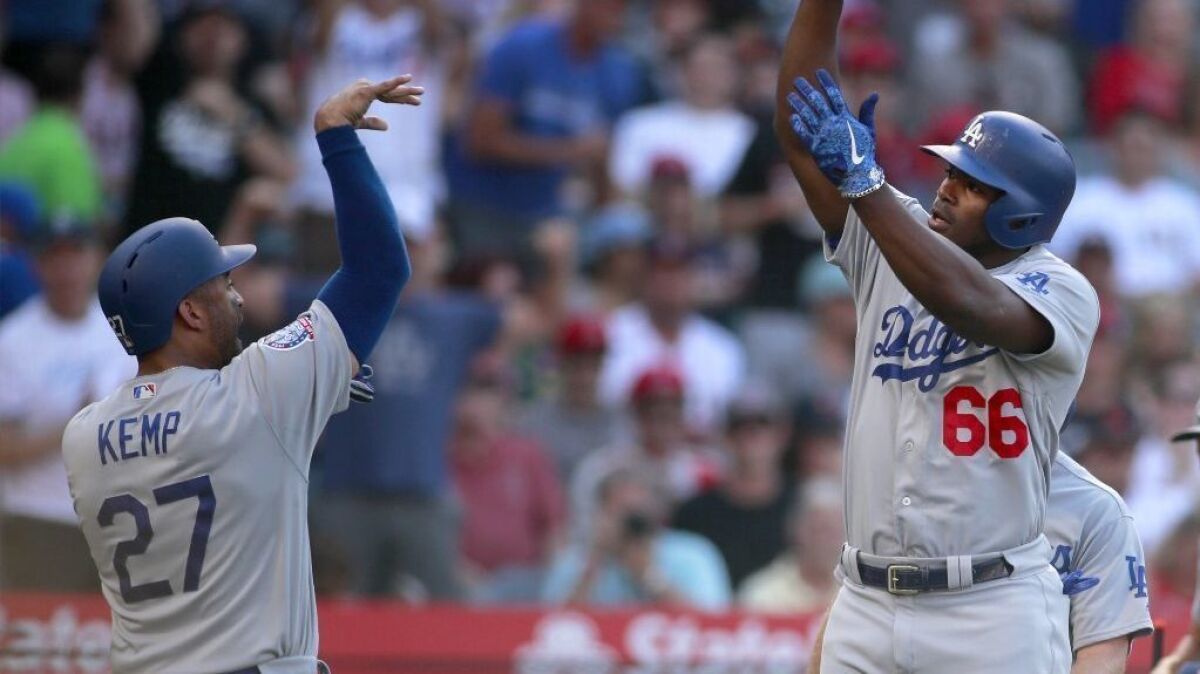 "We are in position right now where we still feel like we have a really good team, but feel like we want to continue to add to it before we get to spring training," Andrew Friedman, the Dodgers' president of baseball operations, said in a conference call on Friday. "What exactly that looks like, I'm not sure yet."
Trading Kemp and Puig also clears some of their logjam in the outfield – and perhaps creates a spot for Bryce Harper, this winter's prized free-agent – while the Dodgers' surplus of starting pitchers made Wood expendable. Puig, Kemp and Wood are all free agents after next season.
"If you look at our rotation and outfield four hours ago, it was a situation that I think was not a functional roster with the depth that we had all concentrated at the major-league level," Friedman said. "We had a lot of different conversations involving a lot of different guys, and this was the deal we feel made the most sense. It does add some flexibility, which is helpful."
Finally, the move adds a couple of prospects to a farm system that has needed some replenishing after significant pieces were needed to acquire Yu Darvish and Manny Machado for their World Series pushes each of the last two seasons.
Talent evaluators said they believe Downs, a first-round pick in 2017, has star potential in the middle infield. Downs, 20, batted .257 with 13 home runs and a .753 on-base-plus-slugging percentage for the Reds' Class A affiliate in his first full professional season. Gray, a right-hander, posted a 2.58 ERA in 12 starts for the Reds' rookie-league affiliate after being drafted in the second round in June. Friedman said the Dodgers liked Gray, who turned 21 on Friday, before the draft.
For the flexibility and prospects, the Dodgers surrendered two of the franchise's most popular players in recent history – Kemp and Puig – and their high price tags.
The polarizing Puig's tenure in Los Angeles ends after six eventful seasons. The right fielder, who signed a seven-year contract worth $42 million after fleeing Cuba in 2012, led the Dodgers in home runs (108) and extra-base hits (256) during the stretch while providing elite defense and excitement with his rambunctious style. He flipped bats and licked them. He kissed coaches and ignited crowds with his exuberance.
But the 28-year-old Puig also occasionally maddened teammates, coaches, and opponents alike, and had been on the trading block in recent years. In August 2016, he was demoted to triple-A Oklahoma City, banished for a combination of poor production and troublesome behavior. He returned a month later and stayed, though he never replicated his production from his rookie season, when he stormed into the majors with a .925 OPS in 104 games. Last season, Puig, whose drastic reverse splits landed him in a platoon, batted .267 with 23 home runs and an .820 OPS during the regular season.
Asked how he would characterize Puig's time in Los Angeles, Friedman chuckled.
"That is," he said, "a very deep question."
Drafted by the Dodgers in 2003, Kemp became an MVP candidate in Los Angeles before the Dodgers signed him to an eight-year, $160-million contract extension after the 2011 season. But the Dodgers have now traded Kemp, 34, twice since Friedman took over in 2014. He's on the move again one year after the Dodgers reacquired him in another payroll-clearing deal with the Atlanta Braves. Los Angeles expected to offload his hefty contract before the season, but Kemp stuck around and enjoyed a resurgent All-Star first half before his numbers plunged and he became a platoon player after the break. He finished 2018 with 21 home runs and an .818 OPS.
Wood, 27, is a season removed from an All-Star campaign, but was excess for a club rich in starting pitching depth. After compiling a 2.72 ERA in 2017, the left-hander ditched the windup and didn't enjoy as much success pitching exclusively out of the stretch. He was a reliever by the end of the regular season and finished the campaign with a 3.68 ERA in 151 2/3 innings before surrendering four runs in nine playoff relief outings. The Dodgers had said Wood planned on reincorporating the windup. He'll now do that in Ohio for a team seeking its first playoff appearance since 2013.
Twitter: @jorgecastillo
Get our Dodgers Dugout newsletter for insights, news and much more.
You may occasionally receive promotional content from the Los Angeles Times.