Dodgers demote reliever Pedro Baez to minors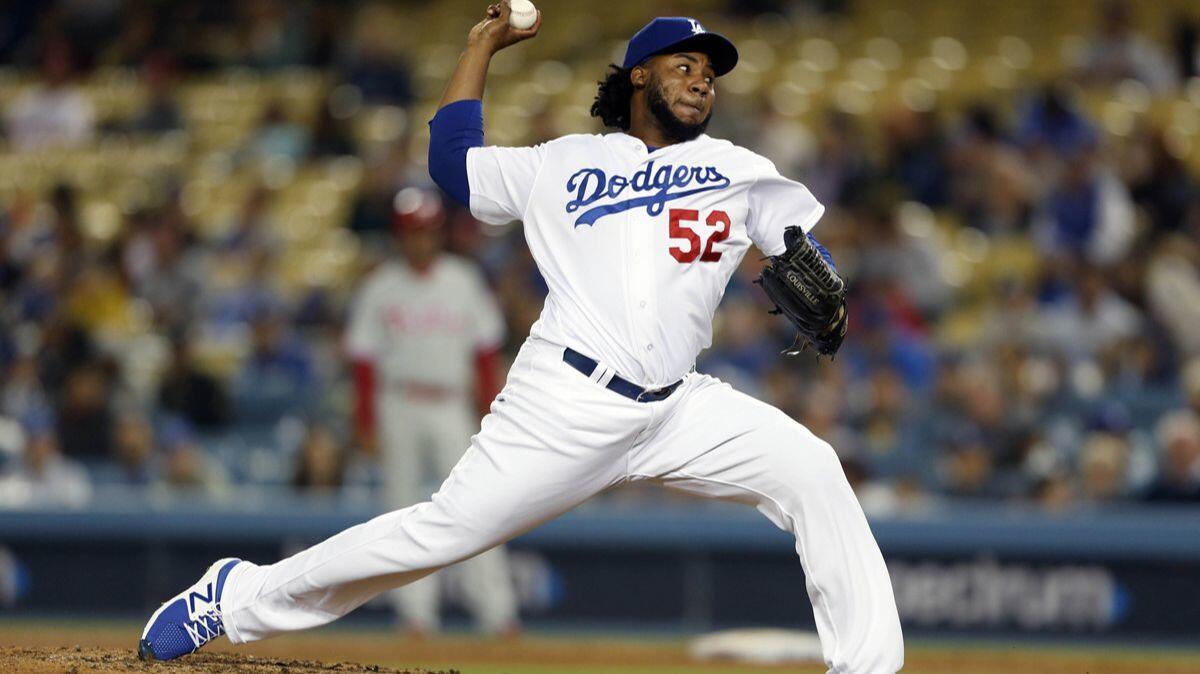 Reporting from pittsburgh —
A mainstay in the Dodgers bullpen for the last four seasons, Pedro Baez was demoted to the minor leagues Wednesday as the team opened a spot on the roster for rookie starting pitcher Caleb Ferguson.
His time away from the team may last only 24 hours, after reliever Tony Cingrani exited Wednesday's game because of discomfort in his left shoulder. Cingrani was examined after the Dodgers' 11-9 loss to Pittsburgh but wouldn't reveal the diagnosis, saying only he "felt pain" after facing one batter.
If Cingrani goes on the disabled list, the Dodgers can recall Baez without forcing him to spend the necessary 10 days of his option with triple-A Oklahoma City. Baez had expressed frustration with being demoted in a conversation with manager Dave Roberts.
Baez took the news "not well," Roberts said before Ferguson gave up four runs in his big league debut at PNC Park. "He took it like a pro. But understandably very upset by it."
Baez, a 30-year-old middle reliever, has become a target for criticism from fans to a degree that ignores his relative competence (3.07 career earned-run average) and general irrelevance to the Dodgers' long-term goals (he did not pitch in the 2017 playoffs). A series of high-profile stumbles, exemplified by his 6.52 ERA in the postseason, solidified Baez's status as a lightning rod. Roberts was irritated in 2017 when Baez was booed at Dodger Stadium.
Baez had been having a typical season in 2018. He struck out 11.4 batters per nine innings and walked 5.4 batters. In 15 appearances since May 1, his ERA is 2.30, even while opposing hitters posted a .798 on-base-plus-slugging percentage against him.
The Dodgers chose to option Baez instead of Yimi Garcia, who had a 4.35 ERA through Tuesday. The team decided to keep Daniel Hudson, who has a 5.40 ERA, rather than designate him for assignment. Because Baez has minor league options, he lost his spot on the roster.
"I believe in the player," Roberts said. "He does everything I've asked of him. It's something that we have to do which is best for our ballclub here. Pedro's done everything I've asked of him."
Turner returns to the lineup
After receiving a day off Tuesday because of soreness in his previously fractured left wrist, third baseman Justin Turner rejoined the lineup Wednesday. Turner indicated he still did not feel 100% after sitting out the first 40 games.
"Everyone I've talked to who's done it before said there's probably going to be a few months of dealing with crap," Turner said. "Really, it's been almost three months [since the injury] and yesterday was the first time it's really flared up. You can't be too disappointed about it, but I think there's going to be good days and bad days until it completely goes away."
Turner hit .250 in his first 18 games back from the disabled list. He expressed satisfaction with the quality of his at-bats, but stressed he was not pleased with the results.
"I don't think there's a guy in here right now who would say they're happy with their results," Turner said. "With the exception of maybe [Matt] Kemp."
Twitter: @McCulloughTimes
Get our Dodgers Dugout newsletter for insights, news and much more.
You may occasionally receive promotional content from the Los Angeles Times.