Dodgers' last roster spot earmarked for reliever who can go multiple innings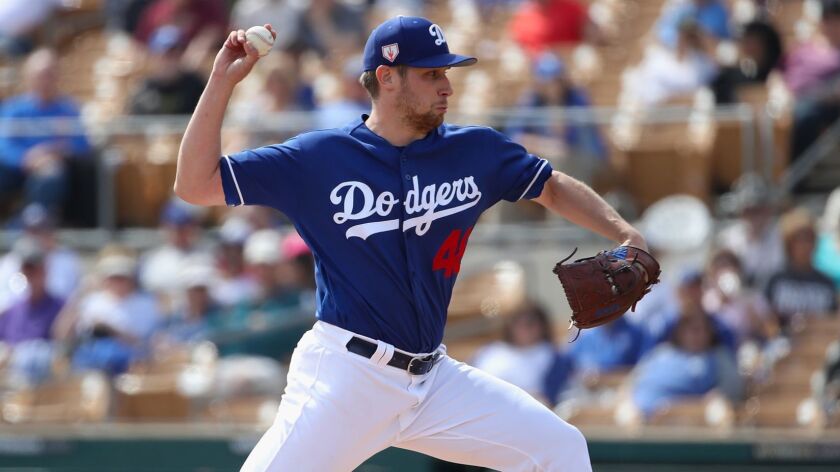 With opening day looming, Dodgers manager Dave Roberts was asked Tuesday if the club had decided who will occupy the final spot on its roster. The vacancy, he has said, will go to a relief pitcher. The decision, however, still had not been made.
"I do know that spot right there, we need some length," Roberts said before the third and final game of the Freeway Series. "That's as much as I want to talk about it for now."
The Dodgers have an open spot in their bullpen because Julio Urias, who was slated to begin the season as a reliever, will start the campaign as a starting pitcher after Rich Hill strained the medial collateral ligament in his left knee. Hill will join Clayton Kershaw on the injured list to begin the season. The Dodgers were left to patch a hole.
The choice is seemingly down to two candidates: Brock Stewart and Dennis Santana. Both are starting pitchers by trade. They possess the ability to pitch multiple innings that the Dodgers covet as insurance for a rotation that includes two starters with innings limitations to begin the season — Urias and Walker Buehler.
The Dodgers signed Justin Grimm to a minor league contract, but the veteran right-hander's recent history doesn't include pitching multiple innings. Grimm, 30, hasn't logged three or more innings in a game since August 2014.
The 22-year-old Santana, a hard-throwing right-hander, gave up eight runs in 8⅓ innings during spring training. He made his major league debut last June 1. He gave up five runs in 3⅔ innings, was later diagnosed with a right rotator cuff injury and didn't pitch again in 2018.
Stewart has the experience edge, appearing in 33 games with the Dodgers and starting 11 of them. Last season, he posted a 6.11 earned-run average over 17⅔ innings in various stints with the club.
Uncertainty is not foreign to Stewart; since making his major league debut in June 2016, Stewart has been promoted to the majors 16 times and demoted to the minors on 15 occasions. He's served as the pitching staff's hole plugger, a role he thought was behind him after using three option years. But last November he found out he had a fourth option year because he hadn't accrued five years of professional experience, which won't force the Dodgers to trade or waive him before opening day.
Stewart may find himself on the major league roster anyway — or pitching for triple-A Oklahoma City again.
Joc Pederson and A.J. Pollock to lead off
Roberts said left fielder Joc Pederson will bat leadoff against right-handed starters at least to start the season, with center fielder A.J. Pollock likely moving to the top spot in the order against left-handed starters. Pederson led off for Los Angeles on Tuesday. Pollock batted fifth.
---
Get our Dodgers Dugout newsletter for insights, news and much more.
You may occasionally receive promotional content from the Los Angeles Times.