Dodgers Manager Dave Roberts is a people person, but is he a Yasiel Puig person?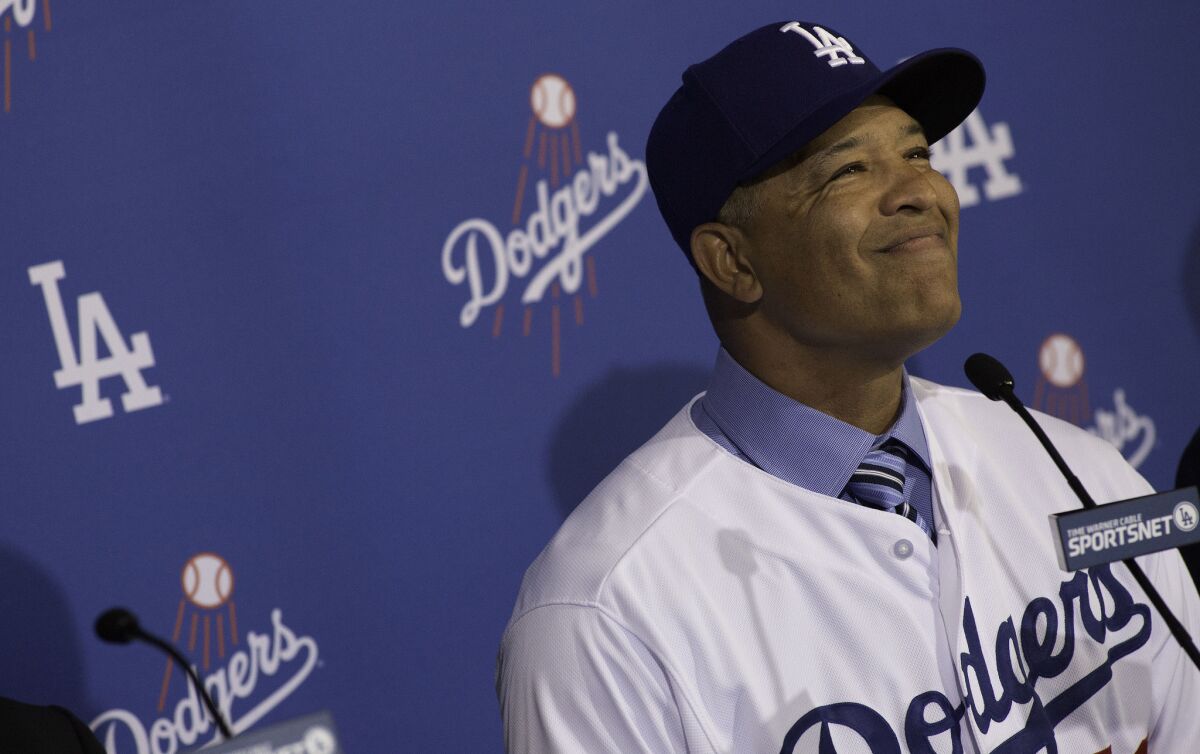 Dave Roberts doesn't know Yasiel Puig.
"Never said a word to him," Roberts said.
Didn't matter.
When Roberts was introduced Tuesday as the Dodgers' new manager, Puig was the player he was asked about most. Specifically, he was asked whether he would be able to forge the kind of relationship with the five-tool outfielder that could help him play up to his talent.
"Yasiel is ultra-talented, a special player, someone who was feared from the other side," Roberts said. "This is a great opportunity for me to embrace him. I'm excited about it."
The Dodgers are hopeful.
When explaining why Roberts was chosen to lead the Dodgers, baseball boss Andrew Friedman pointed to the first-time manager's infectious personality, not his baseball acumen.
The team's president of baseball operations talked about the positive energy Roberts radiates. His ability to connect with others. How he seems like the kind of person who could get the most from his players.
"We are highly confident that he will play a significant role in us shaping a culture of sustained success here," Friedman said.
Roberts' predecessor, Don Mattingly, was also considered a people person. Mattingly was never able to get through to Puig.
Under Mattingly's watch, Puig's work habits were widely questioned. Some teammates felt he was disrespectful toward them. His attention strayed not only in meetings, but also in games.
The behavior was tolerated when Puig was hitting.
But after playing in his first All-Star game last year, Puig batted a modest .274 with four home runs over the remainder of the season. This year, he batted .255 over 79 games and spent significant parts of the season sidelined because of hamstring problems. Some people wondered if his injuries were the result of his gaining weight.
Dodgers outfielder Scott Van Slyke's father, former All-Star Andy Van Slyke, implied in a recent radio interview that Clayton Kershaw told the front office he thought Puig should be traded. Kershaw has not commented, but Friedman claimed it didn't happen.
Asked if he felt compelled to trade the strong-armed right fielder, Friedman said, "I think Yasiel Puig can be a significant part of future success for the Los Angeles Dodgers."
Only now, Puig is in more trouble.
As Roberts spoke to reporters at Dodger Stadium, the commissioner's office was continuing to investigate Puig under the league's recently implemented domestic violence policy.
Puig was involved in a fight with a bouncer at a Miami bar, according to police.
What prompted the league's investigation were reports by TMZ that an argument between Puig and his sister escalated and turned physical. The celebrity gossip site claimed there is surveillance footage of Puig slapping her hand and pulling her hair.
"It's in MLB's hands," Friedman said. "I hope to be able to comment more next week. Can't really say much at this point."
What makes the situation especially problematic for the Dodgers is that they are counting on Puig to improve a lineup that could lose Howie Kendrick on the free-agent market.
Roberts said he would refrain from judging Puig until meeting him, which could happen next month when Puig is expected to come to Los Angeles.
"I'm looking forward to getting to know him and building that relationship," Roberts said.
Roberts said he is flexible in his personal relationships.
"You treat people, at the core, similarly, with respect," he said.
However, Roberts also acknowledged that certain players have earned certain privileges by virtue of their performance. Roberts raised the hypothetical example of how Kershaw might be treated differently than a second-year player such as Joc Pederson.
"I think there's going to be certain things that Clayton is going to earn over Joc," Roberts said. "If he wants to drive on his own or fly somewhere, then he's earned that. Joc hasn't earned that."
Adrian Gonzalez, who has become a mentor to Puig, thinks Roberts will have a chance to reach the temperamental outfielder.
"From my experience, Puig responds well to genuine people, when he understands there is no agenda and people really just care for him," Gonzalez said. "I think that's why he's responded well to me. . . . I think Puig will respond to him because he'll see that Dave's being completely genuine and wants what's best for him."
Twitter: @dylanohernandez
MORE DODGER HEADLINES
Would Dodgers pay the price for Zack Greinke?
Dave Roberts brings much-needed energy and passion as Dodgers manager
Get our Dodgers Dugout newsletter for insights, news and much more.
You may occasionally receive promotional content from the Los Angeles Times.