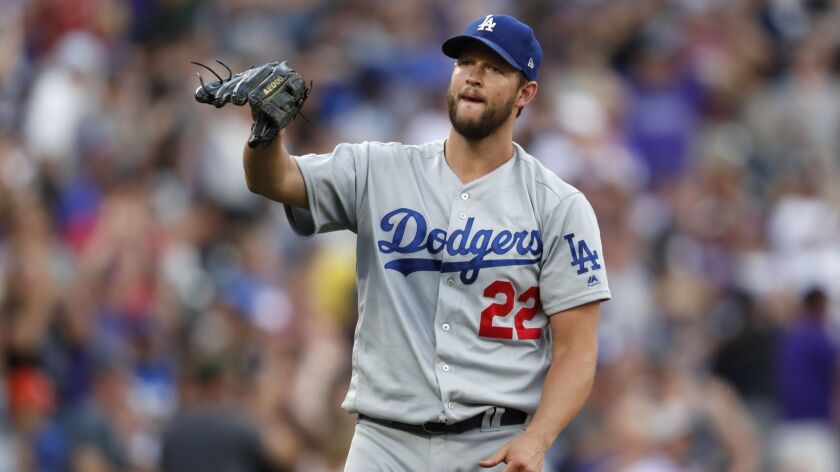 Reporting from DENVER —
After watching a similar plot develop in a Dodgers loss — one sloppy inning generates a deficit they don't overcome — for the second straight night, manager Dave Roberts offered a similar reaction.
The two plays that helped fuel the Colorado Rockies' three-run sixth inning and subsequent 5-3 win Saturday should have been made. But they weren't and that happens and the Dodgers, still 11 games ahead of the Rockies in the National League West despite losing four of their last six games, will be just fine heading into Sunday's four-game series finale.
"If we played clean baseball, which we've done many times over ... we win all three so far," Roberts said. "Obviously, that's not the case. But as far as a downturn, no, I feel every day the intent, the energy is really, really good."
On Friday night, the Dodgers (56-29) gave up eight runs on eight hits, three errors, and a couple of other miscues in the fifth inning, which Roberts called his team's ugliest this season. He warned of giving away outs, especially in the extreme elements Coors Field presents. Gaffes are amplified here, and the Dodgers needed to avoid them. The fifth inning Friday was proof.
The Dodgers weren't as sloppy in the sixth inning Saturday, but they were sloppy enough over the course of five Rockies batters to build a deficit their offense, which had scored 21 runs the previous two days, could not overcome.
The costly blunders spoiled an otherwise quality start — given the setting — from Clayton Kershaw. The demise began with Max Muncy booting a routine grounder off Charlie Blackmon's bat that should have been the inning's second out. Raimel Tapia and Nolan Arenado followed with singles to drive in Blackmon and knot the score at 3-3.
With runners on first and second, Ian Desmond smacked a hard-hit one-hopper to shortstop Enrique Hernandez. The ball deflected off Hernandez's glove and into the outfield. Desmond was given a hit on the borderline play that could have been a double play, leaving the bases loaded for Mark Reynolds with one out.
Reynolds capitalized, poking a ball through the right side, where the Dodgers' shift left a gaping hole, for a two-run single to give the Rockies (44-39) the lead for good.
Sign up for our Dodgers newsletter »
"That's the way it goes sometimes," Kershaw said. "That's part of it. You got to move on and keep getting guys out the best you can and tonight I just didn't limit the damage enough."
Kershaw (7-2) exited after giving up five runs — four earned — across seven innings. He struck out seven and didn't issue a walk. On the other side, the Dodgers were stymied by right-hander Jon Gray (9-5), who gave up three runs — two earned — in 6 2/3 innings before three relievers logged 2 1/3 scoreless frames to complete the Rockies' second consecutive victory over the Dodgers after losing 12 in a row.
"I thought Clayton threw the ball extremely well today," Roberts said. "For me, it was the best he's thrown in three, four starts. He didn't deserve the loss."
Kershaw had given up 157 home runs over his 12-year career in the regular season before Saturday, but a left-handed batter had never hit one of his curveballs over the fence. The only left-handed batter ever to homer on a Kershaw curve in the majors was Matt Adams, who belted one for the St. Louis Cardinals during the 2014 National League Division Series. That changed in the third inning Saturday when Blackmon launched a curve for a two-run home run to give Colorado a 2-1 edge.
"It was the wrong pitch," Kershaw said. "I shook to it, and you take responsibility for that. That was the last thing [catcher Austin Barnes] called, and I should've listened to him."
The Dodgers tied it in the fourth inning with some help. Justin Turner led off with a fly ball to right-center that Desmond, a shortstop-turned-outfielder, had bounce off his glove. Desmond was charged with an error. Two batters later, Edwin Rios recorded his first career hit — a missile that ricocheted off the wall and away from Desmond in center. Rios ended up with an RBI triple. The Dodgers reclaimed the lead in the fifth on an Alex Verdugo single off Gray.
Kershaw was, by Coors Field standards, cruising. Three of his first five innings were clean. He gave up one hit outside the third. He entered the sixth having thrown just 53 pitches. Then the Dodgers generated another round of self-induced tumult and couldn't recover for the second time in 24 hours.
It's a trend the Dodgers, brought back down to earth since leaving Los Angeles, believe they'll quickly leave behind.
Twitter: @jorgecastillo
---