Column: Cody Bellinger gets approval of Dodgers fans by acclamation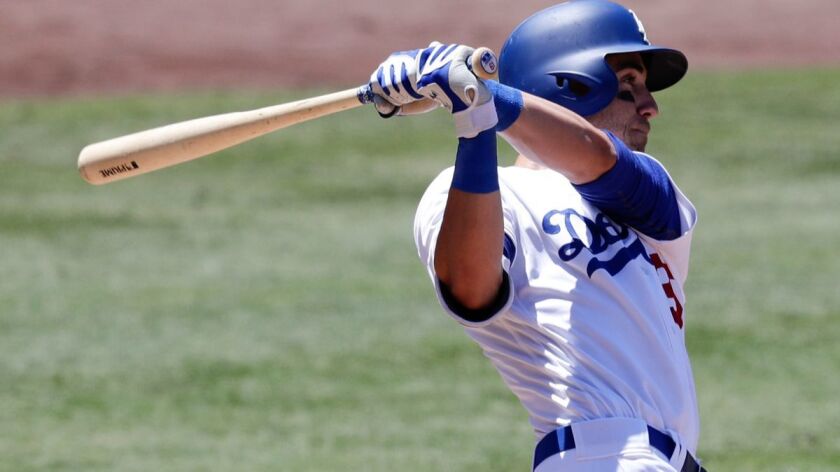 Cody Bellinger insisted he didn't realize that the Dodger Stadium crowd was chanting his name and wanted him to emerge from the dugout for a curtain call in the eighth inning Sunday.
"I didn't really hear them until someone pushed me up the stairs," he said, "Then it was, 'Oh, this is happening.' It's pretty special."
Looking almost embarrassed, Bellinger came out for a moment to acknowledge the cheers, the first curtain call of his career. It won't be the last.
"I don't know what took so long. He keeps doing this over and over and over again. I feel like he should be three or four curtain calls deep right now," starter Brandon McCarthy said after the Dodgers rallied for a 12-6 victory over the Colorado Rockies, "but it's really fun to watch him hit, watch him play. He's unconscious right now, and it's great."
Bellinger's two-run home run to right-center field in the third inning against Tyler Anderson and two-run blast to right field in the eighth against hapless Adam Ottavino, each estimated at 423 feet, gave him a league-leading 24 home runs and his sixth multi-home run game. That's the most by a Dodgers rookie and second all-time among rookies to the seven multi-homer games Mark McGwire had for Oakland in 1987.
How is he doing it?
"I don't know," Bellinger said.
He gave the same answer when asked how he gets so dialed-in late in games to the point where he's 22 for 70 (.314) with 12 home runs and 26 runs batted in during at-bats from the seventh inning and onward.
"I didn't know about that," he said, with a small smile. "I guess sometimes when the game is on the line you kind of focus a little more. And maybe that's it. I think every fourth at-bat you kind of know what your swing is and you get comfortable during the game."
It's unusual for a rookie to be so poised in the late innings.
"It's unusual for veterans as well," manager Dave Roberts said. "When you're looking at the seventh inning and beyond, you're looking at back-end guys and guys they're matching up to get you out. For Cody, it's left-handed killers. For him to hit left-handed pitching, hit the back-end guys, and in big spots, there's no panic. He has a great pulse about him. For a young player, he's definitely accelerated, but he likes being in those spots."
Bellinger's at-bats draw a lot of raves, and deservedly so. In June he has hit 13 home runs in 23 games, tied for the third-most all-time by a rookie in one month. But on Sunday he showed he has other dimensions, hustling to beat out a grounder to shortstop in the first inning and making a fine catch on Pat Valaika's tricky liner to right field in the seventh inning with two Rockies on base and the Dodgers trailing 6-4.
It was especially impressive because Sunday's game was his first start in right field. He had started at first base and in left field, though he said he had played more right field than left field in double-A ball.
"That was a weird one. I thought it was more to center," Bellinger said of Valaika's liner. "I was running after it hard and it kind of started tailing towards me and I was, 'Oh, this is mine,' and luckily I got a glove on it."
Bellinger went hitless Saturday, ending a season-best hitting streak at nine games, but he didn't let that carry over to Sunday's game. Nor will he let his success Sunday make him complacent when he reports to Dodger Stadium on Monday for the first of four games against the Angels.
"Manny Mota comes in every day to remind me that I already got paid for yesterday. It's a good reminder," Bellinger said of the Dodgers' longtime coach and Spanish-language broadcast contributor. "So whether it's good or bad, it doesn't matter."
What matters is the future, and that's sure to include many more curtain calls for him.
---
Get our Dodgers Dugout newsletter for insights, news and much more.
You may occasionally receive promotional content from the Los Angeles Times.