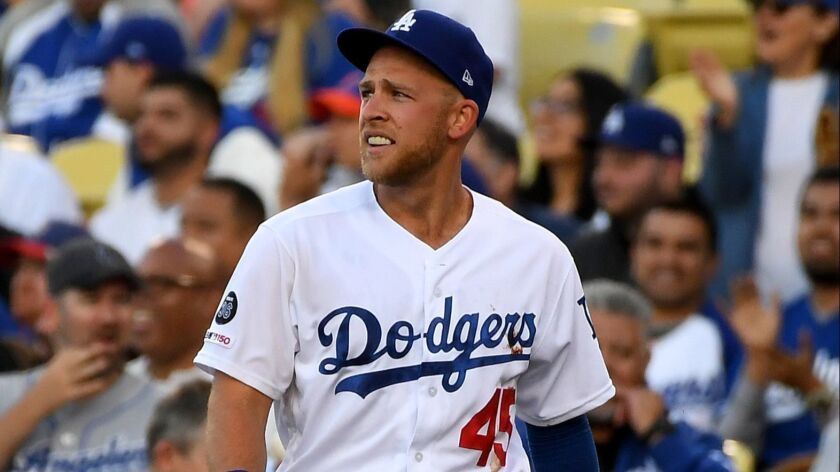 Dodgers manager Dave Roberts was asked Thursday which positions he feels comfortable having Matt Beaty, a 26-year-old rookie, play. Roberts said Beaty could play both corner spots in the infield and outfield. He had Beaty playing left field Thursday against the New York Mets.
Beaty prefers another position.
"When people ask me what my favorite position is," Beaty said, "I always say left-handed batter's box."
Beaty reached the major leagues this season because he excelled in that position with triple-A Oklahoma City, where he batted .299 with an .847 OPS in 28 games. And he's playing more than even Roberts anticipated because he's holding his own at the plate at the highest level.
"That's a credit to him about the way he's playing," Roberts said. "When you perform and I feel you give us the best chance to win, you're going to be in there. And so Matt, to his credit, the at-bats that he's taken, has earned that."
Beaty went three for four with an RBI double in the Dodgers' 9-8 comeback win against the Mets on Wednesday, raising his batting average to .303 in 33 plate appearances in two stints with the Dodgers this season entering Thursday's series finale. In Sunday's win over the Pittsburgh Pirates, he became the first Dodger rookie since Cody Bellinger in 2016 to drive in four runs in a game.
Entering Thursday, his 29 batted balls in play averaged 91 mph, suggesting, as Roberts has, that Beaty has inexperienced some bad luck. Roberts highlighted Beaty's ability to work counts, swing at strikes and understand the strike zone as attributes that allow him to produce at the plate. They're abilities the Dodgers covet in their hitters.
"We're a really good lineup," Beaty said. "One through nine through the order, everybody is going to put together good at-bats. And I just got to keep proving I belong and keep playing my game and good things will happen."
Beaty, a left-handed hitter, got his first start against a left-hander Thursday, when the Mets started Jason Vargas on the mound. It was Beaty's fifth start overall. None have been stranger than the two times he led off for the Dodgers to counter an opponent's right-handed opener.
He debuted in the role against the Tampa Bay Rays last week and got an at-bat as a designated hitter before he was replaced. Two days later, he led off as the Dodgers' left fielder, but never played the field. He singled, scored and was replaced in the bottom of the first inning.
He calls that position the anti-opener. Add that to the list.
"Someone yelled that in Pittsburgh actually," Beaty said. "He said, 'We got the anti-opener if you're going to throw the opener.'"
Playing it safe
Justin Turner wasn't in the Dodgers' lineup after injuring his hamstring in the ninth inning of their win Wednesday, Roberts said. Turner hurt the hamstring as he scored during the four-run comeback, according to Turner, and "felt a little tightness."
Sign up for our Dodgers newsletter »
"So with that, just the workload that he's been doing, I just felt that today was a good day to get ahead of it," Roberts said.
Cingrani still shut down
Roberts said left-hander Tony Cingrani has not resumed baseball activities since suffering a setback during a rehab outing last week. Cingrani has been on the injured list all season with an impingement in his left shoulder. He was to undergo a magnetic resonance imaging exam.
Twitter: @jorgecastillo
---