Dodgers shortstop Corey Seager is cautious about return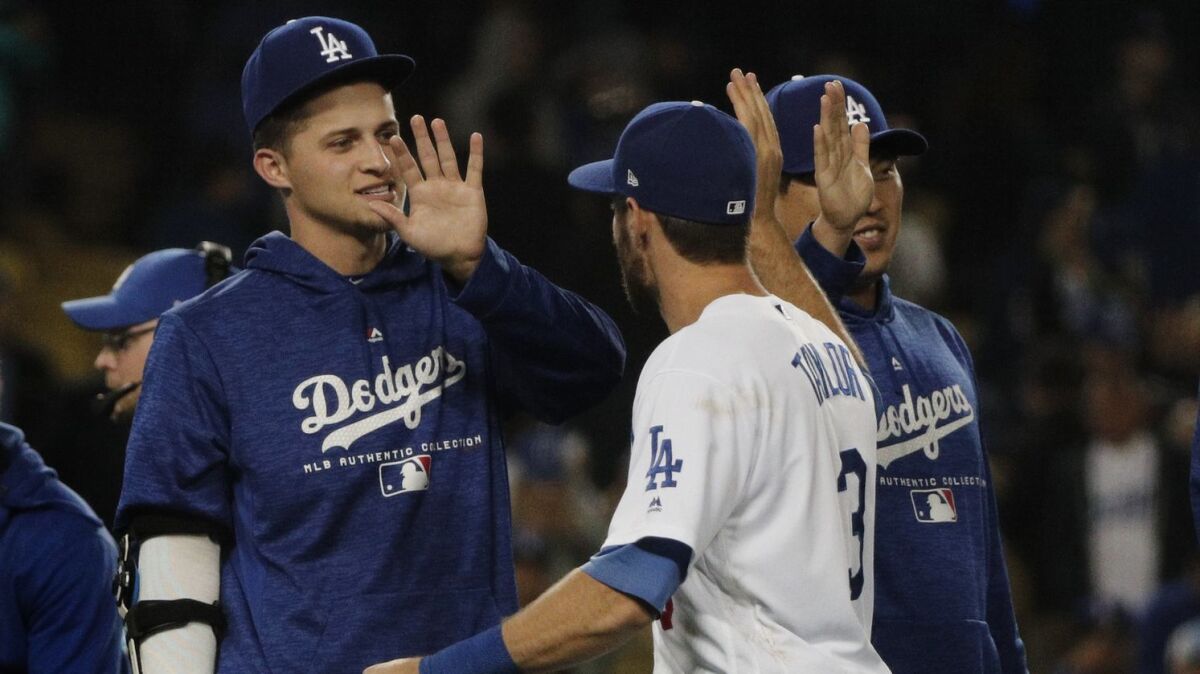 For the first time in nine months, Corey Seager appeared Saturday at Dodger Stadium in his white jersey, donning his No. 5 for the thousands at the Dodgers' annual FanFest. The question remains whether he'll be on the field in full uniform on opening day.
Earlier in the week, manager Dave Roberts said he fully expected Seager would be ready for the start of spring training at Camelback Ranch in Arizona in a few weeks. Seager sprinkled more caution into his optimism, suggesting that his availability for opening day isn't clear.
"Right now, everything is on line to be able to make a decision on whether I'll be ready to go or not [for opening day]," Seager said. "But, for the most part, I feel great. Everything is on time now. And I haven't had any setbacks yet so … I'm positive about it."
Seager, 24, began last season knowing his right elbow could potentially become an issue. Elbow pain had bothered him late in 2017. That offseason, he prioritized strengthening the ulnar collateral ligament and surrounding muscles to avoid surgery, but the possibility existed. By the end of April, after appearing in 26 games and experiencing numbness on throws, his season was over.
In August, he underwent arthroscopic surgery on his left hip, seeking to capitalize on his time off the field to alleviate another area of concern.
"The last thing I wanted to do was recover from 12 months and two months later have another surgery," Seager said. "So it was one of those things that may or may not have been a little premature, but go ahead and get it out of the way before it becomes a serious problem."
Effectively sitting out the entire season reduced Seager's earning power in his first year of arbitration this offseason — he and the Dodgers settled on a $4-million salary for 2019 — and rendered him a helpless spectator while his teammates made another World Series run. He said it was difficult not to be on the field.
"Not that you feel in the way, but you want to help," Seager said. "You remember what it was like [the previous] year. You remember the mind-set. Knowing the mind-set, you kind of try to stay away unless somebody asked for help or there's somewhere that you saw where you could help. And it was difficult. It's hard watching and not being able to have any impact. That was probably the toughest thing for me."
Seager said he started playing catch in October and has been throwing three days a week. He reached the 120-feet checkpoint in his throwing program Friday. He has completed his running progression and has taken grounders. He began taking swings around the New Year, progressing from dry swings to hitting off a tee to hacking at flips, and insisted he doesn't feel any pain when he swings.
Two major steps in his rehabilitation remain: fielding grounders and throwing across the diamond from shortstop in one motion, and taking batting practice.
"You just get a little stir crazy, wondering if you'll be able to move again," Seager said. "But it all happens. It all kind of is a process and you have to go through it."
If Seager isn't ready for opening day, Andrew Friedman, the Dodgers' president of baseball operations, said Enrique Hernandez and Chris Taylor would partner as the stopgap at shortstop. The Dodgers moved Taylor to the position after Seager's elbow injury last season, but acquired Manny Machado in July to replace Seager. Machado was a three-month rental and remains a free agent.
"We're optimistic and he's done everything he can to this point," Friedman said. "But until he gets into games and bounces back and plays the next day, it's just guesswork right now. We feel as good as we can on Jan. 26. And it'll take until we get in to spring training, ramp him up, and how he's bouncing back. We expect him to be full-go on opening day, but we're always prepared if we need to ease him in."
Sign up for our daily sports newsletter »
Twitter: @jorgecastillo
---
Get our Dodgers Dugout newsletter for insights, news and much more.
You may occasionally receive promotional content from the Los Angeles Times.