A look at the teams with the most rookie of the year award winners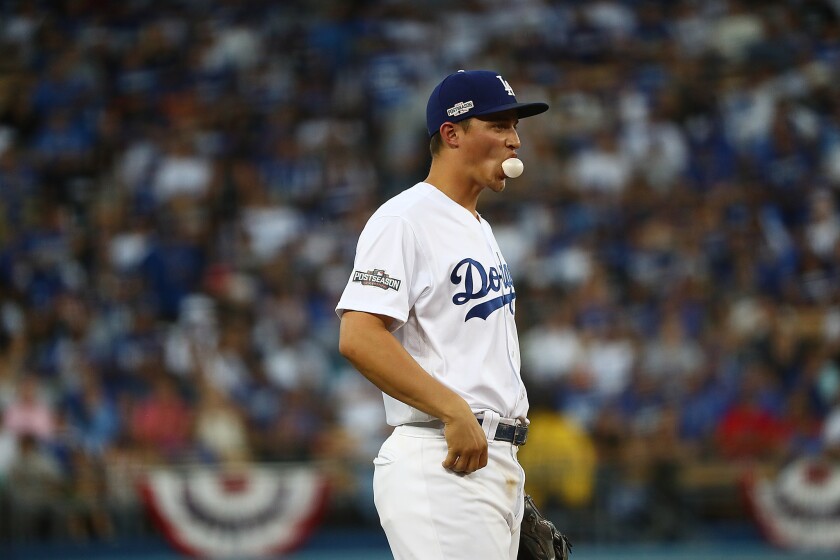 Corey Seager on Monday became the 17th Dodger to win the rookie-of-the-year award. A look at the franchises with the most rookies of the year (note: the award was first given out in 1947):
17
Dodgers
Jackie Robinson, Don Newcombe, Joe Black, Jim Gilliam, Frank Howard, Jim Lefebvre, Ted Sizemore, Rick Sutcliffe, Steve Howe, Fernando Valenzuela, Steve Sax, Eric Karros, Mike Piazza, Raul Mondesi, Hideo Nomo, Todd Hollandsworth, Corey Seager
8
New York Yankees
Gil McDougald, Bob Grim, Tony Kubek, Tom Tresh, Stan Bahnsen, Thurman Munson, Dave Righetti, Derek Jeter
Philadelphia/Oakland A's
Harry Byrd, Jose Canseco, Mark McGwire, Walt Weiss, Ben Grieve, Bobby Crosby, Huston Street, Andrew Bailey
7
Boston/Atlanta Braves
Alvin Dark, Sam Jethroe, Earl Williams, Bob Horner, David Justice, Rafael Furcal, Craig Kimbrel
Cincinnati Reds
Frank Robinson, Pete Rose, Tommy Helms, Johnny Bench, Pat Zachry, Chris Sabo, Scott Williamson
St. Louis Browns/Baltimore Orioles
Roy Sievers, Ron Hansen, Curt Blefary, Al Bumbry, Eddie Murray, Cal Ripken Jr., Gregg Olson
Washington Senators/Minnesota Twins
Albie Pearson, Bob Allison, Tony Oliva, Rod Carew, John Castino, Chuck Knoblauch, Marty Cordova
6
Boston Red Sox
Walt Dropo, Don Schwall, Carlton Fisk, Fred Lynn, Nomar Garciaparra, Dustin Pedroia
Chicago Cubs
Billy Williams, Ken Hubbs, Jerome Walton, Kerry Wood, Geovany Soto, Kris Bryant
Chicago White Sox
Luis Aparicio, Gary Peters, Tommie Agee, Ron Kittle, Ozzie Guillen, Jose Abreu
New York/San Francisco Giants
Willie Mays, Orlando Cepeda, Willie McCovey, Gary Matthews, John Montefusco, Buster Posey
St. Louis Cardinals
Wally Moon, Bill Virdon, Bake McBride, Vince Coleman, Todd Worrell, Albert Pujols
5
New York Mets
Tom Seaver, Jon Matlack, Darryl Strawberry, Dwight Gooden, Jacob deGrom
Detroit Tigers
Harvey Kuenn, Mark Fidrych, Lou Whitaker, Justin Verlander, Michael Fulmer
4
Cleveland Indians
Herb Score, Chris Chambliss, Joe Charboneau, Sandy Alomar Jr.
Florida/Miami Marlins
Dontrelle Willis, Hanley Ramirez, Chris Coghlan, Jose Fernandez
Kansas City Royals
Lou Piniella, Bob Hamelin, Carlos Beltran, Angel Berroa
Philadelphia Phillies
Jack Sanford, Dick Allen, Scott Rolen, Ryan Howard
::
A look at the Dodgers' rookies of the year and how long they played for the team:
Jackie Robinson (1947-56)
Don Newcombe (1949-51, 1954-58)
Joe Black (1952-55)
Jim Gilliam (1953-66)
Frank Howard (1958-64; won award in 1960)
Jim Lefebvre (1965-72)
Ted Sizemore (1969-70, 1976)
Rick Sutcliffe (1976, 1978-81; won award in 1979)
Steve Howe (1980-83, 1985)
Fernando Valenzuela (1980-90; won award in 1981)
Steve Sax (1981-88; won award in 1982)
Eric Karros (1991-2002; won award in 1992)
Mike Piazza (1992-98; won award in 1993)
Raul Mondesi (1993-99; won award in 1994)
Hideo Nomo (1995-98, 2002-04)
Todd Hollandsworth (1995-2000; won award in 1996)
Corey Seager (2015-; won award in 2016)
---
Get our Dodgers Dugout newsletter for insights, news and much more.
You may occasionally receive promotional content from the Los Angeles Times.