Dodgers' title hopes now in the hands of rookie pitcher Walker Buehler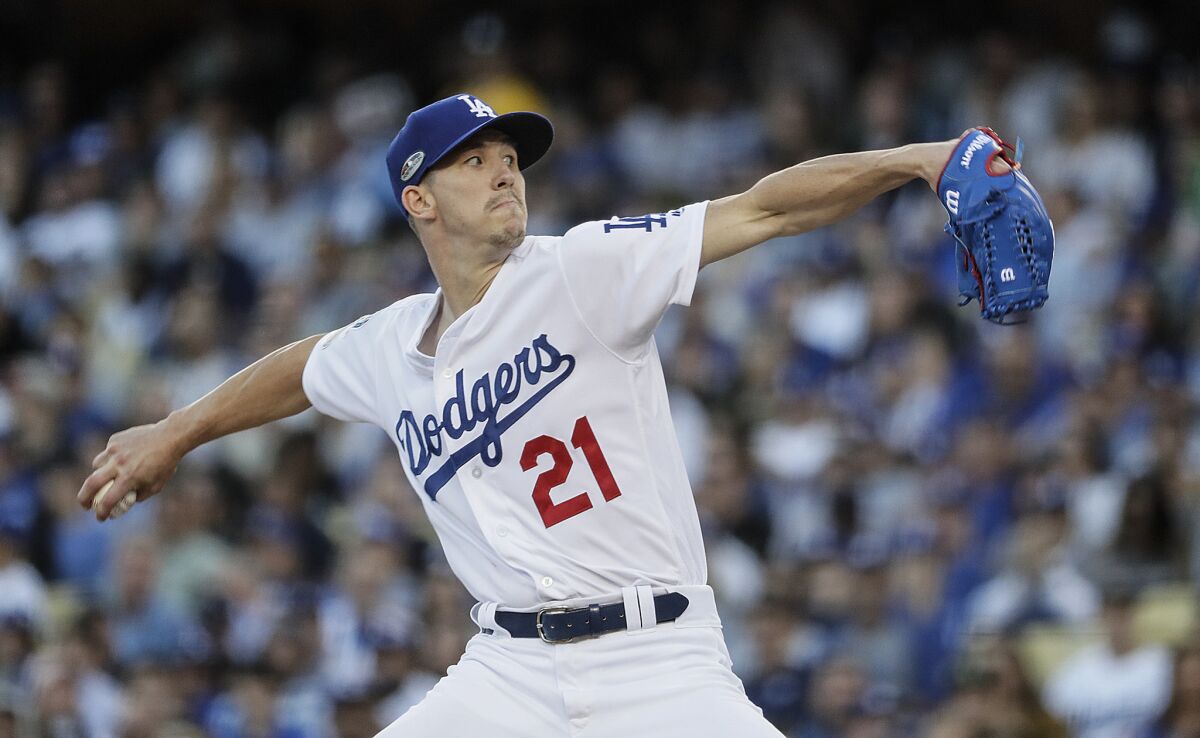 Reporting from Milwaukee —
It was nearing midnight at Miller Park on Friday and Walker Buehler sat in a golf cart in the ballpark's bowels thumbing through his phone. A Dodgers official stood nearby. Down the hallway, between Buehler and his destination, stood an excited throng of family and friends outside the Milwaukee Brewers' clubhouse waiting for players to emerge.
Eventually, Buehler walked through the pack unrecognized in a light gray pea coat with a black leather backpack slung over his shoulder and into the interview room. He was there to address the media and not in the visiting clubhouse soaked in alcohol celebrating a return trip to the World Series because the Dodgers lost Game 6 of the National League Championship Series 7-2 on Friday and the rookie will get the ball to start Game 7.
"Game 7 to go to a World Series," Buehler said, "I don't know if it gets more high stakes than that."
Buehler has pitched twice in the postseason. Neither start went swimmingly. He allowed five runs in five innings in Atlanta in Game 3 of the National League Division Series. Earlier this week, he surrendered four runs in seven innings in Game 3 of the NLCS. Both were Dodgers losses. But the 24-year-old Buehler was the Dodgers' best pitcher in the second half and his supreme confidence remains intact.
"I think Walker is prepared for this moment," Dodgers manager Dave Roberts said. "As far as his rest, he's ready to go. And as far as his heartbeat, the weapons, all that stuff, we're in really good shape with him. He understands the magnitude of this moment, this game, and he's a good person for us to take the baseball."
Buehler's leash will be short. Every pitcher on the Dodgers roster not named Hyun-Jin Ryu, the team's Game 6 starter, will be available out of the bullpen.
That includes Clayton Kershaw, who will be on two days' rest after limiting Milwaukee to one run on three hits across seven innings in Game 5 on Wednesday. It wouldn't be uncharted territory for the left-hander; Kershaw held the Houston Astros scoreless for four innings in Game 7 of the World Series on two days' rest last October.
"I'm prepared for whatever," Kershaw said. "Last time I was in this situation, it was the exact same thing. I pitched Game 5, and I threw four innings in Game 7. I don't know what to expect. I'm sure Doc and I will talk about it tomorrow. I didn't want to bother him tonight. I'll be ready. ... It is like a bullpen day. I don't know what that translates to, the number of pitches, but I'll try to be ready."
Besides Kershaw, Pedro Baez and Kenley Jansen — both of whom didn't pitch Friday — will be fresh. Baez threw 17 pitches in an inning in Game 5 on Wednesday, while Jansen tossed four to secure the game's final out.
"I think we line up good," Dodgers catcher Austin Barnes said. "Obviously, in one game, we feel good against any team out there. So we'll be ready for it. We'll embrace it. That's the only way we can do it."
The Brewers will counter with Jhoulys Chacin, their top conventional starting pitcher, and much more thanks to how Friday night played out. Milwaukee did not force Game 7 because Kenta Maeda's wild pitch — a slider that bounced in front of home plate and Yasmani Grandal couldn't block — allowed a run to score in the eighth inning. It was just another insurance run as the Brewers padded their lead. The impact, however, looms larger.
Josh Hader, the Brewers' shaggy haired relief ace, was warming in the bullpen when Maeda spiked that slider and let Jesus Aguilar score to give Milwaukee a four-run lead. Someone in the Brewers dugout then placed a call to the bullpen. Hader put his jacket back on and took a seat. He wasn't going to pitch.
Instead, the Brewers decided to let Corbin Burnes finish the game. Hader was saved for Saturday, when he'll be on three days' rest for the winner-takes-all clash. It was a defeat within a defeat for Los Angeles.
The Brewers are 53-8 when Hader pitches and 49-62 when he doesn't this season. A crisp Hader is even more valuable.
"He's fresh," Brewers manager Craig Counsell said. "He got up tonight. We'll see how he goes. But you'll see him tomorrow."
No other team in baseball possesses a weapon quite like Hader. But the Dodgers have all hands on deck starting with their poised rookie with a future Hall of Famer lurking once again.
"I feel good about our chances," Jansen said. "Just like they have their best, we have our best going."
Twitter: @jorgecastillo
---
Get our Dodgers Dugout newsletter for insights, news and much more.
You may occasionally receive promotional content from the Los Angeles Times.