Dodgers still need to get TV act together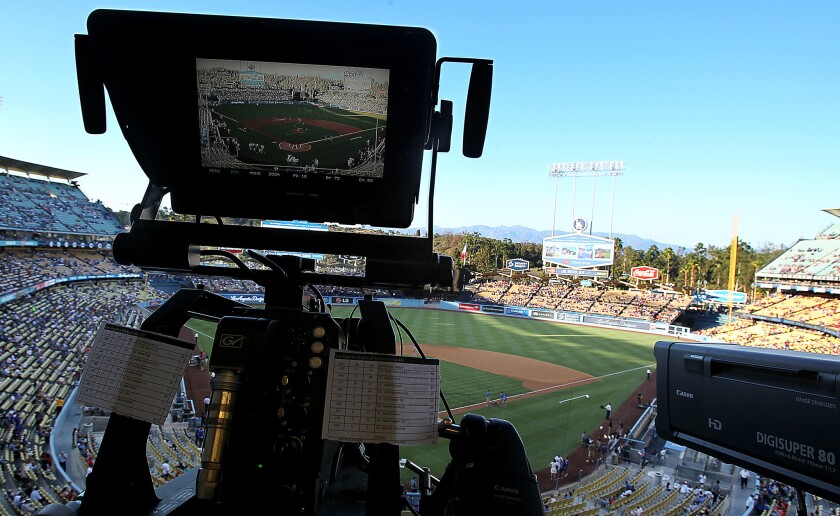 Finally, somebody is putting the Dodgers on more television sets.
But, sadly, that somebody isn't Mark Walter or Stan Kasten or Magic Johnson, and a bunch of you are still going to have to change your pay-TV providers to see them.
Yes, there has been a breakthrough in the Dodgers' television debacle, with Charter announcing a $56.7-billion takeover of Time Warner Cable on Tuesday that will result in Charter customers being able to watch the team.
Subscribe to our free Dodgers newsletter here
But, no, because that move came from a single pay-TV operator and not the Dodgers, it still leaves more than half of Los Angeles without the games, and the Dodgers with even less motivation to make them available.
"We are going to get the Dodgers on," Tom Rutledge, Charter Communications chief executive, said in an interview with The Times' Meg James on Tuesday. "We want the Dodgers on every outlet and we are committed to making that happen."
That's the first time somebody in this 14-month debacle has actually said that and meant it. It's a brilliant public relations move by Charter, and a temporary life preserver for a Dodgers ownership group drowning in community scorn.
But cut through the rhetoric and realize, while the fans' options are now much greater, so is their potential hassle or cost. If you already subscribe to Time Warner Cable or Charter, you're a winner. But if you have access to either service and do not subscribe — still more than half of Southern California — then you must switch up or shut up. And if you are in the nearly 15% of homes that don't have access to either, you are still out of luck.
There is no DirecTV in this deal, no Verizon FiOS, no AT&T U-verse, no Dish Network, no Cox Cable. There is also no immediate indication that they will follow Charter into the high-priced cost of the games.
So while Charter wins, and the Dodgers can act like they win, many Dodger fans must still pay to win. It's a solution for some, but just another problem for others, a headline-grabbing answer that still begs the buried question.
Why can't the Dodgers just fix the unworkable, industry-scorned 25-year, $8.35-billion deal with Time Warner Cable? Why have they allowed it to shut out 70% of Los Angeles for more than a season until now? Why must we wait for a pay-TV operator to do their dirty work? And why must we have to wait even longer?
Kasten, the Dodgers president, broke his silence on the TV issue Tuesday, talking to some media outlets, but refusing to be quoted in The Times.
His silence speaks volumes. This might be the first time in history that the leader of what once was Los Angeles' most community-minded franchise has refused to explain an important issue to the majority of the community.
From the days when Peter O'Malley would answer the Dodger Stadium phone, transparency and accountability was once the hallmark of an organization that has always been willing to admit its mistakes while cementing its trust with a forgiving fan base. That trust eroded with the Fox and Frank McCourt eras, yet there were great hopes that the Guggenheim folks would bring it back. Yet after engineering the TV debacle and appearing to wash their hands of its effects, the new owners have damaged that trust even deeper.
Kasten does the team's other owners no great service with his silence in this space. The more he fails to publicly address the problem, the worse his partners look, including and especially Magic Johnson, whose image has taken a hit by fans who have long believed him to be Los Angeles' leading sports citizen.
The Dodgers owners are upset that they have been criticized in this newspaper, as if they really believe alienating 70% percent of their fans is something that should be ignored. The Dodgers feel their critics are blaming the wrong people, as if anybody but the Dodgers should be blamed for the mishandling of their product. The Dodgers want everyone to point the finger at DirecTV, as if DirecTV wears a uniform and bats seventh.
This was originally about Dodgers ownership failing to grasp the economics of the local market and being blinded by dollars that media experts knew would never work. Now this is about Dodgers ownership being too much in love with those dollars to admit it was wrong.
It's a shame too, because this is overshadowing all the great things the ownership has done with the rest of the operation. Have you seen the team? Oh, sorry, bad question. But seriously, new hires Andrew Friedman and Farhan Zaidi have put together a splendid mix of professionals who have turned a fractured clubhouse into a winning club. The Dodgers don't make many highlight videos, but they also don't make many blooper reels. They play the game the right way and win with the likes of kid Joc Pederson, reborn Andre Ethier, scrappy Justin Turner and emerging Alex Guerrero.
The Dodgers are fun to watch again, and with a couple of starting pitchers that Friedman and Zaidi will probably dig up from somewhere, they could be playing deep into October again. Who knows, this columnist might even fall on his sword soon for what appears to be dunderheaded criticism of the Matt Kemp trade. Dodger Stadium is also looking spiffy and filling up nightly, the team leading the league in average attendance by nearly 5,000 per night more than second-place St. Louis, with the place feeling fun and safe again.
With Tuesday's announcement, thousands of fans will now get to share the new Dodgers experience that has been missing from their homes since the end of the 2013 season. But many more will still be left out. The Dodgers may trumpet the Charter buyout as a game-winning grand slam, but it feels like many of their fans are still losing.
Follow Bill Plasckhe on Twitter @billplaschke
---
Get our high school sports newsletter
Prep Rally is devoted to the SoCal high school sports experience, bringing you scores, stories and a behind-the-scenes look at what makes prep sports so popular.
You may occasionally receive promotional content from the Los Angeles Times.