Dodgers rookie catcher Will Smith's apprenticeship began in September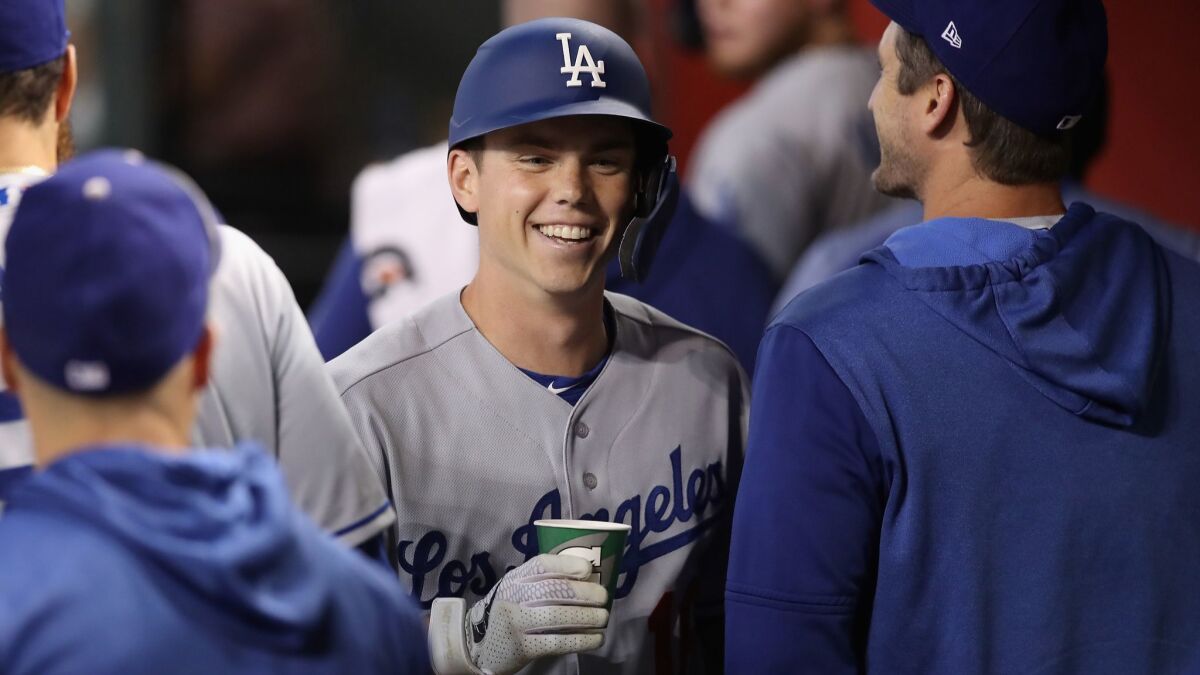 Last September, the Dodgers, like many teams across the majors when rosters expand, called up a prospect they envisioned contributing for years to come. Will Smith, a baby-faced catcher, traveled with the team. He was given a locker. He watched film and attended pregame meetings as the Dodgers charged their way to a sixth straight division title. But when the games started, Smith wasn't allowed in the dugout. He watched them in the club's video room -- at home and on the road -- alongside the team's video coordinator.
An idea hatched by the Dodgers' front office, Smith's few weeks with the club were a preparatory course designed to ease his ascension to the big leagues whenever he was called up to play. It required approval from Major League Baseball and, by all accounts, made a difference in Smith's first stint as a major league player, which ended Thursday when he was optioned back to triple-A Oklahoma City.
"It made this transition way easier for me," Smith said. "I was kind of bombarded with everything but I didn't have to stress about playing. This year, I wasn't bombarded. I'm used to it."
A first-round pick out of Louisville in 2016, the 24-year-old Smith was not sent to the minors because of performance. He went six for 21 with two home runs in six games with the Dodgers. The first home run beat the Philadelphia Phillies on Saturday. The second accounted for the Dodgers' only offensive output in Wednesday's loss to the Arizona Diamondbacks. Behind the plate, he threw out two of four base stealers and deftly handled the pitching staff, drawing unsolicited positive postgame reviews from starting pitchers.
"The biggest thing is the willingness to dive right in on the scouting and understand that and figure out that fast," said Clayton Kershaw, who allowed one run over seven innings Sunday against the Phillies while working with Smith.
But Austin Barnes was ready to come off the injured list and the Dodgers, manager Dave Roberts said, want Smith to play every day. The Dodgers will proceed with Barnes and Russell Martin as their catching combo.
"When you're talking about Austin and Russell, they know their roles," Roberts said. "So to know that we have Will getting seasoned, going to finishing school, just continuing to get those at-bats and playing at higher levels, whether it's triple A or the big leagues, that depth is good for all of us.
Last September's assignment advanced Smith's big league education. It was aimed, above all, to prepare for the data flood that can overwhelm young catchers. Smith worked closely with Danny Lehmann, then the Dodgers' game-planning coach, and every coach included in a starting pitcher's preparation. He sat in on meetings. He was in constant communication with the Dodgers' two catchers, Barnes and Yasmani Grandal, and worked out with strength and conditioning coach Brandon McDaniel preparing his body for the offseason workout regimen. He absorbed information from everyone.
"Once his time was up, the players were disappointed he had to leave," Roberts said. "They were lobbying for him to stick around longer. That speaks to how they respected him. And so how do you quantify him being here? I don't know. I just know there was no downside."
Sign up for our Dodgers newsletter »
The Dodgers operated during the offseason under the assumption that Smith -- widely regarded as the organization's second-best catching prospect behind Keibert Ruiz -- would make his major league debut at some point in 2019. Andrew Friedman, president of baseball operations, declared Smith was already a Gold Glove-caliber catcher. His positional versatility only adds to his defensive value. But Smith batted just .138 and posted a .438 on-base-plus-slugging percentage in 25 games in triple-A at the end of last season.
The Dodgers wanted to see improvement and Smith promptly displayed it, batting .290 with eight home runs and an .890 on-base-plus-slugging percentage in 38 games for Oklahoma City before he was elevated to the majors. Smith credited the progression to mechanical changes he implemented in the offseason, and time. He said it took him a year to become comfortable with the leg kick he added in his first professional season. Other aspects, he said, he had to figure out by trial and error.
The product was on display for 10 days and, with some on-the-ground tutelage last September, left an impression.
"It's been a work in progress and still is," Smith said. "I'm still learning. I'm not great at it yet, but I feel like I've gotten a head start on it."
Twitter: @jorgecastillo
Get our Dodgers Dugout newsletter for insights, news and much more.
You may occasionally receive promotional content from the Los Angeles Times.