Five reasons the Dodgers will win the World Series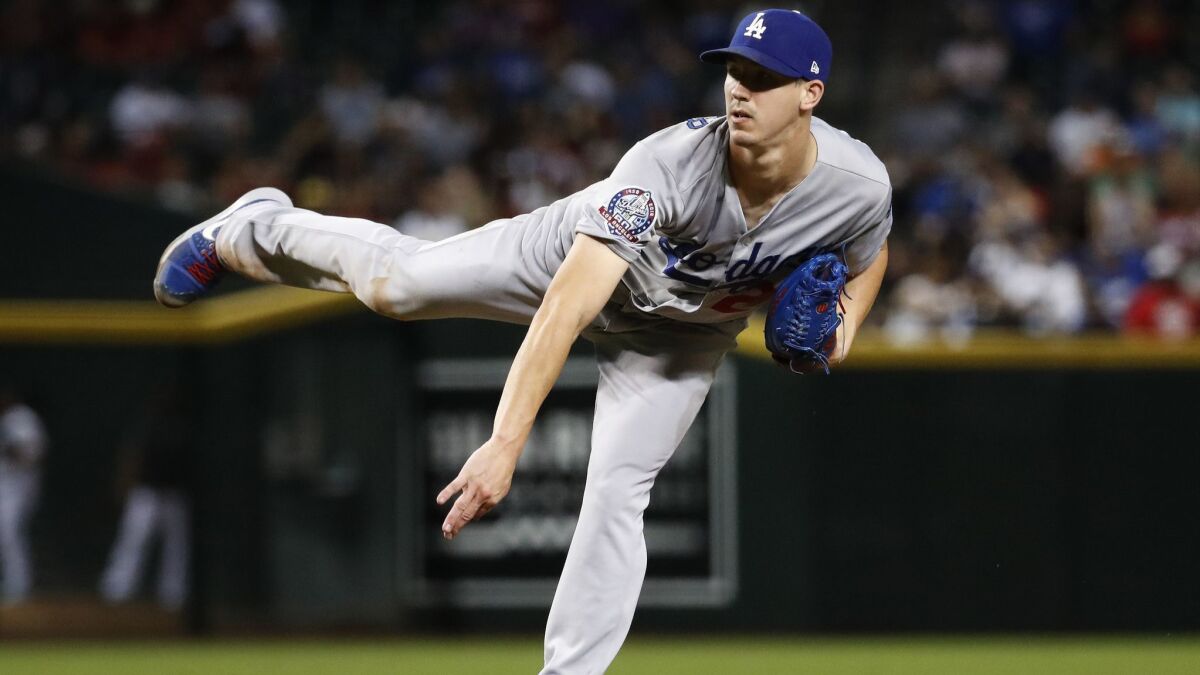 Last year, the Dodgers won 104 games and ran away with the division title only to lose in Game 7 of the World Series. This season won't have the same finish, it will end with a parade in L.A. Here are the top five reasons the Dodgers will win the World Series this year.
1. Starting pitching. The Dodgers have had a rich history of starting pitchers dating back to the days of Dazzy Vance. This year is no exception. The rotation was second in the majors in ERA, led in walks and hits per innings pitched, or WHIP, and is anchored by ace Clayton Kershaw and future ace Walker Buehler. They also can call upon Rich Hill, Ross Stripling, Hyun-Jin Ryu, Alex Wood and Kenta Maeda, leaving them with the deepest rotation in the playoffs. But the key is Buehler, who has been the dominant No. 2 the Dodgers have been looking for ever since Zack Greinke abandoned ship for Arizona. Beating Kershaw and Buehler on consecutive nights will be a tall task for any team.
2. Justin Turner. He's the toughest out on the Dodgers, and one of the toughest outs in all of baseball. Even after the Dodgers acquired Manny Machado, Turner remained the heart of the Dodgers offense. After the All-Star break, he hit .356 (second in the majors, minimum 200 plate appearances), has an on-base percentage of .447 (second in the majors) and slugging .619 (third in the majors). He is second in L.A. Dodgers history for highest second-half batting average behind Manny Ramirez, who hit .396 in 2008.
3. This is the opposite of last season. Last year, the Dodgers cruised to a division title and cruised through the playoffs. They seemed to be the team of destiny, but no one told that the Houston Astros. This season has been the opposite — a struggle from start to finish — so maybe that's an omen that they are going to win. Besides, it has been 30 years. They have to win sometime and get off the list of longest current World Series title drought:
Cleveland Indians, last won in 1948
Texas Rangers, never (started in 1961)
Milwaukee Brewers, never (started in 1969)
San Diego Padres, never (started in 1969)
Washington Nationals, never (started in 1969)
Seattle Mariners, never (started in 1977)
Pittsburgh Pirates, last won in 1979
Baltimore Orioles, last won in 1983
Detroit Tigers, last won in 1984
New York Mets, last won in 1986
Dodgers, last won in 1988
4. The offense is too powerful. The Dodgers have 11 players with at least 10 home runs this season. A team might be able to stop Cody Bellinger, but can they also stop Yasiel Puig? They might be able to stop Yasmani Grandal, but can they also stop Machado? We've already talked about Turner, but there's also Chris Taylor, Max Muncy, Brian Dozier, Joc Pederson, Enrique Hernandez and Matt Kemp. There are more power hitters than there are spots in the lineup.
5. Matt Kemp is on a mission. Kemp wasn't even supposed to be on the team this season. When he was traded from Atlanta to L.A. before the season for Adrian Gonzalez, Brandon McCarthy, Scott Kazmir and Charlie Culberson, it was supposed to be a salary dump, and many thought the Dodgers would release him immediately. But they didn't.
Many observers assumed they'd try to work out a trade so the Dodgers could get something in exchange for him, and if that failed, they would release him. But the Dodgers didn't trade him. And they didn't release him.
They assumed he would come to spring training and play himself off the roster. But he didn't. They assumed he'd never start. But he has started some games.
It turns out Kemp loved playing for the Dodgers. He never wanted to leave. And he worked himself back into shape, lost 40-50 pounds and carried the team in the first half. He came here to win a World Series in Los Angeles. And after all he has done, who wants to stand up and tell him he can't do it?
Get our Dodgers Dugout newsletter for insights, news and much more.
You may occasionally receive promotional content from the Los Angeles Times.