Dodgers waiting on Kenley Jansen as Aroldis Chapman signs with Yankees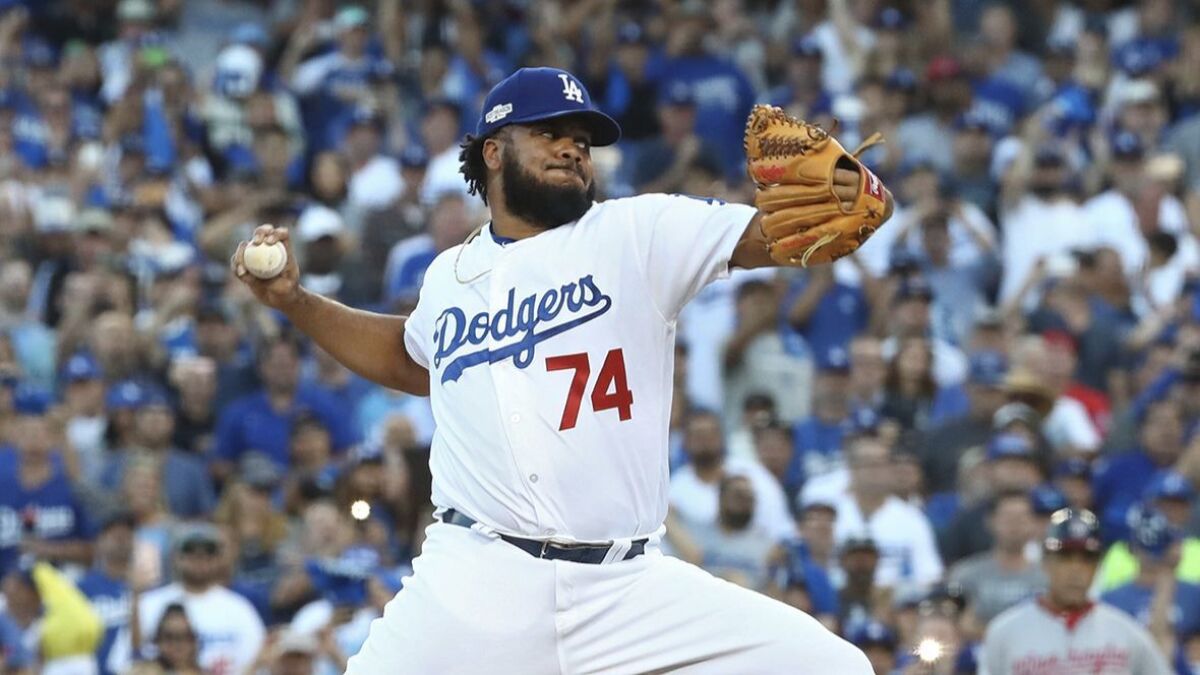 Reporting from Oxon Hill, Md. —
At a quarter past 6 p.m. on Wednesday, Dodgers General Manager Farhan Zaidi made a prediction that did not exactly classify as bold, given the languid pace of discussions this week at the Gaylord National Resort and Convention Center.
"I don't necessarily see us doing anything in the next 12 hours," he said inside his team's suite on the final night of the winter meetings.
The lack of acquisitions, save for a reunion with starting pitcher Rich Hill, is not because of a lack of effort. But like many teams in the industry, the Dodgers were awaiting a resolution in the bidding war for the services of closers Kenley Jansen and Aroldis Chapman. One domino fell just before midnight here, when the New York Yankees struck a five-year, $86-million deal with Chapman, according to Fox Sports.
With Chapman headed back to New York, the Dodgers appeared locked in a duel with Miami for the services of Jansen, according to people familiar with the situation. The Nationals were also capable of joining the derby, but the Dodgers and Marlins looked like the two primary suitors.
In the hours before Chapman signed, rival executives speculated that his financial package should exceed the one Jansen received. Because Chapman was traded midway through 2016, a team does not need to sacrifice a draft pick to sign him. Any team besides the Dodgers would have to do so in order to ink Jansen. Even so, Marlins Manager Don Mattingly, the former Dodgers skipper, said Wednesday that he called Jansen to pitch him on moving to Miami.
"I don't want to talk about a conversation with Kenley as far as what he feels, but I think the main thing I could say is that he wasn't opposed," Mattingly said. "He didn't tell me, 'I'm absolutely going back to the West Coast,' or 'I absolutely don't want to play in South Florida.' So basically he was open to the idea."
Chapman shattered the financial record for relievers set by Mark Melancon, who signed a four-year, $62 million deal with San Francisco this week. Since taking over the Dodgers' baseball operations department in 2014, Andrew Friedman has never doled out a contract for a free agent that exceeds $48 million.
The waiting has also created a logjam as the Dodgers try to fill holes at third base and second base. The team has maintained dialogue with Jansen and Justin Turner, who is perhaps the best infielder on the market, but has yet to approach a resolution with either player.
"It's an ongoing thing," Zaidi said. "I think, from both the team and agent standpoint, when things have been going on for a reasonable amount of time, this seems like a good place to bring things to closure. Sometimes it happens. Sometimes it doesn't."
And, Zaidi was reminded, he had just said that nothing was expected to happen and the meetings would wrap on in the morning.
"In theory," Zaidi said, "it's a good time to get things done. That doesn't mean it's going to happen. I think there are a lot of free agents out there that figured their markets would come to a head here. And there hasn't been a ton of signings."
But the team has not been idle, merely waiting by the phone for a closer to call. The Dodgers continued dialogue with Minnesota about second baseman Brian Dozier, with Detroit about second baseman Ian Kinsler and with the Chicago White Sox about third baseman Todd Frazier. The team is searching for right-handed hitters to balance the lineup, and rival executives still consider them the favorites to re-sign Turner.
As the White Sox continue to tear down their roster, a process that included the trade of outfielder Adam Eaton on Wednesday, the Dodgers could pursue closer Dave Robertson. The team watched from the sidelines as the Chicago Cubs acquired former All-Star closer Wade Davis from Kansas City in exchange for outfielder Jorge Soler.
The Royals were in the market for pitching, according to people familiar with the situation, which fit the strength of the Dodgers system. But the two sides could not find a match. The discussions faded Tuesday night.
The talk was expected to continue on Wednesday evening. And it will continue after the Rule 5 draft wraps up the meetings Thursday morning.
"There's plenty of time left in the off-season," Zaidi said. "There's plenty of trade options and free-agent options out there. You want to feel like we all traveled out here for four days for a reason. That's why you hope there's a trade or a signing that makes everyone feel better about the travel. But these things are unpredictable."
Twitter: @McCulloughTimes
Get our Dodgers Dugout newsletter for insights, news and much more.
You may occasionally receive promotional content from the Los Angeles Times.