Dodgers' Yasiel Puig says he has more respect for the game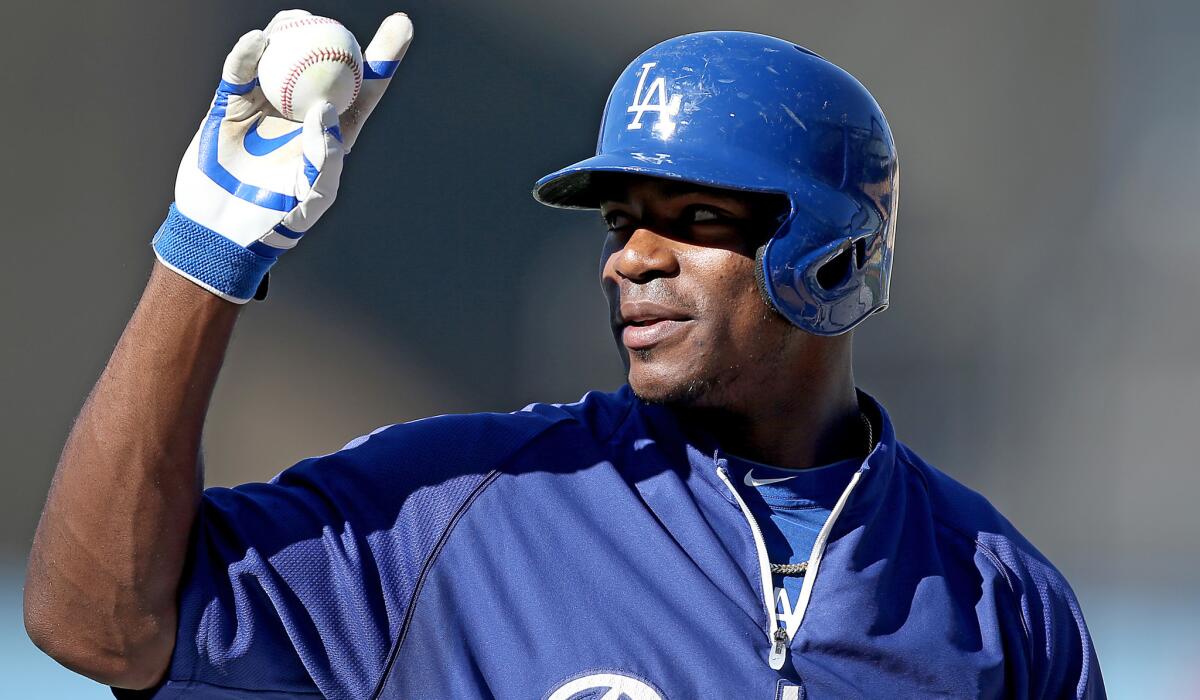 Reporting from Phoenix —
Standing in a near-empty locker room at the Dodgers' spring-training complex, Yasiel Puig shared a grand vision of his future.
Puig said he would like to be to baseball what Kobe Bryant and LeBron James are to basketball.
"I want to be like them one day," he said in Spanish.
He went on to talk about the baseball players he considers worthy of replacing the now-retired Derek Jeter as the face of their sport: Clayton Kershaw, Miguel Cabrera, Albert Pujols, Felix Hernandez, Robinson Cano and Mike Trout.
"I want to be there," he said.
Puig explained that was why he was one of a handful of position players already in camp. Position players don't have to be at Camelback Ranch until Wednesday, but Puig reported here last week with the team's pitchers and catchers.
"That's the first step," said hitting coach Mark McGwire.
Management is cautiously optimistic this year could be a turning point in Puig's career. If Puig displayed breathtaking talent in his first two seasons with the Dodgers, he also showed maddening lapses in focus and judgment.
"It's up to him to take some of those steps," said Manager Don Mattingly. "We're going to be here to help him in any way we can."
McGwire sounded upbeat Sunday as he watched Puig run on a practice field under the supervision of a strength and conditioning coach.
"He doesn't have to be here," McGwire said. "He's been here a week prior to when he's supposed to be here. He could have stayed away today, but look at what he's doing."
Longtime coach Manny Mota, a mentor to many of the team's Latin American players, said he has noticed a change in the 24-year-old Cuban outfielder.
"I've seen more maturity," Mota said in Spanish. "I've seen more responsibility, more seriousness in what he does, more concentration in his work."
He is also asking more questions, Mota noted.
Puig said that over his two seasons in the majors, he has gradually come to realize that he can't realize his ambitions with talent alone.
He has watched how Kershaw and Adrian Gonzalez prepare for games and received advice from the likes of Cano and Pujols. Puig spent considerable time with Cano in the off-season, when they were part of an All-Star team that played an exhibition series in Japan.
"Now, I have a greater commitment to myself, to the team, to the public," Puig said.
When the season starts, Puig said he will take Gonzalez's advice and make an effort to show up earlier to Dodger Stadium. That would mark a change from last season, when he rarely participated in early batting practice.
Puig thinks the work could help him avoid the inconsistency that marked his first two seasons with the Dodgers. Puig made his first All-Star team last year, hitting .344 with 11 home runs and 39 runs batted in in his first 48 games. Over the remainder of the season, he hit .272 with five home runs and 30 RBIs.
Without offering details, Puig made references to not wanting to repeat his mistakes from the past. He also said he intends to show more respect toward his teammates, as well as the game of baseball.
Still, Puig said he will continue to celebrate enthusiastically when hitting a home run or making a spectacular throw.
"If I change that, I'm not me," he said. "No one will come to watch me. … You can't compare Latin Americans to Americans. We always try to enjoy the game. We'll always get excited when we hit home runs or throw someone out."
Puig has a financial incentive to improve his performance from last season, which he finished with a .296 average.
He is entering the fourth year of a seven-year, $42-million contract. Provided he remains in the major leagues for most of the season, he will be able to void the remainder of the contract and have his salaries in the next four years determined by the arbitration process. The better he performs, the more he will earn.
McGwire thinks Puig can perform well enough to win the league's most valuable player award.
Puig said he appreciated his coach's endorsement, adding, "I'm here preparing so that his words won't be in vain."
Of the widespread perception that he has the necessary talent to win such an award, Puig said, "Everyone thinks that. I think that, too, that I have the ability. A young player, Mike Trout, won it last year. It's something to which I aspire. I'll work hard so that it can happen this year."
But Puig said that isn't his primary focus.
"What I want is to give the best of myself on the field and for everyone to be satisfied with my work and for me to feel that I worked hard," he said. "Everyone wants to win an MVP, but what's most important for me is that the team wins and is in the World Series."
Twitter: @dylanohernandez
Get our Dodgers Dugout newsletter for insights, news and much more.
You may occasionally receive promotional content from the Los Angeles Times.