Yasiel Puig brings a reality show-style swagger to the Dodgers' postseason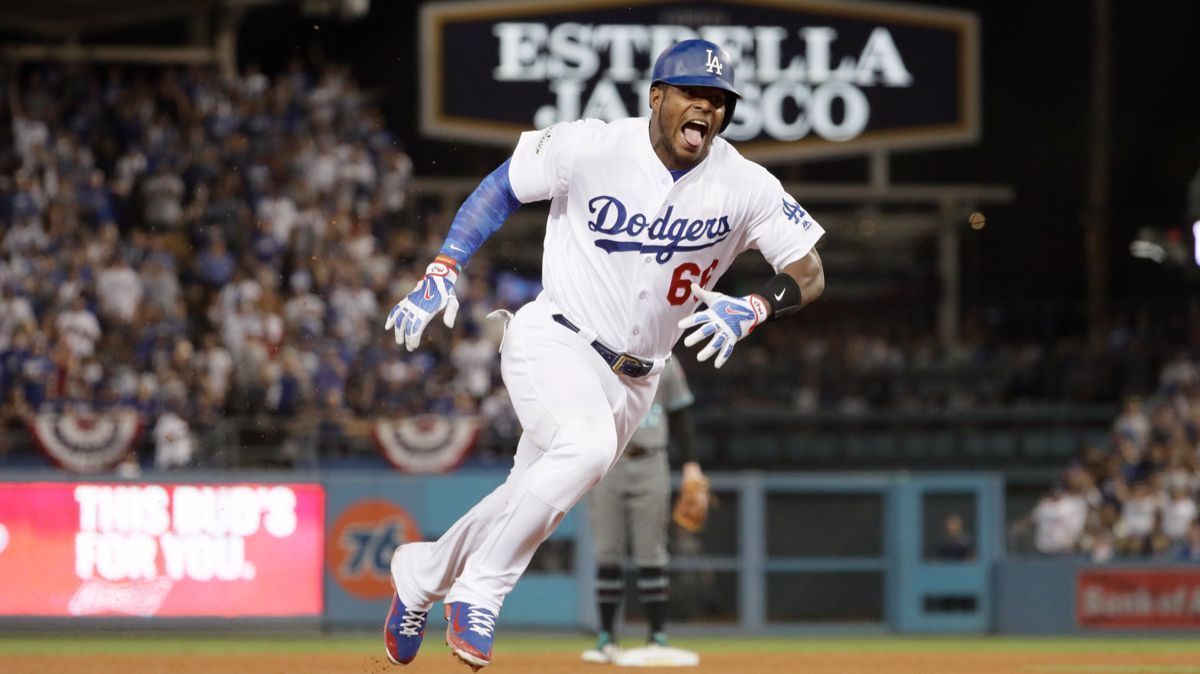 The red light of a television camera beckoned, and so Yasiel Puig obliged. He unclenched his jaws and unfurled the hardest-working muscle on the 2017 Dodgers. As the team celebrated bouncing the Chicago Cubs out of the National League Championship Series last week, Puig wagged his tongue for the viewers in Los Angeles before issuing a proclamation.
"Four more," Puig said. "Four more."
He meant victories, the number necessary to secure the Dodgers' first World Series championship since 1988. Along the way, there assuredly will be more than four shots of Puig flashing his tongue.
Conceived in a moment of exuberance after a first-round triple, it has become a signature gesture of this postseason. The television broadcasts showed Puig wagging his tongue in the dugout ad nauseam. After a triple in the NLCS, straight-laced Chris Taylor lolled his tongue. On the mound at Wrigley Field after Game 5, the Dodgers gathered for a team picture with their tongues out.
Puig has starred in a one-man reality show during the playoffs. He licked his bat before walks. He flipped it after singles. He chopped his crotch after doubles. At one point during the final rout of the Cubs, the camera spent two minutes fixed on Puig attempting to smooch hitting coach Turner Ward in the dugout.
The vibrancy coincides with Puig's emergence as a vital presence in the Dodgers lineup. After batting Puig eighth for most of the season, manager Dave Roberts has promoted him to the Nos. 4 and 5 spots at times in October. Puig has responded by hitting .414 in the postseason with a 1.169 on-base-plus-slugging percentage, four extra-base hits and six runs batted in. He even has walked six times, flashing patience that his approach often lacked.
"His level of focus this postseason has been the best that I've ever seen it," Clayton Kershaw said. "When you combine that with the talent level that he has, it's a really special player."
The prospect of Puig playing a prominent role on a Dodgers team in the World Series sounded unlikely last summer, when the organization demoted him to the minors and made him available in trade discussions to any club willing to make a fair offer. Even after Puig's resurgent 2017 campaign, in which he hit 28 homers and played excellent defense in right field, he received a two-day benching in the final week of the regular season for making a foolish mistake on the bases in one game and showing up late to the ballpark a day later.
The demotions, punishments and public censure appear to have chastened Puig. Roberts motivated him using playing time as an incentive. Puig, 26, learned to trust authority figures such as Roberts and Ward. His teammates have grown to accept when his exuberance borders on annoyance. And the Dodgers have benefited from sticking with him, even after dangling him on the trade market for so long.
His level of focus this postseason has been the best that I've ever seen it.
— Dodgers pitcher Clayton Kershaw
"Often times, when situations play out that way, I think a change of scenery is what's needed for a player to take that next step," president of baseball operations Andrew Friedman said. "To his credit, and fortunately for us, we were able to avoid that situation."
As Friedman considered Puig's improvement, he suggested much of the trouble stemmed from Puig "just not fully understanding what was expected." Friedman referenced the challenges for a player assimilating into the culture of American baseball after growing up in Cuba. He suggested the burden should fall on the organization in addition to the player.
"We think we can just say it, and if they're not listening, then they're being insubordinate," Friedman said. "Whereas I don't think he fully grasped 'Hey, be a good teammate.' Well, what does that mean, exactly?"
The examples had to come from within the Dodgers clubhouse. One night in June, Puig hit a mammoth home run off New York Mets pitcher Tyler Pill. As the ball soared toward the left-field bleachers, Puig spent 11 seconds admiring it. Rounding first base, Mets infielder Wilmer Flores barked at him for the perceived disrespect. Puig spat an expletive in Flores' direction. Later in the evening, fellow Cuban Yoenis Cespedes reprimanded Puig.
After the game, a crowd of reporters gathered around Puig's locker. There were two unusual spectators: Justin Turner and Kenley Jansen. They kept an eye on Puig as he discussed the incident. Both were willing to vouch for their teammate. Turner had even cued up a reel of Cespedes' languidly-paced home run trots to show the hypocrisy of the criticism.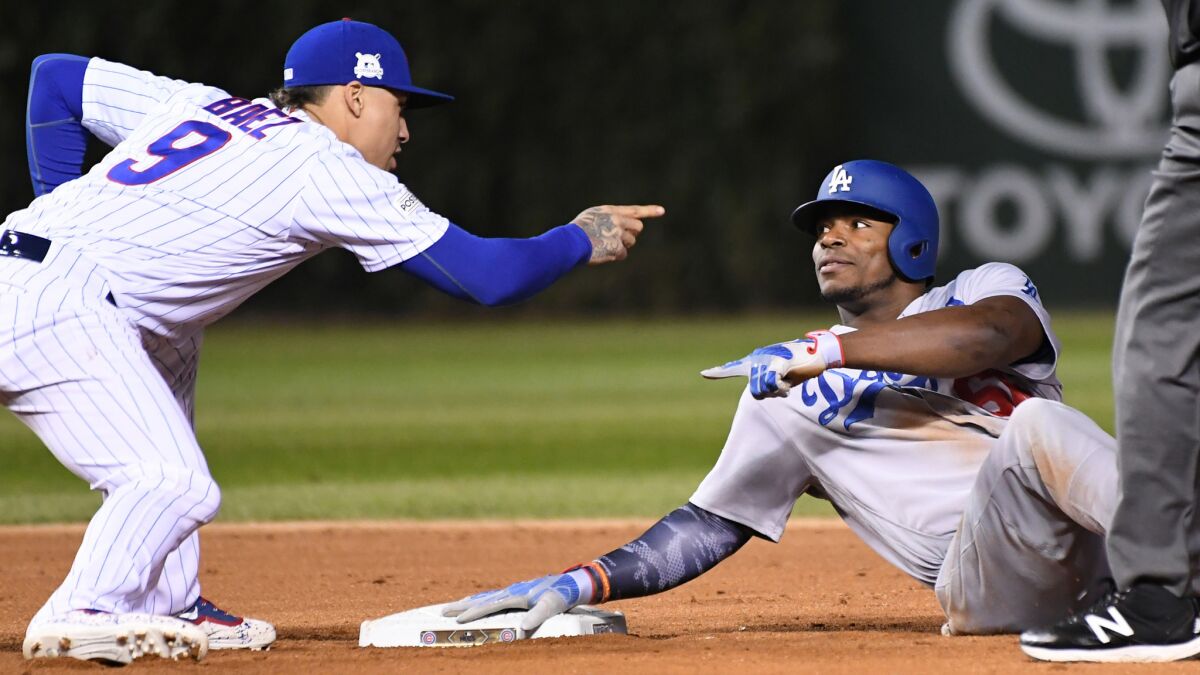 Turner could understand antipathy toward Puig. The two had nearly engaged in a fight a few years earlier over a trivial matter involving the team's traveling party. Now in his fourth season sharing a clubhouse with Puig, Turner had softened his stance.
"With Puig, it's more about understanding him and who he is, where he comes from, the type of guy he is," Turner said. "I know that he has huge heart, a huge soft spot. I see everything he does in the community. I know that deep down he cares. It's just a lot of times, it doesn't come off that way to his teammates. That's the hard part. But once you can get over that, and understand who he really is, he's a pretty good kid."
In May, Puig hosted a poker tournament at Dodger Stadium for his charity, the Wild Horse Foundation. His teammates joined the action, with appearances by Kershaw, Turner, Jansen, Adrian Gonzalez, Brandon McCarthy and Chase Utley.
"I think that was a milestone for him, that he was able to have a successful tournament, and that his teammates supported him," said Andy Mota, one of Puig's agents.
There were more concrete milestones to follow. Puig set a career high for homers. His .833 OPS was his best since 2014. He appeared in a career-best 152 games and did not spend time on the disabled list.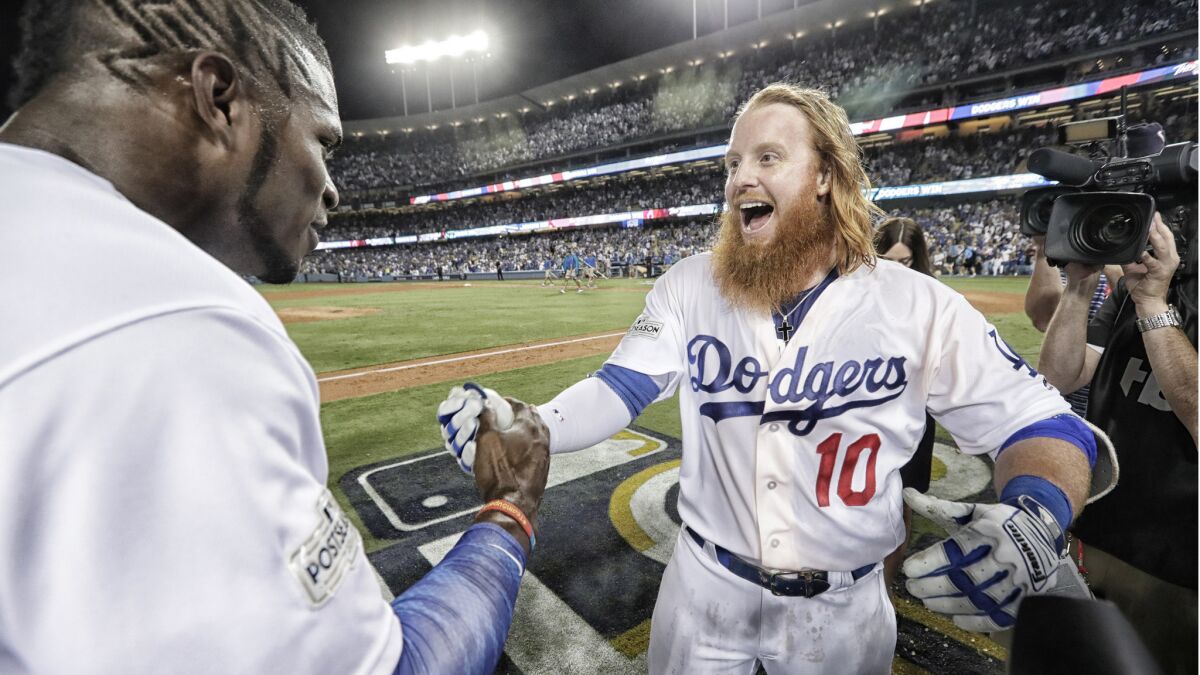 With Puig, it's more about understanding him and who he is, where he comes from, the type of guy he is. I know that he has huge heart, a huge soft spot.
— Dodgers third baseman Justin Turner
Despite the production, in September Roberts noticed "things were going in the wrong direction" with Puig's behavior. On Sept. 23, Puig got thrown out at second base to end a game against the San Francisco Giants; he was running on his own and did not slide. Roberts benched him the next day.
On Sept. 25, Roberts intended to return Puig to the lineup. But Puig showed up late to the ballpark, and Roberts could not abide the tardiness. Roberts met with members of the front office to discuss the infractions. They needed to explain to the media why Puig wasn't in the lineup. General manager Farhan Zaidi wanted to be vague. He felt there was no need to publicly call out Puig. Roberts disagreed.
"He was like, '[Puig] did something stupid, and then he showed up late,'" Zaidi said. "Our instinct is to cringe a little when we hear that stuff. But I think the honesty with which Doc has treated him is part of what's gotten him to buy back in."
The response from Puig was immediate. He doubled in his first game back in the lineup, supplied two hits the next night and set the stage for his performance in these playoffs.
Recently, a Dodgers official joked about how Puig's trade value would skyrocket this winter; the time to sell was now. That outcome appears quite unlikely, given Puig's popularity among fans, his production on the field and his relative affordability. The Dodgers owe Puig only $9.2 million for 2018.
So expect to see plenty more of Puig. And plenty more of his tongue.
"Right now, he's playing at such a high level," Roberts said. "He's really bought into how important every pitch is, and that's something that as this season has progressed, he's really understood that importance."
The Los Angeles Dodgers in the 2017 World Series
Twitter: @McCulloughTimes
ALSO
Behind the scenes look at Dodger Stadium
An active Corey Seager is happy to be back
Austin Barnes on getting mentally prepared for the World Series
Dodgers vs. Astros: How the teams match up for the World Series
---
Get our Dodgers Dugout newsletter for insights, news and much more.
You may occasionally receive promotional content from the Los Angeles Times.