Dodgers vs. Astros: How the teams match up for the World Series
Los Angeles Times sportswriters Andy McCullough and Dylan Hernandez discuss the Dodgers' advantages and disadvantages against the Houston Astros heading into the 2017 World Series.
The Los Angeles Dodgers will host the Houston Astros in Game 1 of the best-of-seven World Series at 5 p.m. on Tuesday.
Here's a look at how the teams match up:
DODGERS VS. HOUSTON ASTROS
(regular-season statistics)
PROJECTED LINEUPS
POS.; DODGERS; AVG.; HR; RBI; COMMENT
World Series live: Dodgers vs. Astros
C; Austin Barnes; .289; 8; 38; Started four of five games in NLCS, displacing Yasmani Grandal.
1B; Cody Bellinger; 2.67; 39; 97; Still dangerous, even in slumps, with two playoff homers.
2B; Logan Forsythe; .224; 6; 36; A vital contributor against left-handed pitchers; may also start against right-handers.
SS; Corey Seager; .295; 22; 77; His availability is Dodgers' biggest concern heading into the World Series.
3B; Justin Turner; .322; 21; 71; Co-MVP of the NLCS has a .482 career playoff on-base percentage.
LF; Andre Ethier; .235; 2; 3; Has probably unseated slumping veteran Curtis Granderson as the starter against right-handers.
CF; Chris Taylor; .288; 21; 72; Shared NLCS co-MVP honors with Taylor after homering twice against Cubs.
RF; Yasiel Puig; .263; 28; 74; The breakout star of the Dodgers' postseason, with 1.169 OPS in the playoffs.
POS.; ASTROS; AVG.; HR; RBI; COMMENT
C; Brian McCann; .241; 18; 62; Scouts say he's one of the best pitch framers in baseball.
1B; Yuli Gurriel; .299; 18; 75; Cuban doesn't walk much, but doesn't strike out either.
2B; Jose Altuve; .346; 24; 81; The 5-6 AL MVP favorite can do it all; has five homers this postseason.
SS; Carlos Correa; .315; 24; 84; Only 23, he missed six weeks this season and still put up big numbers.
3B; Alex Bregman; .284; 19; 71; Steady performer is better in the field than he receives credit for.
LF; Marwin Gonzalez; .303; 23; 90; Utilityman having a career year will also draw starts at first base.
CF; George Springer; .283; 34; 85; Power-hitting leadoff man is a fine defender as well.
RF; Josh Reddick; .314; 13; 82; Said he wanted to play the Dodgers to stick it to fans who booed him last year.
The Dodgers could certainly use a healthy Corey Seager. With Seager on the shelf in the National League Championship Series, the team received a surprisingly exceptional performance from Charlie Culberson, who started against left-handed pitchers and batted .455. But the bottom third of the lineup looked lackluster against right-handed pitching, especially in Game 4 against Chicago. The top of the lineup is quite formidable, with Chris Taylor, Justin Turner, Cody Bellinger and Yasiel Puig tormenting opposing pitchers. Houston led the majors in runs, batting average, on-base percentage and slugging. New York kept the Astros quiet for most of the American League Championship Series, but Houston came alive in the final two games to grab the series. It is difficult to find a weak spot in the lineup. Jose Altuve might be the American League MVP. George Springer hit 34 home runs. Carlos Correa posted a .941 on-base plus slugging percentage. Marwin Gonzalez can play almost every position on the diamond. Advantage: ASTROS.
::
STARTING PITCHERS
T; DODGERS; W-L; ERA; COMMENT
LH; Clayton Kershaw; 18-4; 2.31; His six innings of one-run baseball kept the Cubs quiet in the NLCS clincher.
LH; Rich Hill; 12-8; 3.32; Has given up two runs and struck out 12 in his two playoff starts this year.
RH; Yu Darvish; 10-12; 3.86; If he starts Game 3 in Houston, he won't be able to replicate his crucial NLCS walk.
LH; Alex Wood; 16-3; 2.72; Victimized by homers in Chicago, he otherwise pitched well after three weeks off.
T; ASTROS; W-L; ERA; COMMENT
LH; Dallas Keuchel; 14-5; 2.90; Former Cy Young winner uses command to overcome below-average velocity.
RH; Justin Verlander; 15-8; 3.36; Aug. 31 acquisition was ALCS MVP after twice shutting down the Yankees.
RH; Charlie Morton; 14-7; 3.62; 33-year-old veteran throws as hard as ever, still using the famed Roy Halladay delivery.
RH; Lance McCullers Jr.; 7-4; 4.25; Bullpen star in ALCS Game 7, but will use curveballs in start against the Dodgers.
Clayton Kershaw appeared close to tears after Game 5 of the NLCS at Wrigley Field, as the joy of reaching the World Series hit him. He was efficient and effective in his two outings against the Cubs, with his command much sharper in the clincher. The Dodgers remain vigilant in their usage of him, aware of his vulnerability to homers. The team has used a similar strategy in managing Rich Hill, Yu Darvish and Alex Wood, though manager Dave Roberts extended Darvish into the seventh inning against the Cubs. After spending almost his entire career in the American League West, Darvish's familiarity with the Astros can't hurt. The late-August acquisition of Justin Verlander added a dynamic weapon to the Astros rotation — and Verlander proved vital to the team reaching this stage, as his seven dominant innings in Game 6 against New York kept Houston's season alive. He will be paired with Dallas Keuchel, the team's resident ace and usual Game 1 starter. The Astros did not need to use either Keuchel or Verlander in Game 7, and both should be ready for the first two games against the Dodgers. The back half of the Astros' rotation is less dominant, but still impressive, with Charlie Morton, Lance McCullers and Brad Peacock all options to start. Advantage: DODGERS.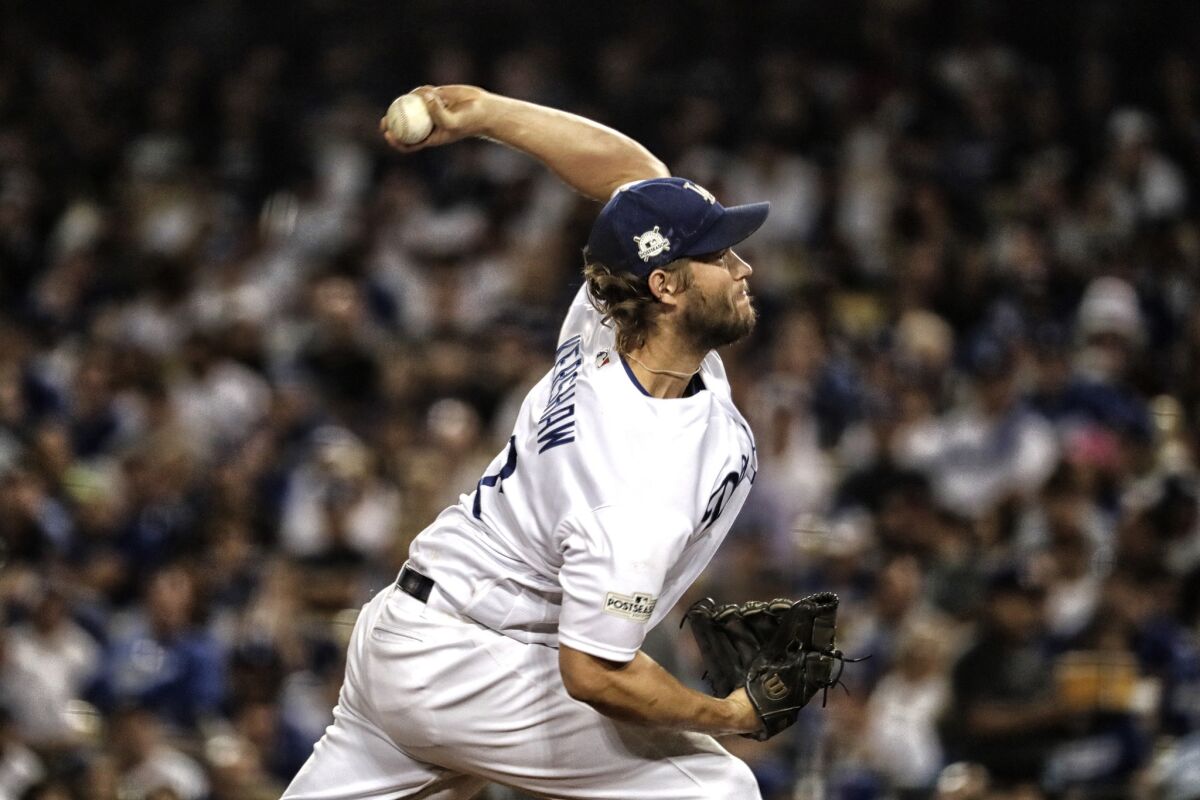 ::
BULLPEN
T; DODGERS; W-L-S; ERA; COMMENT
RH; Kenley Jansen; 5-0-41; 1.32; Has retired 24 of the 28 batters he has faced in the playoffs.
RH; Brandon Morrow; 6-0-2; 2.06; His 1.08 postseason ERA won't hurt his case in free agency this winter.
RH; Kenta Maeda; 13-6-1; 4.22; Has appeared in five playoff games and hasn't allowed a runner to reach base.
LH; Tony Cingrani; 0-0-0; 4.22; Unheralded when acquired in August, he faces opponent's top left-handed hitters.
LH; Tony Watson; 7-4-10; 3.38; His ability to induce ground balls has continued during the postseason.
RH; Josh Fields; 5-0-2; 2.84; Appeared in three games during first two playoff rounds.
RH; Ross Stripling; 3-5-2; 3.75; Can be used to soak up innings, as he did during the NLCS against the Cubs.
LH; Luis Avilan; 2-3-0; 2.93; Has not pitched since Sept. 21 because of a shoulder injury.
RH; Pedro Baez; 3-6-0; 2.95; Did not pitch in NLDS; was not on the roster for the NLCS.
T; ASTROS; W-L-S; ERA; COMMENT
RH; Chris Devenski; 8-5-4; 2.68; Cerritos native has back-to-back great seasons, but struggled this month.
RH; Ken Giles; 1-3-34; 2.30; Closer throws 100 mph, spins a slider, but has had missteps in October.
RH; Luke Gregerson; 2-3-1; 4.57; Former closer fell out of favor for much of this season.
RH; Will Harris; 3-2-2; 2.98; Warmed up often in the ALCS, but didn't pitch much.
LH; Francisco Liriano; 6-7-0; 5.66; Acquired at the trade deadline, ex-starter has been used sparingly.
RH; Collin McHugh; 5-2-0; 3.55; Likely to pitch only in mop-up situations only.
RH; Joe Musgrove; 7-8-2; 4.77; Faced four batters in the ALCS and retired two of them.
RH; Brad Peacock; 13-2-0; 3.00; Rose from obscurity at 29 to shine as a starter this season.
Here is the only area where one team has a clear advantage. The Dodgers' relievers handcuffed the Cubs for the entirety of the NLCS. Chicago didn't score against the Dodgers bullpen in 17 innings. Kenley Jansen has been nearly flawless, and has not been subjected to heavy usage. Jansen has pitched in seven games, but only two involved multiple-inning outings. The combination of Brandon Morrow and Kenta Maeda can shut down right-handed hitters; Tony Watson and Tony Cingrani can handle the left-handed hitters. The bullpen of Astros manager A.J. Hinch is less reliable. The Yankees roughed up middle relievers such as Chris Devenski, Will Harris and Joe Musgrove. Ken Giles, the heat-throwing closer, has an impressive arsenal of pitches but saw his strikeout rate dip this season. The patience of the Dodgers hitters could defuse most of the Astros' relievers. Houston relies on curveballs, and the Dodgers tend to hit those well. Hinch is more likely than Roberts to lean on his starters to go deep into games. Advantage: DODGERS.
::
RESERVES
POS.; DODGERS; AVG.; HR; RBI; COMMENT
C; Yasmani Grandal; .247; 22; 58; Walked three times during his lone start in the NLCS.
OF; Enrique Hernandez; .215; 11; 37; It's unlikely he'll ever top his three-homer night in Game 5; who could?
2B; Chase Utley; .236; 8; 34; Looked unsteady during crucial at-bats during Game 4 in Chicago.
OF; Joc Pederson; .212; 11; 35; Could be an option as the designated hitter, but more likely to come off the bench.
C; Kyle Farmer; .300; 0; 2; manager Dave Roberts continues to like him as a pinch-hitter, even against right-handers.
SS; Charlie Culberson; .154; 0; 1; Shined in Seager's absence during the NLCS; hit .455 against Chicago.
OF; Curtis Granderson; .212; 26; 64; Has struck out eight times in 15 postseason plate appearances.
POS.; ASTROS; AVG.; HR; RBI; COMMENT
C; Juan Centeno; .231; 2; 4; Presence allows manager A.J. Hinch to use Gattis as a pinch hitter.
C; Evan Gattis; .263; 12; 55; Slugger hits without batting gloves — and strikes out a lot.
OF; Derek Fisher; .212; 5; 17; Rookie did not appear in the ALCS; won't play much in World Series.
OF; Cameron Maybin; .228; 10; 35; Ex-Angel pinch-running threat made one big mistake in the field during ALCS.
DH; Carlos Beltran; .231; 14; 51; Team's clubhouse leader, 40, is typically at his best during the playoffs.
Enrique Hernandez stole the show in Game 5 at Wrigley Field. His three home runs powered the offense in an 11-1 rout. He may be the team's most dangerous pinch hitter against left-handed pitchers, while Yasmani Grandal can provide productive at-bats against right-handed pitchers. The fungibility of the Dodgers' lineup gives Roberts plenty of options. Hinch uses a more static lineup, though veteran stalwart Carlos Beltran will be available in late-game situations. Beltran's bat may have slowed, but his postseason history is undeniable. Advantage: DODGERS.
::
ANDY MCCULLOUGH'S PREDICTION
After sweeping the Arizona Diamondbacks and trouncing the Cubs, the Dodgers have a challenge on their hands. The Astros can bang the baseball around, and the duo of Keuchel and Verlander can shut down any lineup. The Dodgers will benefit from another lengthy layoff, which will allow the team to rest its relievers and prepare for the early games. The advantage in the bullpen could prove pivotal for the Dodgers — unless they get rolled by Keuchel and Verlander. It will be a rock fight. The pick: DODGERS IN SEVEN.
The Los Angeles Dodgers in the 2017 World Series
On Now
Video: Kenley Jansen, Cody Bellinger, Rich Hill talk about losing Game 7
1:59
On Now
Video: Analysis: Dodgers lose Game 7 and the World Series
11:43
On Now
Video: Yu Darvish talks about using his slider for Game 7
1:34
On Now
Video: Kenley Jansen and others talk about winning Game 6
1:58
On Now
Video: Analyzing the Dodgers Game 6 win
7:26
On Now
Video: Clayton Kershaw on starting Game 5 of the World Series
1:57
On Now
Video: Dave Roberts Talks Rich Hill and Kenley Jansen pitching in Game 6
1:57
On Now
Video: Dave Roberts talks preparing for Game 7
1:26
On Now
Video: Here it is, Game 7, and Bill Plaschke knows who wins
2:22
On Now
Video: Rich Hill talks about Game 6 of the World Series
1:48
Twitter: @McCulloughTimes
Twitter: @pedromoura
ALSO:
Bill Shaikin | Tommy Lasorda is ready for one more World Series title
Corey Seager is done with rehab and ready to start at shortstop in Game 1
Dylan Hernandez | From Gibson to Turner: The life-changing power of sports in a city's collective memory
World Series opener could be hottest on record as heat wave continues to scorch Southern California
---
Get our Dodgers Dugout newsletter for insights, news and much more.
You may occasionally receive promotional content from the Los Angeles Times.