A look at Yasiel Puig's Dodger career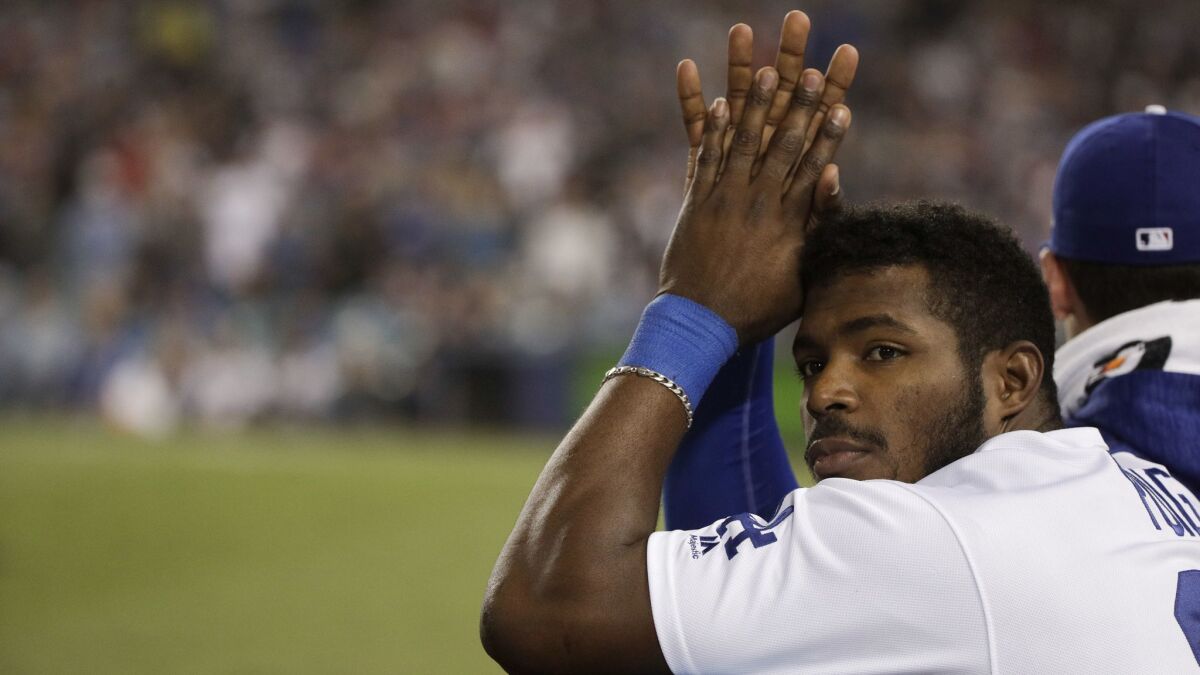 A look at Yasiel Puig's tenure with the Dodgers
Timeline
June 29, 2012: After a harrowing defection from Cuba, Puig signs a seven-year, $42-million deal with the Dodgers.
2013
Puig is promoted from double-A Chattanooga, where he was hitting .318 with eight homers, to the majors on June 2. In his first game, he goes two for four and ends the game with a running grab in right, then doubling the runner off of first with a great throw. In his second game, he homers twice and has five RBIs. He continues to excel the rest of the season as Puigmania is born.
2014
Another solid season, with him setting a Dodgers record for most consecutive games with at least one extra-base hit and one RBI (eight) and being named NL player of the month for May after hitting .398 with eight homers and 25 RBIs. He makes his first and only All-Star team, but rumors of behavioral issues begin to surface and he strikes out seven times in a row over the first three games of the NLDS.
2015
Puig misses several games to start the season because of a strained left hamstring. He is put on the DL for the first time in his career on April 26. He returns from the DL on June 6 and puts up league average numbers until he goes back on the DL again on Aug. 27 with a strained right hamstring. He doesn't return until there are two games left in the season. The season is also marred by reports of him arriving late to games and to rehab.
2016
Hamstring issues and behavioral problems, including arriving late to the stadium more than once, ruin his season, his worst as a pro. The Dodgers send him to the minors on Aug. 2. He rejoins the team in September and plays well enough to make the postseason roster.
2017
Puig rebounds with a strong season that many credit to new hitting coach Turner Ward. Puig kisses Ward on the cheek after every homer he hits. On June 13, Puig makes an obscene gesture to Indians fans in Cleveland who were taunting him after he hit a homer. Puig finished the season with a career-high 28 homers and is a finalist for the Gold Glove Award. He hits .455 in the NLDS and .389 in the NLCS before slumping to .148 in the seven-game World Series loss to Houston.
2018
Puig has another solid season, but rarely starts against left-handers, whom he has trouble hitting. Ward leaves after the season to become hitting coach for the Cincinnati Reds. A few weeks later, Puig joins him there when the Dodgers trade him.
Stats
2013
.319 avg./.391 OB%/.534 SLG%/159 OPS+
104 games, 21 doubles, 19 homers, 42 RBIs
Postseason: .333 (13 for 39), 1 double, 1 triple, 4 RBIs
Finished second in Rookie of Year voting, 15th in MVP voting
2014
.296/.382/.480/145
148 games, 37 doubles, 16 homers, 69 RBIs
Postseason: .250 (3 for 12), 1 triple, 1 RBIs
Made All-Star team, finished 19th in MVP voting
2015
.255/.322/.436/110
79 games, 12 doubles, 11 homers, 38 RBIs
Postseason: .000 (0 for 6)
2016
.263/.323/.416/98
104 games, 14 doubles, 11 homers, 45 RBIs
Postseason: .211 (4 for 19), no extra-base hits, no RBIs
2017
.263/.346/.487/119
152 games, 24 doubles, 28 homers, 74 RBIs
.286 (16 for 56), 1 doubles, 1 triple, 3 homers, 10 RBIs
2018
.267/.327/.494/120
125 games, 21 doubles, 23 homers, 63 RBIs
Postseason: .300 (15 for 50), 3 doubles, 2 homers, 8 RBIs
Career
.279/.353/.478/127
712 games, 129 doubles, 108 homers, 331 RBIs
Postseason
NLDS: .317/.431/.416 (19 for 60), 2 doubles, 2 triples, 7 RBIs
NLCS: .307/.358/.467 (23 for 75), 4 doubles, 1 triple, 2 homers, 8 RBIs
World Series: .191/.224/.383 (9 for 47), 3 homers, 8
Twitter: @latimeshouston
---
Get our Dodgers Dugout newsletter for insights, news and much more.
You may occasionally receive promotional content from the Los Angeles Times.