Yes, that's former Dodger Eric Gagne behind the bar ... and on the big screen
Eric Gagne used to emerge from the bullpen like Darth Vader swinging a dental drill.
Even the dorky safety goggles hinted at impending doom. A blowtorch four-seamer. The change-up that dropped like a bowling ball off a picnic table. Get a whiff of that, with three outs to go in the bottom of the ninth. Whiff-whiff-whiff ...
The party-sized reliever has "reinvented himself," as they like to say in this town. Now he's a movie producer and a bit actor … even on occasion, a professional pitcher.
Welcome to the jungle, circa 2016.
You'll spot Gagne playing a bartender in the new Josh Duhamel biopic on Bill "Spaceman" Lee, a love-of-the-game movie he helped finance.
You might not recognize him. The former Cy Young Award winner is leaner now, less a Panzer tank. Still a stud, though. Lots of golf and baseball. Too much sun.
"People don't know me. They saw me play maybe three or four years, and that's all they know about me," he says over breakfast. "They think I'm super crazy because of what I did on the mound. They don't know I'm not aggressive at all."
The biceps are as big as your thigh, and he pitches still — 93, 94 mph, he says, down only a few degrees from his prime.
And if Dodgers fans still have an inflated sense of who he was — the dark superhero with snidely scowl — it's only because he played it to the hilt. The results were staggering: 161 saves in 167 save opportunities — at one point, 84 straight.
So Gagne's career features super crazy numbers, a record tarnished by a run-in with performance-enhancing drugs late in his career that Gagne says he regrets. Without that, the legacy was the stuff of gods.
Gagne is 40 now and lives in Scottsdale, Ariz. He's teaching his six kids to pitch and working with Dodgers pitchers during spring training, yet he's light years from that Cy Young season in 2003, and a long way from 2008, when he finally left the game.
By the end, Gagne now says, he was a little burned out on baseball. Until he realized how deep its hooks were.
That's the theme of this Bill Lee movie — that baseball sticks to you like pine tar — and it's the theme of Gagne's life. It's probably the theme for any former pro who still thinks he could throw an inning or two in a pinch.
What makes Lee's exit different is that he never had one.
Like Gagne, Lee is like nothing we've seen. A lefty with a trick bag of breaking stuff, opposing hitters would've had better luck catching a hummingbird with a hair net. Then came 1982, the year baseball essentially blackballed him for being a gigantic pain in the glutes.
The ballplayer from Burbank, by way of USC, was a handful, challenging managers and general managers, a hard-drinking iconoclast who showed up baked at ballparks and even appeared on the cover of "High Times" magazine.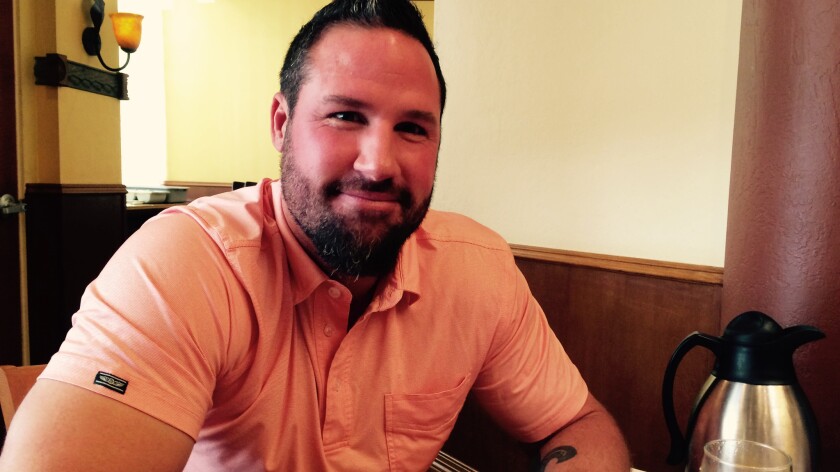 "He was one of my favorite players," says Gagne, who grew up in Montreal. "In Montreal they loved that kind of player … he's not an outcast, he's just different."
Yeah, waaaaaaaaay different, with his hipppy-dippy ideas and penchant for quoting Buckminster Fuller. In Montreal, adoring fans peppered the barfly with tiny bottles of tequila.
But it wasn't just the outsized personality that appealed to writer/director Brett Rapkin, then to Gagne, whom Rapkin personally recruited for a personal and financial stake in the movie. It was Lee's love for the game.
Rapkin's terrific new take on Lee's life zooms in on the months when he went from the Expos to the beer leagues. If you liked "Bull Durham," you'll like the grit and edge of "Spaceman," now in limited release.
"His story is bigger than baseball … the fact that he is still playing," says Rapkin, who once did a documentary on Lee, then years later saw the dramatic appeal of a scripted feature. "He sits in his front yard in Vermont, and says I'll never quit playing."
Yep, Lee is still playing. He is the Satchel Paige of our time.
The story of a baseball guru like that appealed to Gagne, who still pitches himself, despite two Tommy John procedures. Says he feels better than ever, finally having figured out a curveball after working on it with his sons.
He'll pitch for Ottawa soon in the Can-Am independent league, then probably for Quebec City next summer — about one game a year. A starter these days, he won't let stadiums play the "Guns N' Roses" anthem that turned him into a folk hero.
"That's not for when I start," he says. "That's for when I close."
Game over? Never.
Twitter: @erskinetimes
---
Get our high school sports newsletter
Prep Rally is devoted to the SoCal high school sports experience, bringing you scores, stories and a behind-the-scenes look at what makes prep sports so popular.
You may occasionally receive promotional content from the Los Angeles Times.