It's Rich Hill vs. Justin Verlander in World Series Game 6 matchup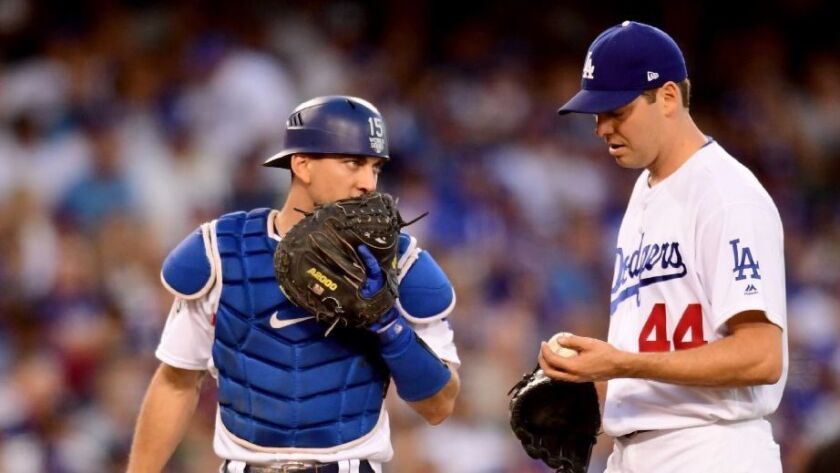 Reporting from Houston —
Houston vs. Dodgers
World Series, Game 6
At Dodger Stadium, Tuesday, 5 p.m.
TV: Fox. Radio: ESPN Radio, AM 570, KTNQ 1020.
Starting pitchers
Astros: Justin Verlander
Dodgers: Rich Hill
::
Hill in regular season: 12-8, 3.32 earned-run average
Hill in playoffs: 0-0, 2.77 ERA
Hill was pulled four innings into his first World Series start and has pitched only 13 innings since Sept. 27. Among Dodgers starters, only Alex Wood has thrown fewer innings during that span. Hill has struck out 19 batters and given up nine hits in those 13 innings. Hill relies primarily on a low-90s fastball and an above-average curveball. He won half of his 14 starts, had a 2.77 ERA and held opponents to a .179 batting average at Dodger Stadium during the regular season.
Hill on pitching in a World Series Game 6: "It's something that all of us have been preparing our entire careers for. And for such a big stage and such a great opportunity to go out there and leave it all out on the field, and go out there with an intensity and a passion that everybody has for playing baseball, that is it as an ultimate competitor."
Manager Dave Roberts on his decision to limit Hill to four innings in Game 2: "I wouldn't change it. I would do it again. And once Game 6 starts, we'll see. We'll evaluate. We'll watch how it goes, how he's throwing the baseball, how the pen is, how the usage is at that point in time and what's at our disposal."
Verlander in regular season: 15-8, 3.36 ERA*
Verlander in playoffs: 4-0, 2.05 ERA
Verlander is not only unbeaten during the postseason, he's 9-0 with a 1.53 ERA since joining Houston from Detroit in a late-season trade. He is 2-0 in three career starts against the Dodgers. Verlander has won an American League Cy Young Award and most-valuable-player award winner, but is 0-3 in four World Series starts with the Astros and Tigers. He pitched six innings in Game 2 against the Dodgers but did not get a decision in a game the Astros won in extra innings. Verlander gave up two hits in that game, a home run by Joc Pederson and a two-run homer by Corey Seager.
Verlander on pitching in a World Series Game 6: "These are the moments that you want to be a part of as a baseball player. It's everything you could ask for. It's either win it to stay alive or win it to win it all. Either way, it's going to be pretty intense."
Manager A.J. Hinch on Verlander's reputation as a big-game pitcher: "There's no low-leverage game or no low-leverage inning in the playoffs. Every game is a big game, and especially as it gets to the World Series. So in these instances … we're talking about maintaining your composure, maintaining your ability to be yourself, to execute pitches the way you normally do, to sort of get out all the distractions that may come up at these big moments and deliver your best. … When you can do that on this kind of stage you're called a big-time pitcher."
*Combined between Detroit and Houston.
The Los Angeles Dodgers in the 2017 World Series
On Now
Video: Kenley Jansen, Cody Bellinger, Rich Hill talk about losing Game 7
1:59
On Now
Video: Analysis: Dodgers lose Game 7 and the World Series
11:43
On Now
Video: Yu Darvish talks about using his slider for Game 7
1:34
On Now
Video: Kenley Jansen and others talk about winning Game 6
1:58
On Now
Video: Analyzing the Dodgers Game 6 win
7:26
On Now
Video: Clayton Kershaw on starting Game 5 of the World Series
1:57
On Now
Video: Dave Roberts Talks Rich Hill and Kenley Jansen pitching in Game 6
1:57
On Now
Video: Dave Roberts talks preparing for Game 7
1:26
On Now
Video: Here it is, Game 7, and Bill Plaschke knows who wins
2:22
On Now
Video: Rich Hill talks about Game 6 of the World Series
1:48
Follow Kevin Baxter on Twitter @kbaxter11
---
Get our Dodgers Dugout newsletter for insights, news and much more.
You may occasionally receive promotional content from the Los Angeles Times.