Dodgers trade Howie Kendrick to Phillies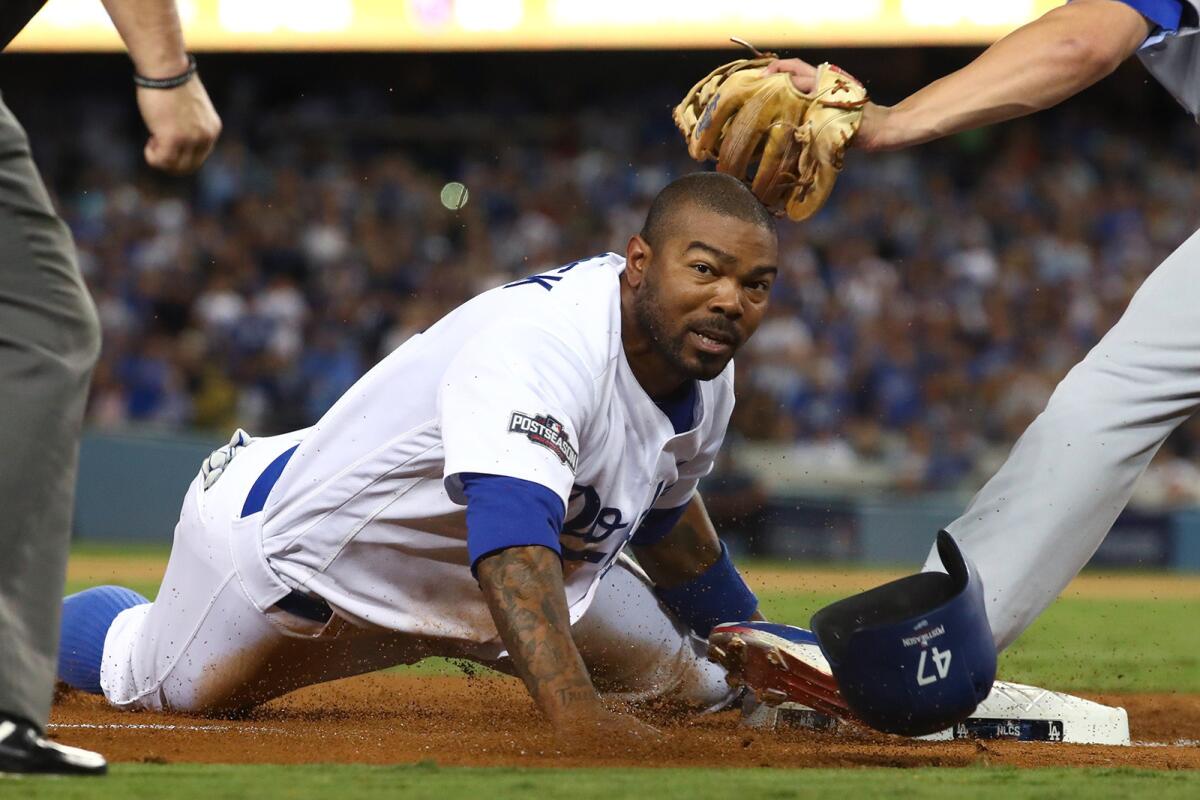 The Dodgers traded Howie Kendrick to the Philadelphia Phillies on Friday, cutting ties with their second veteran this week.
By trading Kendrick and catcher Carlos Ruiz rather than keeping them on the 2017 roster, the Dodgers could save about $13 million. It is unclear whether the Dodgers would use that money to acquire a second baseman or sweeten a potential offer to free agents Kenley Jansen or Justin Turner, although General Manager Farhan Zaidi cited "financial flexibility" as one motivation for Friday's deal.
In return for Kendrick, the Dodgers obtained two depth players: first baseman-outfielder Darin Ruf, 30, and infielder-outfielder Darnell Sweeney, 25.
Kendrick, 33, led the Dodgers in games played in left field last season and ranked second in games played at second base and third base. Turner remains the Dodgers' priority at third base, although his price will be steep because he is the lone top-tier third baseman available in free agency.
Zaidi said the Dodgers have internal second-base options in Enrique Hernandez, Micah Johnson and Chris Taylor but acknowledged there is "plenty of off-season left if we want to bring in a more experienced player." The trio cited by Zaidi has started a total of 60 major league games at second base.
Zaidi would not discuss any potential interest in bringing back free agent Chase Utley. The general manager sounded more confident in the Dodgers' internal options in left field, citing Andre Ethier, Andrew Toles, Trayce Thompson and Scott Van Slyke.
"We feel pretty good about the group of guys we have," Zaidi said. "It's not a position we are targeting right now."
The Dodgers also could try Ruf as a platoon left fielder. Zaidi said the Dodgers were interested in acquiring Ruf at last season's trade deadline but the Phillies did not want to move him then.
The Dodgers batted .213 with a .622 on-base-plus-slugging percentage against left-handers last season, with both figures the lowest in the major leagues.
Ruf never has hit right-handers well enough to win a job as a major league regular, but he has batted .299 with a .921 OPS in 271 career at-bats against left-handers.
The Dodgers never intended to bring back Kendrick this year, tagging him with a qualifying offer and planning for the extra draft pick they would get when another club signed him. Instead, the qualifying offer diminished his value to the point where the Dodgers re-signed him for two years and $20 million.
By that time, the Dodgers had signed Utley for second base. Kendrick was reportedly unhappy with his makeshift utility role. Kendrick, a career .289 hitter, batted a career-low .255 last season.
Phillies General Manager Mat Klentak told reporters his team plans to play Kendrick in left field, although it is unclear whether the Phillies are posturing to keep the asking price up for second baseman Cesar Hernandez, who has been linked to the Angels and other teams in trade talks.
Twitter: @BillShaikin
Get our Dodgers Dugout newsletter for insights, news and much more.
You may occasionally receive promotional content from the Los Angeles Times.