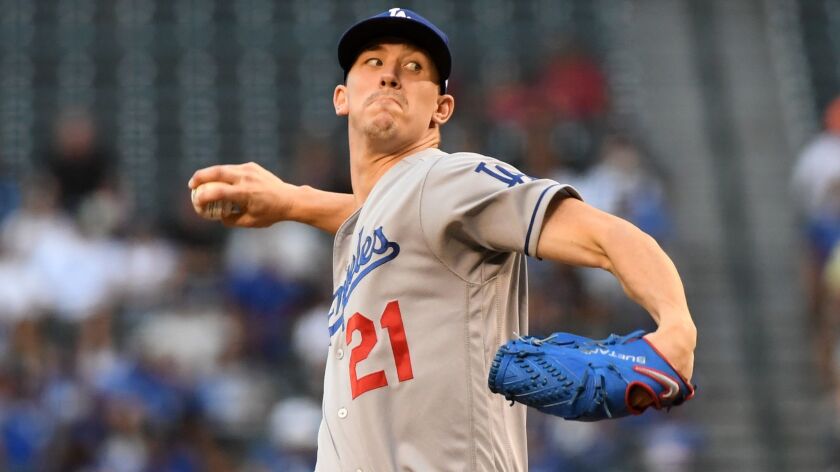 Reporting from PHOENIX —
On a night when the Dodgers began restocking their farm system with two first-round picks, two first-rounders from the recent past — one with his right arm, the other with his bat — powered them to a 3-1 win Monday over the Arizona Diamondbacks at Chase Field.
Walker Buehler, taken in the first round in 2015, limited Arizona to one run on two hits over eight innings and Corey Seager, a first-round pick in 2012, slugged a three-run home run as the Dodgers (42-19) extended their winning streak to six games.
Buehler breezed through the Diamondbacks (30-31) for four innings, retiring the first 12 batters to carry a perfect game into the fifth. He secured the inning's first two outs before the perfect game, no-hitter and shutout vanished with one swat from Christian Walker. The Diamondbacks first baseman cracked a 98-mph fastball to center field for his 11th home run.
"I'll tip my cap to a guy if he hits my fastball," Buehler said. "So, good piece of hitting. Not a perfect pitch but not terrible."
Otherwise, Buehler, working off a fastball he was commanding with precision, did not encounter peril. The 24-year-old didn't surrender a second hit until Idelmaro Vargas smacked a single with two outs in the eighth inning. The closest he came to issuing a walk was in the fifth inning when he fired a 98-mph fastball to Vargas with the count full. Vargas thought the pitch, down and in, was ball four. Home-plate umpire Gary Cederstrom called it a strike to end the inning. Buehler took exception to Vargas' opinion of the pitch, barking at him, expletive included, as he strutted off the mound.
"Those things kind of happen in games when you're feeling good and one little thing kind of makes you mad or bugs you," Buehler said. "I have no problem with him."
Buehler completed his night by striking out Carson Kelly with the 18th swing-and-miss he generated and 102nd pitch he threw. It was his best start of the season, reminiscent of the potential he displayed down the stretch last summer, and perhaps an indication that he is on track after a limited spring training.
"It's been a process," Dodgers manager Dave Roberts said.
Buehler's performance dropped the Dodgers starting rotation's ERA to 1.79 since May 10. The club is 17-4 during the stretch.
On the other side, the Dodgers, who sat Cody Bellinger and Max Muncy, encountered a familiar adversary in Robbie Ray, a left-hander with a 2.82 ERA in 16 career starts against them. Except for the fourth inning, Ray matched Buehler. But that one inning was costly. Ray gave up a single to Justin Turner, in the lineup for the first time since Wednesday after suffering a hamstring injury, before David Freese worked a walk. That brought up Seager. History did not suggest Seager was a threat opposite Ray. He began the night three for 26 with 17 strikeouts in his career against the left-handed nemesis. And yet the Dodgers shortstop launched a 92-mph fastball over the wall in left-center after working the count full.
"He's a tough matchup," Seager said. "He's thrown really well against us the last couple years and we've kind of ground and battled and taken anything we've gotten. I think we did a good job of that today. We had some ABs where we made him work."
The home run, Seager's eighth this season, continued his recent upward trend. Entering Monday, the 25-year-old was batting .292 with five home runs and a .945 on-base-plus-slugging percentage in 18 games since May 12. Until then, he was batting an uncharacteristic .227 six weeks into the season coming off Tommy John surgery and a hip procedure.
Sign up for our Dodgers newsletter »
Seager's whack was the only damage the Dodgers inflicted on Ray. He held Los Angeles to three runs on six hits over seven innings. He struck out nine and walked one.
But Buehler was better. He outlasted Ray and handed the ball off to Kenley Jansen in the ninth inning to finish the job.
Jansen worked around a double to record his 18th save and the Dodgers, behind two homegrown talents, continued their assault on the National League.
Twitter: @jorgecastillo
---