Home runs are flying in the World Series; does the weather get an assist?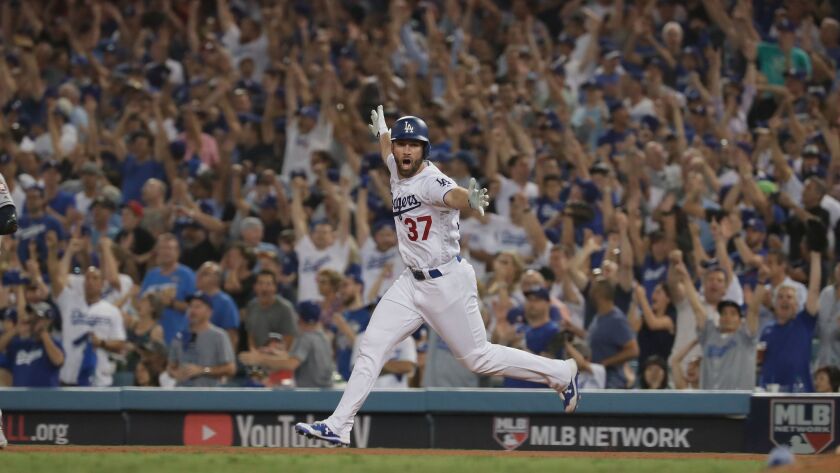 It's been an out-of-this-World Series for home runs, and only two games have been played.
In the Houston Astros' 7-6, 11-inning win over the Dodgers on Wednesday night, the teams combined for a World Series-record eight home runs — including a record four in the two extra innings.
Each team clubbed four, and for the Dodgers that meant that only one of their hits didn't land over a fence and become a souvenir.
In the two games at Dodger Stadium, there were 11 home runs. Since 2012, only one World Series — last year's seven-game classic between the Chicago Cubs and the Cleveland Indians — has had more.
So what's with the power surge? The theories are many.
Pitchers are throwing harder and batters are stronger, so when the bat meets the ball, it's going to carry farther. Dodgers pitcher Josh Fields throws fastballs at nearly 100 mph, but he lasted only three batters in Wednesday's game after Jose Altuve, Houston's 5-foot-6 second baseman, greeted him with a home run to left, shortstop Carlos Correa followed with an even deeper drive into the left-field pavilion, and first baseman Yuli Gurriel smashed a double into the gap in left-center field.
If the axiom that the bigger they are, they harder they fall holds true, the same goes for the harder they throw, the harder they get hit.
There's also some question about the baseballs that are getting hit. Anecdotally, many players and coaches swear baseballs are smaller and harder than ever, with the seams on them flattened, resulting in more carry.
Rob Manfred, baseball's commissioner, and Rawlings, the manufacturer of the balls, say they are no different than they've been in years past. Major League Baseball went so far as to release a statement earlier this season insisting it has conducted repeated studies of the balls and found no changes.
To this mix add one more hypothesis: global warming.
Dodgers slugger Justin Turner, whose two-run home run in Game 1 barely cleared the wall, gave the dry air and game-time temperature of 103 degrees some of the credit. Houston pitcher Justin Verlander agreed after giving up two hits — both homers — in Game 2.
"I think the heat affected the home runs," said Verlander, who took the mound in 93-degree heat. "Dodger Stadium is pretty famous for, at night, the ball not carrying. Doesn't seem like the case the last couple of nights.
"I went and looked it up."
So did William Patzert, a climatologist with NASA's Jet Propulsion Laboratory who says he is a lifelong Dodgers fan.
"The players are on top of it. The physics were there," Patzert said Thursday. "On Tuesday and Wednesday night at Dodger Stadium, the air was warm and dry rather than the usual damp, cool marine layer. This tilted the game toward the hitters. The science was in place."
Patzert, whose earliest baseball memory is watching the Dodgers' Jackie Robinson play at Ebbets Field in Brooklyn, expects the advantage to swing back to the pitchers when the World Series resumes Friday in Houston's Minute Maid Park. That stadium is indoors with a retractable roof, and temperatures will be in the low 70s.
Weather aside, it's not too surprising that baseballs have been flying out of Dodger Stadium at a record rate during the World Series. This was, after all, the year of the home run — the 30 big-league teams combined to blast a record 6,105 homers during the regular season.
The Dodgers provided more than their fair share, setting a franchise record with 221.
Part of the reason for that could be the way hitters approach at-bats these days. Turner is an example. After he was released by the New York Mets, he began working with Chatsworth-based hitting coach Doug Latta, who encouraged the former Cal State Fullerton star to change his swing to launch the ball into the air and generate backspin, which makes it travel farther.
Four years later, Turner is an all-star and MVP candidate.
Teammate Cody Bellinger hit four home runs in his first two minor league seasons, then made an adjustment similar to Turner's and blasted a National League rookie record 39 homers during the regular season. Same with Chris Taylor, who hit one home run over parts of three pervious major league seasons but has 24 this season, including three in 10 playoff games.
That swing-for-the-fences approach has a downside, though, with major league players now striking out at a record rate as well. The New York Yankees' Aaron Judge, who hit a major league rookie record 52 home runs this season, also set the rookie record for strikeouts with 208.
One reason for both might be that pitchers are throwing harder than ever. The average speed of a fastball has risen fom 89 mph to just a tick below 93 over the last seven seasons. Some teams have bullpen specialists who come in firing at triple-digit speeds.
And though that makes those pitches harder to hit, when they are squared up, that power benefits the hitters.
Patzert, the NASA climatologist, isn't a baseball expert, but he can speak to the weather. And that, he is sure, has changed.
"On average, L.A. is three degrees warmer than in the mid-'50s due to global warming and the urban heat island," he said, referring to how the growth in population and infrastructure has helped drive up temperatures in Southern California.
"Baseball is being played in a warmer world. Everywhere. This is a smaller impact than better balls, equipment and stronger players. [But] many of the homers would not have made it out under normal damp and cool conditions."
Does that make Fields or Verlander or any other pitcher who has been tagged feel any better?
Probably not.
The Los Angeles Dodgers in the 2017 World Series
On Now
Video: Kenley Jansen, Cody Bellinger, Rich Hill talk about losing Game 7
1:59
On Now
Video: Analysis: Dodgers lose Game 7 and the World Series
11:43
On Now
Video: Yu Darvish talks about using his slider for Game 7
1:34
On Now
Video: Kenley Jansen and others talk about winning Game 6
1:58
On Now
Video: Analyzing the Dodgers Game 6 win
7:26
On Now
Video: Clayton Kershaw on starting Game 5 of the World Series
1:57
On Now
Video: Dave Roberts Talks Rich Hill and Kenley Jansen pitching in Game 6
1:57
On Now
Video: Dave Roberts talks preparing for Game 7
1:26
On Now
Video: Here it is, Game 7, and Bill Plaschke knows who wins
2:22
On Now
Video: Rich Hill talks about Game 6 of the World Series
1:48
Follow Kevin Baxter on Twitter @kbaxter11
ALSO:
Dodgers head to Houston, where Astros have been unbeatable
Fan in Dodgers jersey who jumped into Astros bullpen arrested
Column: Astros get the must-win game they need over the Dodgers and — BAM — it's a World Series
---
Get our Dodgers Dugout newsletter for insights, news and much more.
You may occasionally receive promotional content from the Los Angeles Times.