Manny Machado's rough World Series continues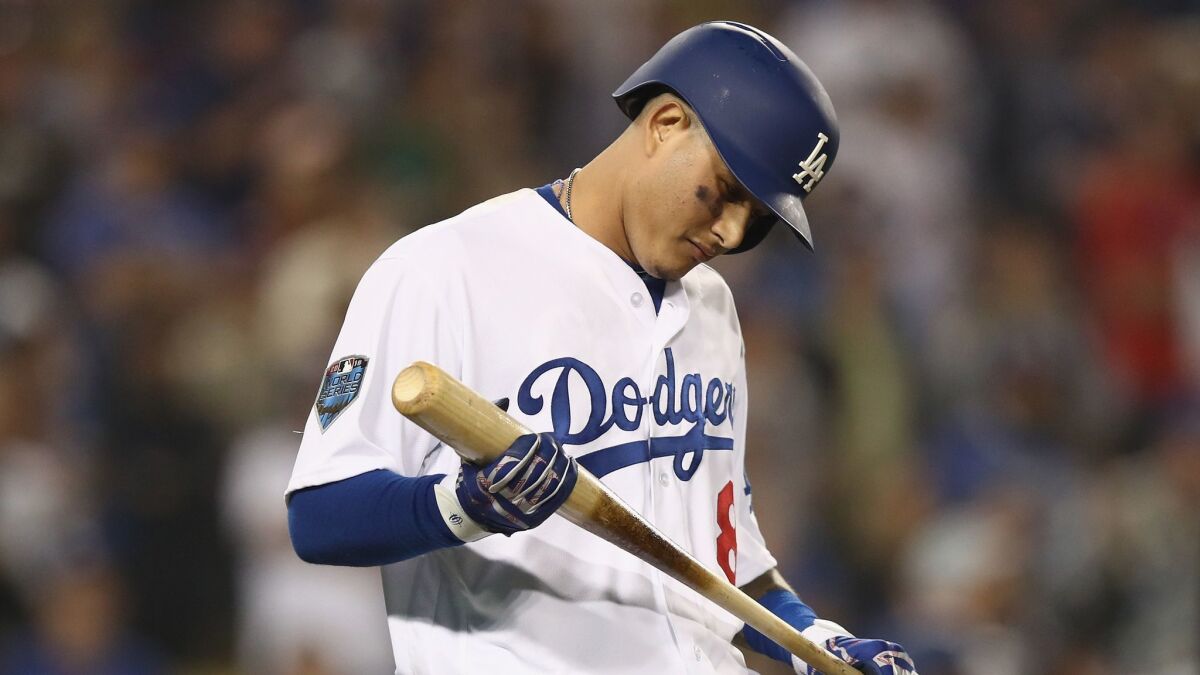 Red Sox third-baseman Rafael Devers hurled a ball across the Dodger Stadium diamond, and first baseman Steve Pearce snagged it, legs spread in a near-split as the ball rattled against his glove.
Milliseconds later, Manny Machado ran across first base, blowing some bubble gum.
As the Dodgers fell to the Red Sox 9-6 on Saturday night, Machado went one for four with a strikeout. His postseason production has steadily declined, his slugging percentage dropping from .558 in the NLDS to .214 in the World Series.
The Dodgers will face the Red Sox one more time in Dodger Stadium for Game 5 on Sunday, with the first pitch set for 5:09 p.m. If the Red Sox win, they claim the World Series title.
"We're still, probably, going to come back in this," Machado said calmly.
Machado has never had a season stretch this long. His deepest postseason run was the ALDS with the Orioles in 2012. And before this run with the Dodgers, Machado never had a slugging percentage above .375 in a postseason series.
He made another costly base-running mistake in Game 3, when he launched a shot deep into left field and stood in place, deceived into believing the ball was a home run. Instead it bounced off the wall, and Machado settled for a single.
As Machado dashed to first base in the ninth inning he grazed Pearce's heel, reminiscent of when he ran over Brewers first baseman Jesus Aguilar's foot in Game 4 of the NLCS. He waved his hand right away in an apology to Pearce.
Machado left the clubhouse with a blue cap backwards on his head that read "Villains," the L.A. logo emblazoned into the word. But he is not publicly embracing that persona.
Pearce was in Machado's wedding, his daughter the flower girl. Machado said the brush was accidental — clumsiness from exhaustion.
"It's late in the year," Machado. "My legs are giving out."
Machado was also criticized on social media for his apparent lack of 100% effort running to first base.
Had Machado crossed the base in time, the Dodgers would have had batters on first and second with one out against struggling Red Sox closer Craig Kimbrel. Cody Bellinger would have stepped up as the tying run.
Behind him in the lineup was Yasiel Puig, who gave the Dodgers a 4-0 lead in the sixth-inning with a three-run home run.
In a World Series game that is evoking astonishing displays of grit — from Red Sox Nathan Eovaldi and Eduardo Nunez to the Dodgers relievers — Machado has come up short of matching that fire with his play.
Machado was at ease in postgame interviews, commended the Red Sox strong showing and shrugged off the questions about his recent struggles at the plate.
Instead, he trained his attention on Game 5.
"It's been done before," he said of a comeback.
The Dodgers have overcome unlikely odds all season, but that is because of their determination.
To keep their World Series dream alive, Machado must have the same determination.
---
Get our Dodgers Dugout newsletter for insights, news and much more.
You may occasionally receive promotional content from the Los Angeles Times.