Daily Dodger in Review: The absolutely unexplainable Luis Cruz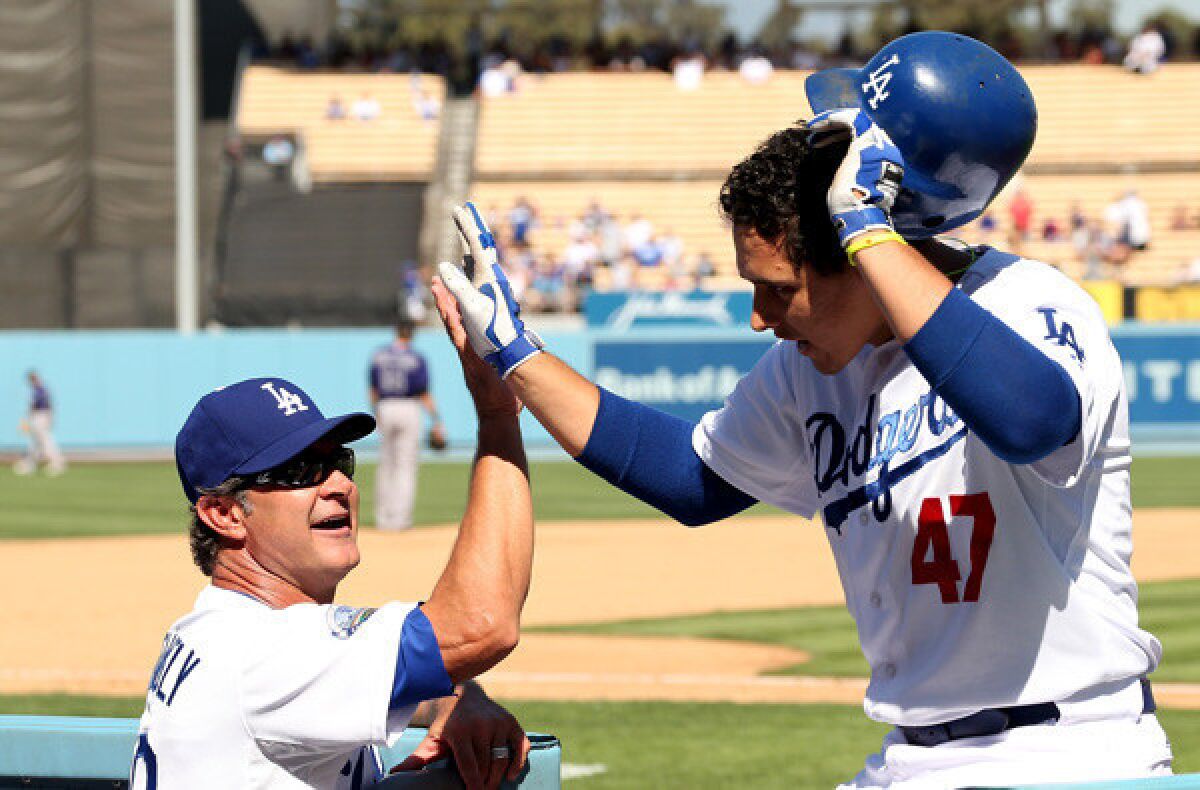 LUIS CRUZ, 28, infielder
Final 2012 stats: .297 batting average, six home runs, 40 RBI, 26 runs, .322 on-base and .431 slugging percentages in 283 at-bats.
Contract status: Under club control.
The good: He proved a better-than-average fielder, whether at short or third. He hit like nobody can figure. Hit like he had never done at any stop during his first eight years in the minors.
The bad: Someone has to explain to him that not all pitches are actually strikes. The guy likes to swing. Swing so much that he did not draw a single walk the month of September. Did not walk in his last 119 plate appearances.
What's next: The possibilities are everywhere. He could return where he left off in 2012 as the starting third baseman, could be moved back as the starting shortstop (better idea) or could return as a utility infielder.
The take: Easily the biggest surprise of the season. Logic simply took the season off when it came to Cruz. About as explainable as love.
He'd started 11 of his previous 12 seasons in the minors, the Dodgers were his sixth organization, he almost left them in June to head to Japan – and was an overnight sensation?
People kept waiting for Cruz to fail, but once he got rolling, it never really happened. He was hitting only .238 when Jerry Hairston Jr. was lost for the season Aug. 11, but placed in the lineup – what, you wanted Juan Uribe? – and went on a ridiculous tear. He hit .347 (43 for 124) over his next 34 games.
Like the rest of the team, he cooled off some down the stretch, but still hit .286 (14 for 50) in his final 18 games. If you want rationalization for his success, forget it. He was a 28-year-old, 12-years-in-the-making phenom.
Still, the Dodgers have to be a tad nervous about counting on him in 2013, particularly given his penchant for swinging away. He did, however, only strike out 34 times.
Somehow still think Dee Gordon will emerge as their starting shortstop, with Hanley Ramirez moving back to third, coming out of camp. But at this point, it might be best not to count him out.
ALSO:
Dodgers continue to add front office depth with Bob Engle
Daily Dodger in Review: Can Josh Beckett still be great?
---
Get our Dodgers Dugout newsletter for insights, news and much more.
You may occasionally receive promotional content from the Los Angeles Times.