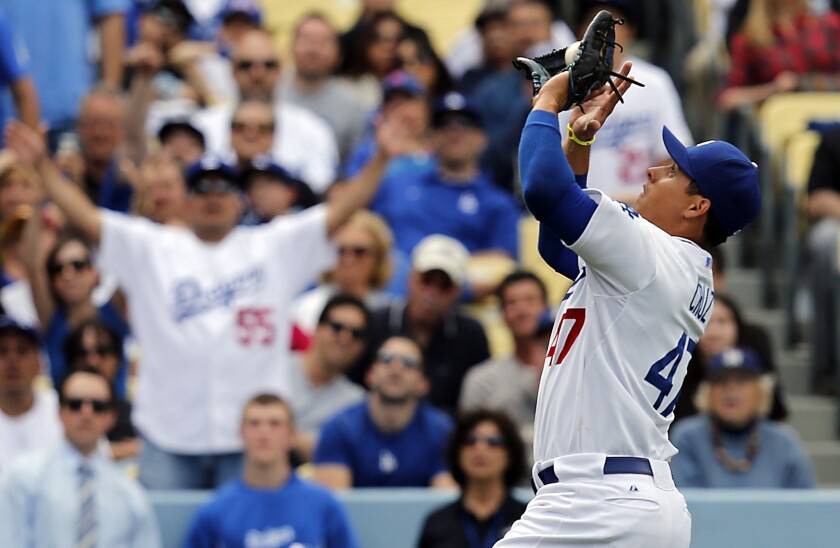 Everyone knew the Dodgers granting the starting third base job to Luis Cruz in the off-season was iffy material. The Dodgers too.
Cruz, though, had earned the spot. He forced their hand with solid play. Cruz came out of seemingly nowhere in the second half last season to hit .298 with six homers and 40 RBI in 283 at-bats.
The Dodgers hoped they had uncovered a late bloomer, Cruz having mostly bounced around the minors for 11 seasons. Qualifiers in hand, they crossed their fingers and said he was their starting third baseman. That he had gone his last 120 plate appearances without a walk had hardly gone unnoticed.
Yet everyone understood the spot was dependent upon his demonstrating 2012 was not some odd fluke. A week into the season, Cruz is 0 for 17.
Tuesday, for the second consecutive game, Manager Don Mattingly has decided to sit Cruz and start Juan Uribe. A matchup thing.
Granted, Cruz is off to a horrendous start at the plate, but five games seem a tad early to bail on the 29-year-old. Not that the Dodgers will admit to that.
Still, the move calls into question the Dodgers' true commitment to Cruz. He's being sat in favor of someone who's been a bust for two consecutive years at third and a player (Justin Sellers) who has exactly one more hit than he does at short. All while infielder Hanley Ramirez is out with a torn thumb. And all bat right-handed.
That's less than a shaky commitment. The Dodgers are starting just the second week of the season Tuesday in San Diego, and Cruz will be on the bench. The explanation is that Uribe is 10 for 26 with two homers against Padres starter Clayton Richard.
That's swell; the idea is to win the game, but it isn't like they slid Cruz over to play short. The whole Cruz thing is something of an experiment, but he's earned a longer run than five games.
ALSO:
Dodgers' Kenley Jansen has a healthy outlook
Here's the pitch: Dodgers' bullpen has yet to allow a run
Dodgers' Mr. Perfect, Clayton Kershaw, selected NL player of week
---