What happens to Dodgers' rotation without Zack Greinke?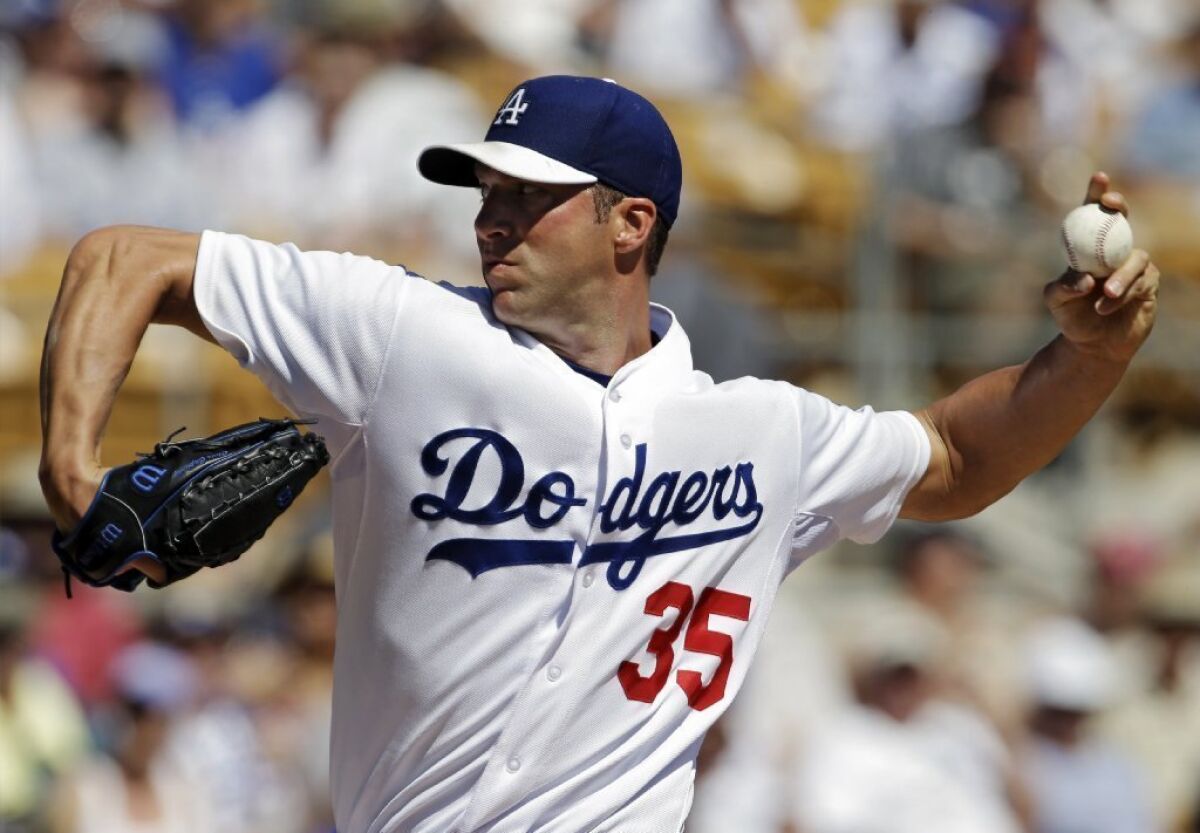 The aftermath of the Dodgers' losing Zack Greinke to a fractured collarbone Thursday will take a while to sort out, though I would have paid good money to hear what the emotional Ned Colletti honestly had to say after the game.
For now, all the Dodgers know that Greinke is headed to the disabled list. Maybe for six weeks, maybe twice that. A medical report is expected later Friday.
Meanwhile, though, the Dodgers have a fifth spot in their rotation to fill. The hard reality. And with the trade of Aaron Harang, those three extra starters they had in spring camp are down to Ted Lilly and Chris Capuano.
The simplest thing to do would be to slide Lilly, who's been throwing as a starter in rehab, into the rotation and continue to use Capuano out of the bullpen.
That's the easy thing, but not what I'd push for. The Dodgers can't think of just the next start, but the long haul. Greinke could miss over half the season. For that long of a period, you want your best starter in the rotation. And right now, long term, that looks like Capuano.
Lilly is already stretched out, but coming off shoulder surgery has hardly looked like the guy who got off to such a great start (5-0, 1.79 ERA) last season. Plus, he's the one extra starter who said he was willing to pitch out of the bullpen.
I'd start Capuano, stretch him out as far as he can go, and then back him up with Lilly his first couple of starts. It would require using two pitchers -- collecting the Jim Tracy seal of approval -- for a time. But, in the big picture, such a move would best serve a team thinking it will be playing in October.
There's a small risk in planning on using two pitchers for a few games, but the way the starters have been going deep into games, it should prove workable.
The Dodgers have a couple of days to work it out. All while waiting to hear about possible suspensions for Matt Kemp, Jerry Hairston Jr. and Greinke (all ejected Thursday) and the Padres' charging rhino, Carlos Quentin.
Quentin hardly appears remorseful and indicated his personal history with Greinke was behind the Thursday brouhaha. It was the third time Greinke has hit Quentin with a pitch.
Of course, I'm about the only guy Quentin doesn't have some kind of personal history with, since he constantly crowds the plate and has led the majors the last two seasons in getting hit by a pitch.
Maybe all this anger the Dodgers have does unify them. Maybe an irate Kemp now takes off, the team hones its focus and keeps the season alive until Hanley Ramirez and Greinke return. All just maybes.
Emotions figure to remain high, as a postgame confrontation Thursday night between Kemp and Quentin illustrated. And the Padres come to Dodger Stadium for a three-game series on Monday. The season is early, but it's already very interesting.
ALSO:
Carlos Quentin settles score but hurts Dodgers and Padres
Did Zack Greinke intentionally throw at Carlos Quentin? [Poll]
Juan Uribe's pinch-hit homer gives Dodgers 3-2 win over Padres
Get our Dodgers Dugout newsletter for insights, news and much more.
You may occasionally receive promotional content from the Los Angeles Times.