Struggling Walker Buehler suffers shortest start of career as Dodgers fall to Mets
Earlier in the week, Walker Buehler chucked his glove in anger when he reached the dugout.
On Saturday night, he simply scratched his head, flipped off his cap and buried his face in a towel.
All season, Buehler and the Dodgers have maintained confidence in the right-hander's tantalizing skill set. They've remained steadfast given his dominant track record. They've promised that, despite some early inconsistency, he would eventually start looking like his old self on the mound.
The last week, however, Buehler's season dropped to one low and then another — the Pittsburgh Pirates delivering the first blow in a four-run, six-inning start Monday before the New York Mets administered a gut punch in Buehler's shortest career start Saturday en route to a 9-4 victory at Dodger Stadium.
Dodgers lose to Mets 9-4 after Walker Buehler's career-short start
The Dodgers couldn't overcome Walker Buehler's career-short 2 1/3-inning, five-run start.
Despite trailing 4-1 going into the third, the Mets retook the lead and held onto it for the rest of the night, giving them a chance to earn a series split on Sunday.
The Dodgers are now 35-18 and, even if they win Sunday, have been assured of suffering their first losing homestand of the season.
Final: Mets 9, Dodgers 4
Dodgers have to bring in Evan Phillips after Buck Showalter alerts umpires to rule
Trailing 9-4 going into the ninth inning, Dave Roberts wanted to use position player Zach McKinstry as pitcher in the ninth inning to save his bullpen.
There was only one problem: MLB now has a rule barring position players from pitching unless one team is leading by at least six runs.
It appeared neither Roberts nor the umpires knew the rule, as Mets manager Buck Showalter was the one who seemingly alerted the crew McKinstry shouldn't be allowed to pitch.
After several minutes of deliberations, the umpires did confirm the rule over a PA system announcement (to which fans at Dodger Stadium booed).
The Dodgers instead pivoted to Evan Phillips, who needed several minutes to get loose in the bullpen before entering the game and tossing a scoreless inning.
Mid 9th: Mets lead 9-4
Pete Alonso breaks game open with second home run
Pete Alonso likes hitting in Dodger Stadium.
The slugger hit his second home run of the game, third of the series, and seventh in 11 career games at Dodger Stadium to break the game open in the seventh, cranking a three-run blast off Brusdar Graterol.
Mid 7th: Mets lead 9-4
Mets extend lead, and escape jam after mid-at-bat pitching change
After the Mets extended their lead in the top of the fourth on an Eduardo Escobar solo home run, the Dodgers had a chance to chip away in the bottom half of the inning.
With two outs, Mookie Betts came to the plate with a runner at second. On the first pitch of the at-bat against Mets starter David Peterson, he rocketed a line drive that landed just foul down the left-field line.
All of a sudden, Mets manager Buck Showalter emerged from the dugout. One pitch had been enough. He was going to the bullpen for the rest of the at-bat.
The unorthodox move worked out. Right-hander Colin Holderman replaced Peterson, a lefty, and struck Betts out looking to end the inning.
End 4th: Mets lead 6-4
Mets retake lead, knock out Walker Buehler in shortest start of his career
For only the second time in his career, Walker Buehler didn't make it out of the third inning in a start.
After the Dodgers surged ahead 4-1 in the second, the Mets retook the lead by scoring four runs against Buehler in the third.
The right-hander walked the first two batters he faced, gave up an RBI double to Starling Marte, surrendered another run on a groundout by Francisco Lindor, then yielded a backbreaker: A two-run homer by Pete Alonso that put the Mets back in front.
While Buehler's fastball command was spotty again, throwing it for a strike on just 16 of 30 pitches, this time he didn't have his breaking balls to fall back on either.
After Lindor's first-inning home run off a curveball, both Marte and Alonso barreled up sliders on the outside part of the plate in the third inning.
Buehler's ERA is now 3.84, and he has given up seven home runs, second-most on the team behind only Julio Urías.
Mid 3rd: Mets lead 5-4
Mets strike first on Francisco Lindor's home run, Mookie Betts responds with bases-loaded double
Walker Buehler's biggest problem this season has been fastball command.
But it was poor execution of the curveball that cost him in the first inning tonight.
After striking out the first two batters of the game, Buehler got Francisco Lindor to a 2-and-2 count. But then, he hung a curveball. Lindor launched it over the wall in right for a solo home run.
The Dodgers, however, didn't trail for long.
After going down in order in the first, they got a run in the second after Justin Turner walked, Hanser Alberto singled and Mets first baseman Pete Alonso made a poor throw on a Cody Bellinger ground ball in a failed attempt to start a double-play.
Three batters later, the bases were loaded for Mookie Betts, who continued his month-long offensive tear with a three-run double to the gap in right-center.
End 2nd: Dodgers lead 4-1
Gil Hodges' No. 14 retired by Dodgers, added to ring of honor
When Dodgers legend Gil Hodges was manager of the Washington Senators in mid 1960s, his family had a running joke.
Hodges' Senators team would make so many trades with the Dodgers, "We used to say to him, 'Do you have an in there?'" his son, Gil Jr., laughed. "Do you know somebody?'"
Of course, Hodges knew the Dodgers as well as almost anybody. He played for the franchise from 1947 to 1961, making eight All-Star teams, winning two World Series, and being part of the group that relocated from Brooklyn to Los Angeles in 1958.
He eventually went on to become a New York Mets legend, too, finishing his career with the expansion club before managing it to a famous World Series title in 1969.
And before the two teams met on Saturday, 40 years after his death, the incoming Hall of Famer was celebrated again, his No. 14 being retired by the Dodgers in a pregame ceremony at Dodger Stadium.
"The family is thrilled, so happy," Hodges' daughter, Irene, said. "We waited for this for a long time. It's the right time. We're thrilled he's getting in the Hall of Fame. And it made this possible. We couldn't have been happier."
Indeed, for all Hodges had accomplished with the Dodgers, his number had yet to be retired because he hadn't been elected to the Baseball Hall of Fame.
That changed this winter, when the Hall of Fame's Golden Era Committee elected Hodges to be enshrined. Soon after, the Dodgers announced they would retire his number.
They waited until the Mets came to town to do so, celebrating the former first baseman before the two teams that defined his career.
"We all feel and agree that Dad was part of the strong bond between the Mets and the Dodgers," Gil Jr. said. "To make a New York team and a former Brooklyn team almost come together on this kind of night, it's just a great tribute to him."
Gil Jr. and Irene threw out the ceremonial first pitch Saturday, before then proceeding to left field to watch Hodges' No. 14 be added to the Dodgers ring of honor. It was the first time the club had retired a number since Don Sutton's in 1998.

Walker Buehler looking to bounce back as Dodgers go for series win
After two wins to open this weekend's meeting with the New York Mets, the Dodgers will be trying to clinch a series victory Saturday.
To do so, they'll need Walker Buehler to bounce back from an underwhelming start earlier this week.
His last time out, Buehler gave up four runs — on a pair home runs by Pittsburgh Pirates batters — in six innings in a game the Dodgers eventually lost.
The outing raised Buehler's ERA on the season to 3.22, and was marked once again by inconsistent fastball command.
"He's grinding," manager Dave Roberts said of Buehler, who still has a 6-1 record this season and has pitched a team-high 58 2/3 innings.
"This is a tough stretch for him. I think if you look at any starting pitcher, it would certainly be acceptable. But for Walker's expectations and how he's getting there, how he's getting through games — not acceptable. So he's working really hard on his delivery."
The Mets are starting David Peterson on Saturday, a left-hander who enters the game with a 2-0 record and 3.03 ERA in six outings (five starts) this season.
Here's the Dodgers full lineup:
ICYMI: As Dodgers battle injuries, Zach McKinstry makes a memorable return in win over Mets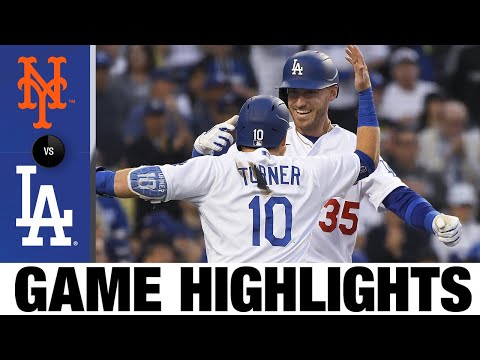 Entering this weekend, Zach McKinstry had made four trips to and from Oklahoma City this season, but only one trip to the plate in a big-league game.
As he was shuffled back and forth from the Dodgers' triple A affiliate, the utility player usually had been needed by them only as a warm body on the bench, sticking around for a couple days before being returned to the minors once the team figured out longer-term roster plans.
On Friday, however, the Dodgers were low on alternatives.
A day after announcing Kevin Pillar had suffered a left shoulder fracture, the team put Edwin Ríos on the injured list with a tear in his right hamstring. Eddy Alvarez was called up but didn't arrive at the stadium until shortly before first pitch.