Dodgers drop magic number to nine and clinch season series vs. Padres
The Dodgers' magic number is now … a magic number.
With nine more Dodgers wins, San Diego Padres losses or some combination of the two, the Dodgers will once again be champions of the National League West.
And based on the last couple of nights at Chavez Ravine, it shouldn't take much longer.
Despite using eight pitchers in what essentially became an unplanned bullpen game Sunday night, the Dodgers still blew the Padres away in a weekend series rubber match at Dodger Stadium, winning 9-4 to move a step closer to reclaiming a division title they won eight consecutive years from 2013 to 2020 before finishing second last season.
Final: Dodgers use eight pitchers in 9-4 win over Padres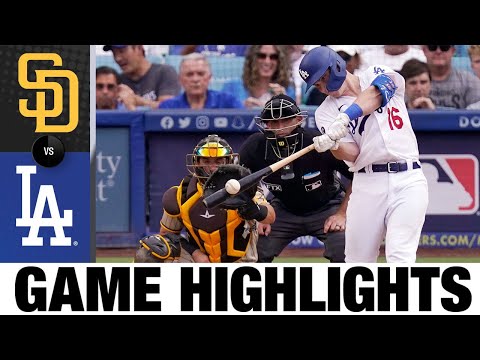 It wasn't supposed to be a bullpen game.
However, even after Ryan Pepiot got just six outs and Evan Phillips had a rare off night, the Dodgers were able to hold off the San Diego Padres for a 9-4 series-clinching win.
The team used eight pitchers to get through the nine innings, with Alex Vesia and Heath Hembree both going more than an inning. Craig Kimbrel came in during the ninth for the final three outs.
The Dodgers are now 92-41. Their magic number to clinch the NL West is nine.
Final: Dodgers 9, Padres 4
Padres cut it to one, then Dodgers respond with four-run outburst keyed by Trayce Thompson homer
The Dodgers patchwork pitching plan tonight finally hit a snag in the seventh.
After Heath Hembree gave up a pair of singles to Juan Soto and Josh Bell, top set-up man Evan Phillips was summoned to try and escape the jam.
The streaking right-hander nearly made a quick escape, getting Jurickson Profar to hit a pop up behind the plate.
When catcher Will Smith missed the catch near the screen, though, Phillips couldn't recover.
Profar lined a two-run double down the right field line, snapping Phillips' streak of 27 batters retired in a row and marking just the second time this year he'd let an inherited runner score.
Jake Cronenworth also hit an RBI double and Matt Beaty was plunked with a pitch before Phillips finally ended the inning, having been charged with his first run since July 21.
The Padres, however, didn't keep the deficit at one for long.
In the next half-inning, the Dodgers immediately bounced back. After a leadoff walk from Will Smith and off-the-wall single by Max Muncy, Justin Turner drove an RBI double to left.
Then, Trayce Thompson dropped the hammer, clobbering a pinch-hit three-run homer to left to give the Dodgers their biggest lead of the night.
Bottom 7th: Dodgers lead 9-4
Dodgers surge in front thanks to some sloppy Padres pitching, defense
Will Smith's home run was only the start of a big fourth inning for the Dodgers.
After the catcher tied the game with his leadoff blast, the Dodgers loaded the bases on a Justin Turner walk, Joey Gallo single and Chris Taylor hit by pitch (it appeared that Padres manager Bob Melvin perhaps wanted a review to see if the pitch actually hit Taylor, but the review window had closed).
Padres started Mike Clevinger then walked home a run by missing in a full count against Cody Bellinger, putting the Dodgers in front and brining his day to an end.
It got worse for San Diego.
Mookie Betts hit a sac fly in the next at-bat. Then Trea Turner lifted a blooper to left that not only landed between two Padres players, but kicked away from both of them to allow two more runs to score.
End 4th: Dodgers lead 5-1
Alex Vesia escapes jam after more Ryan Pepiot walks, then Will Smith ties it with home run
Ryan Pepiot threw 74 pitches, but managed only six outs in his worst big-league appearance this year, getting pulled after a pair of leadoff walks in the fourth.
Alex Vesia was summoned and escaped the jam, getting a pair of strikeouts and an inning-ending pop out. He has now pitched 15 consecutive scoreless innings (and stranded 8 of 9 inherited runners during that time).
In the next half-inning, Will Smith tied it up, lining his second home run in as many nights into the left field pavilion.
Bot 4th: Tied 1-1
Two walks and an error put Dodgers in early hole
Caleb Ferguson breezed through the first inning as the Dodgers opener, striking out the side on 11 pitches.
Ryan Pepiot has not had it so easy since entering the begin the second. Though the Dodgers rookie pitched a scoreless second inning, it took 25 pitches.
Then, in the third, he walked a couple batters to set the Padres up for the opening run, when Manny Machado hit a ground ball into the hole that led to a bounced throw from Trea Turner to first, getting past Freddie Freeman to let a run score.
Pepiot is now at 60 pitches.
Mid 3rd: Padres lead 1-0
David Price placed on injured list with wrist inflammation; Caleb Ferguson to open in front of Ryan Pepiot
As Dave Roberts said they would de on Saturday night, the Dodgers placed veteran reliever David Price on the injured list with left wrist inflammation on Sunday, after the pitcher went for an MRI this week.
The move allowed the team to recall right-hander Ryan Pepiot, who will serve as the bulk pitcher behind opener Caleb Ferguson in Sunday's series finale against the San Diego Padres.
Roberts said Price, 37, has been battling wrist and arm issues all year. While he had still managed a 2.58 ERA in 38 outings, he hadn't pitched since last Monday in Miami.
"He hasn't been really healthy all year," Roberts said. "But he's been grinding and trying to pick everybody up. I think we just kind of came to a breaking point in Miami."
Roberts said he thought it was still possible for Price to return this season. His IL stint was backdated to Sept. 1, making him eligible to on Sept. 16.
Pepiot (2-0, 4.02 ERA) will pitch the bulk of the innings Sunday, but not until after left-handed reliever Caleb Ferguson opens the game.
The Padres will counter with right-hander Mike Clevinger (5-5, 3.59 ERA).
Here is the Dodgers lineup:
Mookie Betts sets pace for homer-happy Dodgers in blowout victory over Padres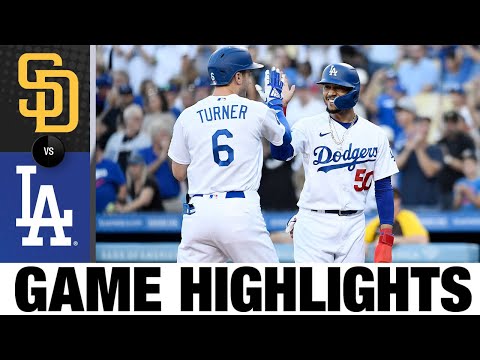 Mookie Betts flung his pointer finger toward first base coach Clayton McCullough.
Then, for the 33rd time this season, he began a slow trot around the bases.
On a warm Saturday night in which the ball was carrying at Dodger Stadium, the Dodgers hit four home runs to dispatch the San Diego Padres in a 12-1 rout.
None was bigger than Betts' three-run blast in the fourth, which turned the Dodgers' early three-run lead into an insurmountable six-run edge, and gave Betts a career high in homers, moving into fifth place on the MLB leaderboard with 33 this season.