Final: Dodgers defeat the Padres 11-2
SAN DIEGO — With an 11-2 win over the San Diego Padres on Sunday, the Dodgers moved to the verge of a postseason berth. They are one win away from securing a trip to October for the franchise's 10th straight season.
They also lowered their magic number to clinch the NL West to two.
Justin Turner had two home runs, including a grand slam. Max Muncy had three RBIs while Trea Turner drove in a pair. And Andrew Heaney pitched five strong innings, giving up just two runs (one earned).
The Dodgers are now 96-43.
Final: Dodgers 11, Padres 2
Justin Turner hits grand slam as Dodgers break it open in the seventh
Justin Turner put an exclamation point on the Dodgers six-run seventh-inning rally, hitting a grand slam to left field that all but puts the game away.
It was Turner's second career grand slam, and his second home run of the day.
It came after Trea Turner lofted an RBI single to center and Max Muncy drew a bases-loaded walk earlier in the inning.
Andrew Heaney also completed his start after five innings, giving up just two runs (and only one earned).
Mid 7th: Dodgers lead 10-2
Dodgers take first lead on Max Muncy two-run single
After Mookie Betts hit a leadoff double in the sixth and advanced to third on a grounder, the Padres tried to get cute.
Instead of letting Joe Musgrove pitch to Freddie Freeman, who already has two hits today, the Padres elected to intentionally walk the Dodgers slugger to set up a potential double-play.
It didn't work.
Musgrove instead pluncked the next batter, Will Smith, to load the bases. Then Max Muncy ripped a two-run single into right, giving the Dodgers their first lead and knocking Musgrove out of the game.
Mid 6th: Dodgers lead 4-2
Dodgers tie it up on Justin Turner, Chris Taylor home runs in the fifth
The Dodgers are back in the game.
After four quiet innings to start the day at the plate, the team tied the score on a pair of solo home runs from Justin Turner and Chris Taylor in the fifth.
Turner went deep on a cutter that Joe Musgrove left over the heart of the plate, his 12th homer of the season.
Two batters later, a newly clean-shaven Chris Taylor ambushed a hanging first-pitch slider from Musgrove for his ninth long ball of the year.
While Turner has been hot for a while now, Taylor's blast was a positive sign for the previous slumping outfielder, who is now 4 for 10 in this series with only one strikeout.
Mid 5th: Tied 2-2
Padres lead early after home run and run-scoring error
The Padres first run against Andrew Heaney came in predictable fashion, when Jake Cronenworth hit a second-inning solo blast that marked Heaney's 11th home run allowed in his last five starts.
In the third inning, the Padres scored again in a more peculiar way.
José Azócar led off the inning with a hard ground ball that third baseman Justin Turner couldn't stop, merely deflecting the ball as Azócar raced into second base with a double.
After Azócar advanced to third, he then scored when Freddie Freeman booted a hopper at first base (and lost his glove in the process).
Freeman has two hits at the plate against Padres ace Joe Musgrove, but that's been the only damage done by the Dodgers lineup so far.
End 3rd: Padres lead 2-0
Max Muncy returns to lineup as Dodgers try to clinch playoff spot
With a win against the Padres today (or a loss by the Milwaukee Brewers), the Dodgers will clinch a playoff spot that's felt like a formality for months now.
So, will there be much of a celebration when they do?
"It's going to be an acknowledgement," manager Dave Roberts said. "It's not going to be a celebration."
Instead, the Dodgers are more focused on the health of their roster right now, where they got some good news on Sunday.
Max Muncy returned to the lineup after missing a couple games with a knee issue that required a pain-relief injection this week. Muncy believes the problem originated from his new step-back batting stance, but believes he will be able to continue to use his new mechanics without further issue.
Blake Treinen also said he felt better during pregame catch play, a positive development for the reliever after he was placed on the injured list with shoulder tightness on Saturday.
Both Treinen and Roberts said they believe the right-hander will be back in time for the postseason.
The Dodgers had several pitchers scheduled to throw bullpen sessions, as well: Tony Gonsolin, Brusdar Graterol and Yency Almonte.
Andrew Heaney (2-2, 2.94 ERA) will take the bump for the series finale, trying to bounce back from his six-run clunker against the Padres last week in which he gave up four home runs.
Home runs have been a recurring problem of late for the left-hander, who has given up 10 in his last four starts.
Joe Musgrove (9-6, 3.16 ERA) will start for the Padres.
Here is the Dodgers full lineup:
Julio Urías continues to prove he's one elite pitcher who is impossible to ignore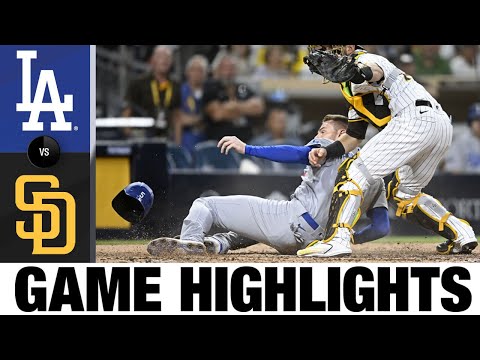 SAN DIEGO — Dave Roberts doesn't like the way that, in his view, Julio Urías gets overlooked as one of baseball's best pitchers.
And though the 26-year-old left-hander might not acknowledge it, Roberts believes it has motivated his ever-astonishing — and increasingly Cy Young-caliber — 2022 campaign.
"His mentality is up there with some of the best that I've ever seen," the Dodgers manager said. "To be quite honest, I think that Julio is using some of the lack of recognition as fuel. I think all players have some sense of what fuels them. And I believe this is part of his."