Final: Dodgers beat Diamondbacks 6-0 to clinch playoff berth (for real, this time)
PHOENIX — Tyler Anderson pitched seven scoreless innings while the Dodgers scored three runs in the seventh and three more in the ninth to officially clinch a playoff berth with a 6-0 win.
A day after they thought they'd clinched, only to learn there remained a far-fetched tiebreaker scenario that was mathematically possible, the Dodgers didn't take long to rectify Major League Baseball's mistake.
They also lowered their magic number to clinch the NL West to one.
They are 97-43 on the season.
Final: Dodgers 6, Dbacks 0
Dodgers finally open scoring with three runs in the seventh
After Ryne Nelson pitched six scoreless innings, the Dodgers finally got on the board against the Diamondbacks' bullpen in the seventh.
Max Muncy led off the inning with a 423-foot double off the wall in straightaway center field.
Justin Turner reached first base safely in the next at-bat, after reliever Kyle Nelson misfired on a throw to second base trying to catch Muncy off the bag.
Chris Taylor drew a walk that loaded the bases and prompted the Diamondbacks to make a pitching change, bringing Kevin Ginkel into the game.
But then Trayce Thompson lifted a sacrifice fly to center before Cody Bellinger belted a two-run double into the right center field gap — his first extra base hit since Aug. 24.
Tyler Anderson, meanwhile, is through seven scoreless innings on 84 pitches.
End 7th: Dodgers lead 3-0
Nothing but zeros through four innings
Tyler Anderson has gotten off to another strong start, blanking the Diamondbacks over four innings while scattering three hits — including two to lead off the fourth that he got out of.
Dbacks rookie right-hander Ryne Nelson, however, has been even sharper in his second career starter. He's given up just one hit — a Trayce Thompson single — and one walk while striking out six.
Mid 5th: No score
Pitching injury updates: Tony Gonsolin still battling soreness; Tommy Kahnle nearing return
PHOENIX — Will injured starter Tony Gonsolin truly be ready to return for the playoffs?
His status is growing more uncertain by the day.
A day after Gonsolin threw his first bullpen session since suffering a forearm strain late last month, manager Dave Roberts said the right-hander is still battling soreness.
"I wouldn't say I'm totally encouraged or discouraged," Roberts said. "I think it's kind of a day to day thing."
Roberts said Gonsolin will throw another bullpen session Wednesday.
Is the manager still optimistic Gonsolin — who was originally only expected to miss two starts — will be ready to start playoff games come October?
"Right now, I'm still confident," Roberts said. "But obviously every day, every pen that goes by that he's not at full strength – a little less confident."
Kahnle close to return
Out since mid-May when his return from Tommy John surgery was cut short by right forearm inflammation, Tommy Kahnle is finally on the verge of being activated.
Roberts said Kahnle joined the team this week on the taxi squad and could be activated this week.
Duffy, González not progressing
Roberts had less encouraging news about two other injured pitchers, announcing left-handers Danny Duffy and Victor González were both taken off their rehab assignments with triple A Oklahoma City.
Roberts said González was battling fatigue, while Duffy wasn't bouncing back from his outings as well as hoped.
The news would seemingly put both pitchers' status to be part of the postseason roster in doubt.
Short hops
Gavin Lux (neck) will take at-bats at the team's Camelback Ranch facility on Wednesday and could return to action this weekend.
Kevin Pillar (shoulder) will soon begin a rehab assignment with triple A Oklahoma City.
Brusdar Graterol (elbow) and Yency Almonte (elbow) are continuing to progress, Roberts said. Graterol will throw a bullpen session Wednesday, while Almonte will facing live hitting that day.
Michael Grove was in the Dodgers clubhouse on Monday, and is an option to start Wednesday's game, Roberts said.
Dodgers takeaways: L.A. technically hasn't clinched playoff spot, MLB clarifies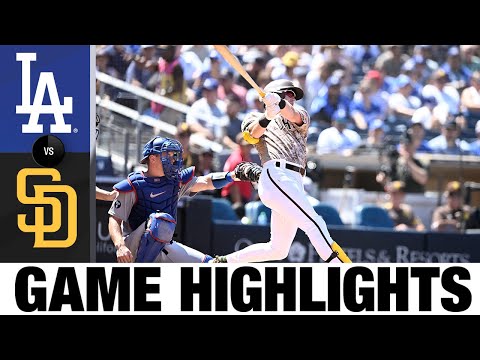 SAN DIEGO — The Dodgers are not officially playoff-bound, after all.
Though Major League Baseball had initially recognized the Dodgers as clinching a playoff spot with their 11-2 rout of the San Diego Padres on Sunday — with playoff hats being passed out in the clubhouse, a congratulatory tweet from MLB's official account and an "X" being briefly placed next to their name in the official online standings — the league had to backtrack on Monday because there are still three- and four-way tiebreakers that still exist.
The Dodgers now need one more win (or one more Milwaukee Brewers loss) to officially punch their ticket. They can still clinch the NL West as soon as Tuesday.
Either way, it won't dampen the club's mood after leaving San Diego with another series win over the Padres.
"There's still a lot of work to be done," manager Dave Roberts said Sunday. "I feel our best baseball is yet to be played."