Dodgers defeat Diamondbacks, 5-4
After two uneventful innings, Craig Kimbrel came in to pitch the ninth for the Dodgers, still leading 5-2. Kimbrel struck out Christian Walker on three pitches. Josh Rojas beat out a roller into the hole at short when Trea Turner couldn't slide and come up with the ball. David Peralta homered to right. It's 5-4 Dodgers. Geraldo Perdomo struck out swinging. Alex Thomas grounded to second.
Final score: Dodgers 5, Diamondbacks 4
Dodgers take 5-2 lead on Chris Taylor's home run
Tony Gonsolin pitched out of a two-on, two-out jam in the top of the sixth with a strikeout.
Max Muncy led off the bottom half with a perfect bunt up the third-base line for a single. Muncy and Cody Bellinger were working on bunting before the game today. Chris Taylor followed with a two-run homer to right. Austin Barnes struck out. Gavin Lux singled. Mookie Betts grounded to second. Freddie Freeman was walked intentionally. Trea Turner struck out looking.
Score after six: Dodgers 5, Diamondbacks 2
Dodgers surge to the lead
Chris Taylor led off the bottom of the fifth with a double to center. Austin Barnes walked and Gavin Lux popped to short. Mookie Betts singled to center, and the ball skipped past the center fielder. Both runners scored and Betts ended up at third. Freddie Freeman doubled to left, and just like that, it's 3-2 Dodgers. Trea Turner walked. Will Smith flied to center. Justin Turner grounded out.
Score after five: Dodgers 3, Diamondbacks 2
Diamondbacks now lead 2-0
Nothing happened in the third (other than Tony Gonsolin striking out the side), but Arizona scored again in the top of the fourth.
Ketel Marte led off with a high pop fly down the left field line. Unfortunately, the fielders were swung over to right and no one could get to it, leading to a double. Christian Walker hit a grounder to short that clanked off of Trea Turner's glove for an error, putting runners at the corners with no one out. Josh Rojas hit a fly ball to right that was deep enough to score Marte. David Peralta grounded into a 6-4-3 double play.
The Dodgers led off the bottom of the fourth with singled by Freddie Freeman and Trea Turner, but they didn't score after two fly balls and a groundout.
Score after four: Diamondbacks 2, Dodgers 0
Diamondbacks take 1-0 lead
After a hitless first inning for both teams, Christian Walker led off the top of the second with a home run off of Tony Gonsolin to give the Diamondbacks a 1-0 lead.
The Dodgers went down quietly in the bottom of the second.
Score after two: Diamondbacks 1, Dodgers 0
Tonight's starting lineups
The Curse of Trevor Bauer continues to punish the Dodgers
He came here as a Cy Young Award winner. He has since been transformed into a curse.
He came here as one of the cornerstones of a championship pitching rotation. He has since been responsible for its demolition.
You never think about him, you hate reading about him and you wish all talk of him would just go away.
But while Trevor Bauer might be long gone, he isn't going anywhere.
As the Dodgers struggle to pitch their way through an unrelenting stretch of their early schedule — 31 games in 30 days, are you kidding me? — Bauer remains the gift that keeps on taking.
Dodgers vs. Diamondbacks: How to watch, stream and start time
What you need to know: The Dodgers open a four-game series with the Arizona Diamondbacks on Monday night, a stint that includes a day-night doubleheader Tuesday and a day game Wednesday.
The Dodgers hold a fragile grip on first place in the National League West by percentage points (.636 to .629) over their SoCal neighbors to the south, the San Diego Padres, after their Sunday victory against Philadelphia, riding Gavin Lux's double with two out in the ninth inning that drove in the tying and winning runs for a 5-4 win, and kept the Dodgers from an embarrassing four-game Phillies sweep.
Right-hander Tony Gonsolin (3-0, and 1.33 ERA) gets the start Monday against Diamondbacks' left-hander Madison Bumgarner (2-1, 1.78). In the Dodgers' first series against Arizona in late April, L.A. recorded one win and two losses at Chase Field in Phoenix.
How to watch and live stream the Dodgers this season
Here's a look at the Dodgers broadcast and streaming schedule for the remainder of the 2022 regular season:
ICYMI: How Justin Turner helped Gavin Lux redeem himself in Dodgers' win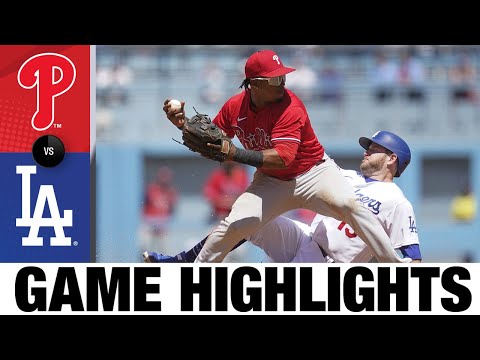 When the ball went between his legs, Gavin Lux tried not to show much emotion.
After committing a two-out error in the second inning Sunday, when his missed ground ball at second base led to four unearned runs for the Philadelphia Phillies, the Dodgers infielder tucked his glove into his arm.
He took off his cap and looked at the scout card for the next batter.
And when he returned to the dugout, he sat down next to starting pitcher Michael Grove, who was making his MLB debut, and didn't say a word.
He didn't need to.
"I gotta make that play," Lux later acknowledged. "Everybody knows that … Those runs are on me."