Final: Chad Kuhl shuts out Dodgers in Rockies 4-0 win
DENVER — The Dodgers offense is cooling off again.
In a 4-0 loss to the Colorado Rockies, Chad Kuhl became the first pitcher to throw a complete game shutout against the Dodgers since Steven Wright in 2016. It was also the first time the Dodgers have been shut out at Coors Field since 2016.
In their last 36 regulation innings, going back to the start of the Braves series this weekend, they've scored just nine runs.
The Dodgers are now 45-27.
Final: Rockies 4, Dodgers 0
Rockies extend lead as Dodgers continue to flail at plate
The Rockies have doubled their lead in the sixth inning, after José Iglesias launched a two-run homer off Tyler Anderson — giving it a nice, long look before leaving the batter's box.
The Dodgers, on the other hand, have looked lifeless at the plate. Gavin Lux's single (which was later erased on his baserunning mistake) remains the team's only hit.
Rockies starter Chad Kuhl, who has pitched more than six innings just twice previously this season, has faced the minimum 18 batters through the first half-dozen innings, needing just 60 pitches to keep the Dodgers off the board.
End 6th: Rockies lead 4-0
Rockies take early lead as Dodgers get off to sloppy start
DENVER — Dave Roberts said he hoped his team could carry over momentum from its series win in Atlanta over the weekend.
So far, it's been nowhere to be found.
The Rockies have taken an early, scoring runs in each of the first two innings. The Dodgers have managed just one baserunner through three innings — a single by Gavin Lux, who then promptly ran into an out on the bases trying to advance to second on a fly ball to center.
The team has lost its challenge already, too, after failing to get a potential pickoff call overturned.
Mid 3rd: Rockies lead 2-0
Dodgers enter Rockies series managing workloads in the bullpen
DENVER — After their tight series in Atlanta this weekend ended with an extra-innings game Sunday, the Dodgers bullpen won't be at full strength Monday as they open a three-game series against the Colorado Rockies.
Roberts said the team will stay away from Brusdar Graterol and Alex Vesia, after they pitched the last three and two days, respectively. Reyes Moronta will also be saved for only an emergency situation, after he pitched two innings on Sunday.
"We used a lot of arms yesterday," Roberts said. "But coming off an emotional series like that, I expect us to kind of build on that."
The Dodgers will send Tyler Anderson to the mound to face his former team. Anderson, who is 8-0 this season with a 3.00 ERA, spent four seasons in Colorado between 2016 and 2019, though he has already been back as a visitor twice.
The Rockies will start right-handed Chad Kuhl, who enters with a 4-5 record and 3.95 ERA.
Here's the Dodgers full lineup:
Dave Roberts to coach All-Star Game; Freddie Freeman wins Player of Week honors
The Dodgers didn't win the National League pennant last year. But manager Dave Roberts will be in the home dugout next month when the All-Star Game comes to Dodger Stadium.
Roberts revealed the news on Sunday night, during an in-game interview on ESPN's Sunday Night Baseball.
On Monday, before his team's series-opener against the Colorado Rockies, Roberts said Brian Snitker, manager of the defending champion Atlanta Braves, had asked him this week to be part of his staff for the midsummer classic.
"It is a huge honor," Roberts said. "First one in Los Angeles in many years and decades. So to kind of represent the Dodgers, be on his staff. It's great."
Roberts has been the manager in three previous All-Star games — "I'm 0-3," he joked about the NL losing each time — and said he has enjoyed "the opportunity to be around the game's best and watch the game's best perform. It's something I don't take for granted."
Roberts laughed when asked if his past All-Star Game experiences helped him get acquainted with starts who the Dodgers later acquired, such as Freddie Freeman, Trea Turner and Max Scherzer.
"There was no lobbying, or tampering as they call it," he said. "But you do get a chance to know players and talk to them and get to know them on a little bit of a different level."
Are there any potential trade targets Roberts is looking forward to meeting this year?
"You're going to try to get me in trouble," Roberts smirked.
Freeman named player of week
In the wake of an emotional return to Atlanta over the weekend, Freeman was awarded National League Player of the Week honors on Monday, after batting .440 with two home runs and 11 RBIs in his last six games.
It's the second time a Dodgers player has won the award this year, after Cody Bellinger was honored in April.
Dodgers takeaways: Freddie Freeman looking forward after emotional return to Atlanta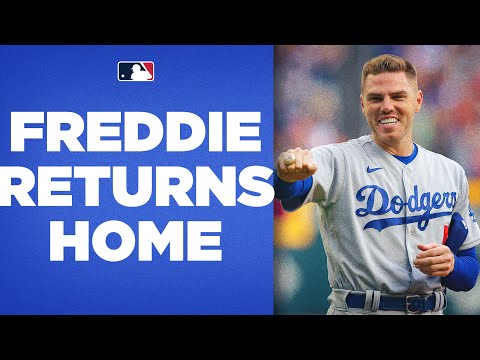 ATLANTA — Freddie Freeman's head hurt. His eyes were red. He looked and sounded physically and emotionally spent.
"I was really looking forward to this weekend," Freeman said Sunday night, standing in front of his locker at the end of a whirlwind three days at Truist Park. "I'm also kind of glad it's over, so I can just focus on baseball."
Even amid a dramatic series between the Dodgers and Atlanta Braves, Freeman's return to Atlanta was bigger than the games.
On Friday, in a tearful press conference before his first game back in Atlanta, Freeman began the reunion by claiming he wasn't looking for "closure" with the Braves, insisting he had no regrets three months after leaving a team he once never wanted to leave.
Dodgers Dugout: A double whammy for the pitching staff
Hi, and welcome to another edition of Dodgers Dugout. My name is Houston Mitchell, and it wasn't a good week to be a pitcher whose last name began with "H" for the Dodgers. Also, the Dodgers won an extra-inning game!
First, Andrew Heaney went back on the injured list because of inflammation in his left shoulder. He already missed about two months this season because of the same injury. But the belief is he will miss only a couple of starts this time.
"I don't foresee it being long," manager Dave Roberts said.
How to watch and stream the Dodgers this season
Here's a look at the Dodgers broadcast and streaming schedule for the remainder of the 2022 regular season:
ICYMI: Dodgers overcome blown save to outlast Braves in potential October preview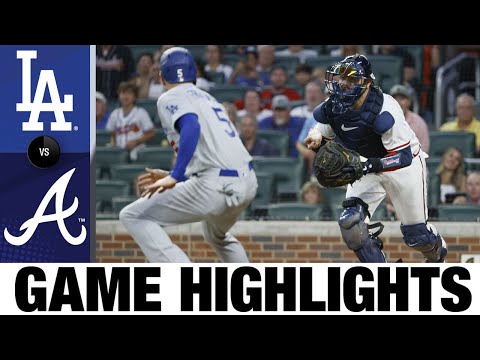 ATLANTA — There was the former Dodgers closer, blowing a save against his old team.
There was the Braves one-time closer, also faltering against his former team in a game at Truist Park on Sunday that dragged deep into the night.
And, of course, there was the long-time Braves hero, burning his old club at the end of an emotional reunion weekend back in this city.
In the end, neither Kenley Jansen nor Craig Kimbrel nor even Freddie Freeman were part of the sequence that ultimately decided the Dodgers' 5-3 extra-innings win — with Chris Taylor and Trea Turner instead providing the go-ahead RBIs to help the Dodgers take two out of three games against their National League nemesis.