Final: Dodgers beat Mets 2-0
The Dodgers opened their marquee matchup against the Mets this weekend with a 2-0 win.
Tony Gonsolin pitched six scoreless innings. Mookie Betts and Justin Turner drove in the two runs. And slumping closer Craig Kimbrel got back on track with his 11th save in the ninth inning.
Final: Dodgers 2, Mets 0
Tony Gonsolin finishes night with ERA lead, while Dodgers tack on another run
Tony Gonsolin pitched perhaps his best game yet this season, completing six scoreless innings giving up just two hits and one walk while striking out five. With 51 innings pitched in the Dodgers' 51 games this season, Gonsolin has now met the league's threshold for a qualified pitcher — making his 1.59 ERA officially the best in the National League.
The Dodgers offense, meanwhile, tacked on another run in the bottom of the sixth, when Justin Turner lined an RBI double off the wall in right.
End 6th: Dodgers lead 2-0
Dodgers take the lead, but run into another out on the bases
After missing a couple prime chances earlier in the game, the Dodgers finally broke through in the fifth inning after three straight singles from Chris Taylor, Gavin Lux and Mookie Betts — the latter bringing home the game's first run.
The inning ended an at-bat later, however, when a Freddie Freeman groundball was converted into an unusual double-play. Freeman was immediately retired when second baseman Jeff McNeil threw the ball to Pete Alonso at first. Betts, meanwhile, got stuck in no man's land, trying to engage the Mets in a rundown between first and second.
Initially, Betts tried waving Lux home from third as he stuttered between the bases. But the Mets defense was on it, throwing the ball to home plate to put Lux in a rundown that eventually ended with him being tagged out at third (Lux was initially ruled safe but the call was overturned on a video replay challenge).
Tony Gonsolin, meanwhile, has continued to pitch well, giving up just two hits through five scoreless innings.
End 5th: Dodgers lead 1-0
No score as Tony Gonsolin gets off to another sharp start
In the midst of one of the best stretches of his career, Tony Gonsolin has gotten off to another strong start tonight.
Through scoreless three innings, the Dodgers right-hander hasn't given up a hit, has struck out three batters and has walked only one, needing just 40 pitches to navigate the first 10 he has faced.
The Dodgers' offense, however, hasn't been able to give him any support early. They left runners on the corners in the first, after a Mookie Betts single and Will Smith walk. They got a leadoff single in the third from Gavin Lux, who then stole second as the top of the order came to the plate, but again couldn't turn it into a run against Mets starter Taijuan Walker.
End 3rd: No score
Dodgers, Mets prepare to square off in battle of NL's top two teams
At the 50-game mark this season, the Dodgers don't hold the best record in the National League.
Instead, that honor belongs to the New York Mets, who open a four-game series at Dodger Stadium tonight a game ahead of the Dodgers in the standings.
Even with star pitchers Max Scherzer and Jacob deGrom currently out injured, the Mets have soared to a 35-17 record behind a resurgent performance from their offense — which ranks second in the majors in scoring (5.21) and OPS (.749), trailing only the Dodgers.
The Mets could be missing a key part of their lineup Thursday, however, after shortstop Francisco Lindor slammed his finger in his hotel room door.
The Dodgers also got bad injury news Thursday, announcing outfielder Kevin Pillar suffered a fractured shoulder Wednesday night.
Pillar was placed on the injured list and doesn't have a timetable for returning, with surgery looming as a potential option. Zach McKinstry was recalled in a corresponding move.
Read more about Pillar, as well as an update on Clayton Kershaw and others, by clicking here.
Here is the Dodgers' full lineup for Thursday's series opener, which will feature a pitching matchup of Tony Gonsolin (5-0, 1.80 ERA) against Taijuan Walker (3-0, 2.83 ERA).
How to watch and stream the Dodgers this season
Here's a look at the Dodgers broadcast and streaming schedule for the remainder of the 2022 regular season:
Dodgers swept first time this season with 8-4 loss to Pirates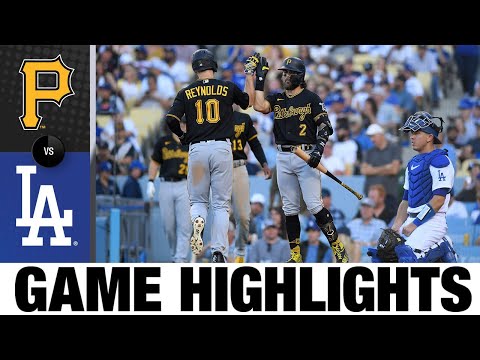 There was undesirable deja vu for the Dodgers on Wednesday night.
Another early hole. Another failed comeback. Another loss at home to the lowly Pittsburgh Pirates.
Every season comes with unexpected dips. But a three-game sweep against a rebuilding, previously slumping, seemingly overmatched team? Even manager Dave Roberts had a hard time reconciling it after Wednesday's 8-4 defeat at Dodger Stadium.
"I thought we had opportunities to change certain outcomes," Roberts said. "And we just couldn't capitalize."
Wednesday's game began like the previous two nights. The Pirates jumped out to an early lead, scoring a run on a walk and two singles in the first inning against starter Mitch White.