Dodgers lose to Pirates 5-1
A pinch-hit Edwin Ríos home run in the ninth saved the Dodgers from losing in a shutout, but they never mounted much of a threat in their 5-1 loss. They finished with just four hits and stranded nine runners on base.
The defeat snaps a six-game winning streak, and drops the Dodgers to 19-8 on the season.
Final: Pirates 5, Dodgers 1
Pirates chase Julio Urías in the seventh, open up five-run lead
Last week, the Dodgers didn't let Julio Urías pitch in the seventh, even after six shutout innings against the San Francisco Giants.
Tonight, he did get a chance to work beyond the sixth. But he failed to take advantage.
Michael Perez chased Urías from the game with a leadoff home run in the seventh, going deep on a fastball Urías left down the middle.
Dave Roberts immediately turned to the bullpen, but reliever Phil Bickford gave up another run.
Then in the eighth, Robbie Erlin gave up a two-run homer to Jack Suwinski.
Bottom 8th: Pirates lead 5-0
Julio Urías escapes jam in the sixth, hits 95 mph for first time this year
Julio Urías has given up 10 hits for the second time in his career. But, he's made it through six innings giving up only one run.
The Pirates have a big chance to add to their lead in the sixth, after Yoshi Tsutsugo and Diego Castillo led off the inning with a single and double, respectively.
Urías, however, retired the next three batters. He got Ben Gamel to pop out to third. Then he fanned Jack Suwinski and pinch-hitter Cole Tucker (a switch-hitter who was surprisingly batting from the left-hand side).
In the last at-bat, Urías touched 95 mph twice — something he hadn't done yet this season while battling diminished velocity.
End 6th: Pirates lead 1-0
Chris Taylor leaves game after fouling ball off leg
Chris Taylor left the game in the sixth inning after fouling a ball off his leg.
During an at-bat in the top half of the frame, the ball hit Taylor near his left knee. He was in pain, he and took a couple minutes to test his knee by jogging up the first-base line.
Taylor finished his at-bat, getting called out on strikes.
In the bottom half of the inning, however, Taylor was removed. Max Muncy entered at second base. Gavin Lux shifted to the outfield.
Pirates open the scoring in the fourth
Both teams had plenty of traffic in the opening three innings, but it wasn't until the bottom of the fourth that the Pirates scored the game's first run.
Michael Chavis led off the frame with a triple into the left-center field gap. He then scored on a sacrifice fly by Yoshi Tustsugo, just beating out a throw from right field by Mookie Betts (who threw out a runner at third base in the first inning).
Julio Urías has given up six hits so far.
The Dodgers have three walks, but only one hit — a double by Hanser Alberto. Twice, they've been robbed by diving catches in the outfield.
End 4th: Pirates lead 1-0
Ryan Pepiot joining Dodgers' taxi squad, in contention to make MLB debut Wednesday
PITTSBURGH — Ryan Pepiot is one step closer to a potential MLB debut.
The Dodgers flew Pepiot, one of their top pitching prospects, out to Pittsburgh on Monday to join the team's taxi squad. The team is leaning toward starting him on Wednesday, according to manager Dave Roberts, but a final decision hasn't been made.
"It just leaves the option open," Roberts said. "We're not going to commit to it. But certainly getting him here in town puts us in a position where we can do that if we choose to."
Roberts said Robbie Erlin is also a possibility to pitch.
Pepiot, 24, was a third round draft pick in 2019 who has been having a strong season in Class AAA. In six starts, he has a 2.05 ERA and has struck out 36 batters in 26 1/3 innings.
According to MLB Pipeline, he's the team second-best pitching prospect and No. 6 overall.
"I think talent, I think performance has put him in this position," Roberts said. "Ultimately, if we decide to pull the trigger, it'll be an exciting day for all of us."
The Dodgers need to add another starter because they played a double-header Saturday. They could keep whoever starts in the rotation for a couple turns afterward, as well, with another double-header looming Tuesday and 28 games overall in the next 28 days.
Dodgers lineup: Julio Urías takes the mound for sixth start
PITTSBURGH — The Dodgers will try to extend their winning streak to seven games Monday when the face the Pittsburgh Pirates.
Julio Urías will make his sixth start of the season, entering with a 2-1 record and 1.88 ERA.
Here's the Dodgers batting order against Pirates lefty José Quintana (0-1, 3.38 ERA).
ICYMI: Dodgers dominate Cubs again, completing sweep for sixth consecutive win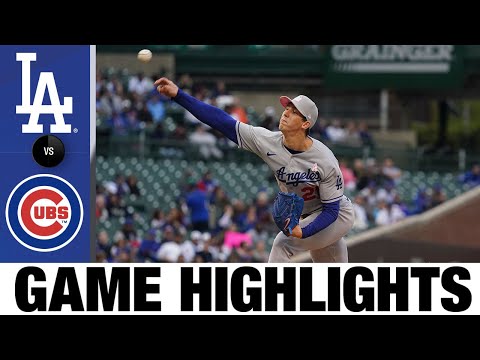 CHICAGO — It was baseball at its most boring, which meant the Dodgers were also at their best.
On Sunday night at Wrigley Field, there was little tension, thrill or suspense. Instead, the Dodgers completed a dominant three-game sweep of the Chicago Cubs with a stress-free 7-1 win.
The 31,424 inside the ballpark, and the national television audience watching on ESPN's "Sunday Night Baseball," weren't treated to many highlights. The Dodgers' runs came on two sacrifice flies, a wild pitch, an error, an infield single and a double play. There was a strong seven-inning, one-run start from pitcher Walker Buehler, who still isn't at his absolute best.
The most memorable moment? Cubs catcher Willson Contreras accidentally hitting Max Muncy in the groin while trying to recover a wild pitch.
How to watch and stream the Dodgers this season
Here's a breakdown of the TV and streaming options available for every remaining game on the Dodgers' 2022 regular-season schedule:
Blake Treinen out until 'stretch run' for Dodgers; Victor González set for elbow scope
CHICAGO — What started out as a seemingly minor shoulder injury for Dodgers reliever Blake Treinen has turned into a long-term absence, with manager Dave Roberts saying Sunday that the right-hander will be out until at least after the All-Star break.
Treinen has been out since April 14 because of shoulder inflammation. He had one set of MRI exams after the injury that didn't reveal any structural damage but was scheduled to see a doctor Monday and have more scans taken.
However, that doctor visit likely won't happen now, according to Roberts, who said Treinen is instead going to focus on rehabilitating his shoulder in hopes of returning to the mound later this season.