Final: Dodgers lost to Nationals 1-0 after squandering another chance in the ninth
WASHINGTON — The Dodgers suffered their first shutout in 74 games Wednesday.
It wasn't for a lack of chances late in the game.
After squandering a two-on, one-out opportunity in the eighth, the Dodgers did the same in the ninth, when Max Muncy walked and Gavin Lux singled only to have Cody Bellinger fly out and Will Smith watch a deep line drive die at the warning track in right.
The loss drops the Dodgers to 29-14, and prevents them from completing a series sweep against the Nationals.
Final: Nationals 1, Dodgers 0
Dodgers get two aboard in the eighth, but strand them both
Mookie Betts struck out while pinch-hitting to lead off the eighth, but the Dodgers quickly mounted a threat in the inning anyway.
In the next at-bat, Trea Turner lofted a single to center. After he stole second, the Nationals elected to intentionally walk Freddie Freeman once he got to a 2-and-0 count.
But even with two aboard and one out, the Dodgers came up empty.
Justin Turner popped out in foul ground. Edwin Ríos struck out swinging in the next at-bat.
Yency Almonte has pitched two scoreless innings of relief for the Dodgers. But they still trail, and are now down to their final three outs.
End 8th: Nationals lead 1-0
Nationals take the lead in the sixth, but Julio Urías limits the damage
A lot happened in the sixth inning.
After cruising through the first five frames, Julio Urías got into trouble, issuing a leadoff walk before failing to field a well-placed bunt single.
In the next at-bat, César Hernández got to a two-strike changeup just off the plate and snuck an RBI single through the left side of the infield.
From there, however, Urías settled down. He got a pop out against Lane Thomas. He froze Juan Soto with a late-breaking curveball for a strikeout, the two exchanging a grin after the eight-pitch at-bat.
Then, manager Dave Roberts came to the mound but left Urías in the game. The left-hander made it look like a good decision, getting Nelson Cruz to a hit ground ball to left side that ultimately ended the innings — after Trea Turner bobbled it, but recovered by catching Alcides Escobar in a run down between third base and home plate.
End 6th: Nationals lead 1-0
Nationals get first hit, but still no score through five innigns
After four hitless innings against Julio Urías, the Nationals finally got a knock against the Dodgers starter when Nelson Cruz lifted a double over Hanser Alberto's head in right.
Urías, however, stranded the runner to keep the game scoreless. The left-hander has also thrown only 56 pitches so far.
In the top of the fifth, the Dodgers had a scoring chance of their own after Alberto doubled. But then Alberto was thrown out trying to advance to third on a grounder, before the inning ended on a double-play.
End 5th: No score
Julio Urías off to sharp start, but no score through three innings
Coming off one his best starts of the season last weekend, when he pitched five shutout innings against the Philadelphia Phillies, Julio Urías is off to another sharp start today.
He has walked just one batter and given up no hits through three innings. Just as notably, he's thrown only 30 pitches so far.
The Dodgers lineup, however, has also gotten off to a slow start, stranding a couple hits in the first three frames.
End 3rd: No score
Cody Bellinger out of lineup, but available; Mookie Betts' day off forces Hanser Alberto in outfield
Cody Bellinger wasn't in the Dodgers lineup for a second-straight game Wednesday as he continues to battle an illness.
Manager Dave Roberts said Bellinger is available off the bench, if needed.
"To give the guy an extra day to sort of recover, rejuvenate is best course of action," Roberts said. "That's where he's at right now. He'll be ready if called."
Mookie Betts also got a scheduled day off, even after hitting two home runs on Tuesday night.
"I think the easy answer is just to run him out there until he doesn't get hit," Roberts said. "But I know him. I know his body. He wants to be out there every single day. But my job is to preserve his mind and body through October. And so I feel that today's the day that I'm gonna hold to what I said."
With Betts and Bellinger out, the Dodgers had to get creative with their outfield alignment. Chris Taylor returned to center. Gavin Lux was in left. Hanser Alberto was placed in right, making only the third outfield start of his career.
"If I asked him to play first base, if I asked him to catch, he could do it," Roberts said. "I asked him to pitch this year, and he pitched. So to go out there and play a deep second base, he can do it."
Julio Urías will be on the mound for the Dodgers, entering the game with a 3-3 record and 2.63 ERA.
Here's the Dodgers full lineup:
Trea Turner embraces Dodgers culture — a year after a trade he didn't expect
WASHINGTON — The thought never really crossed Trea Turner's mind.
As he drove home from Philadelphia last July, forced into self-isolation after testing positive for COVID-19 during a series against the Phillies, Turner didn't know that he had just played his final game for the Washington Nationals.
Less than a week away from last year's trade deadline, the All-Star hadn't seriously entertained the possibility he'd be traded by the only team he'd played for in his MLB career.
"I never thought it would happen," Turner said.
Almost a year later, Turner was welcomed back to Washington as a visitor Monday night, returning to Nationals Park with the Dodgers for the first time since they acquired him in a blockbuster deal last July.
Turner was reflective in his homecoming, if not emotionally sentimental.
How to watch and stream the Dodgers this season
Here's a look at the Dodgers broadcast and streaming schedule for the remainder of the 2022 regular season:
Mookie Betts becomes NL leader in homers in Dodgers' 9-4 win over Nationals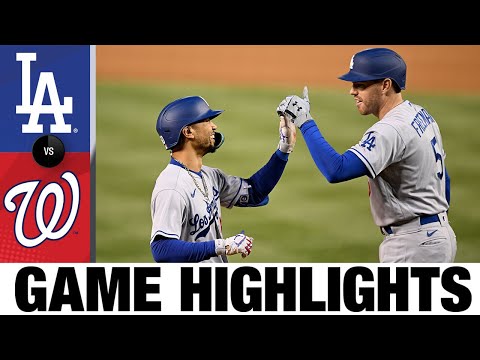 WASHINGTON — Mookie Betts wasn't supposed to be in the lineup Tuesday, scheduled for a rare day off after a recent tear at the plate.
But then, center fielder Cody Bellinger woke up not feeling well, according to manager Dave Roberts. The team had to tweak its plans. And Betts ultimately asked to stay in the lineup as the leadoff hitter.
"He came to me," Roberts later recalled, "and said, 'I know we talked about taking the day off. But I want to be in there.'"
In his latest dominant display that night, Betts made the decision count.
With two home runs that gave him the National League lead with 12, Betts led the way in the Dodgers' 9-4 win against the Washington Nationals.