Dodgers Dugout: Why this could be the most exciting Dodger season in recent memory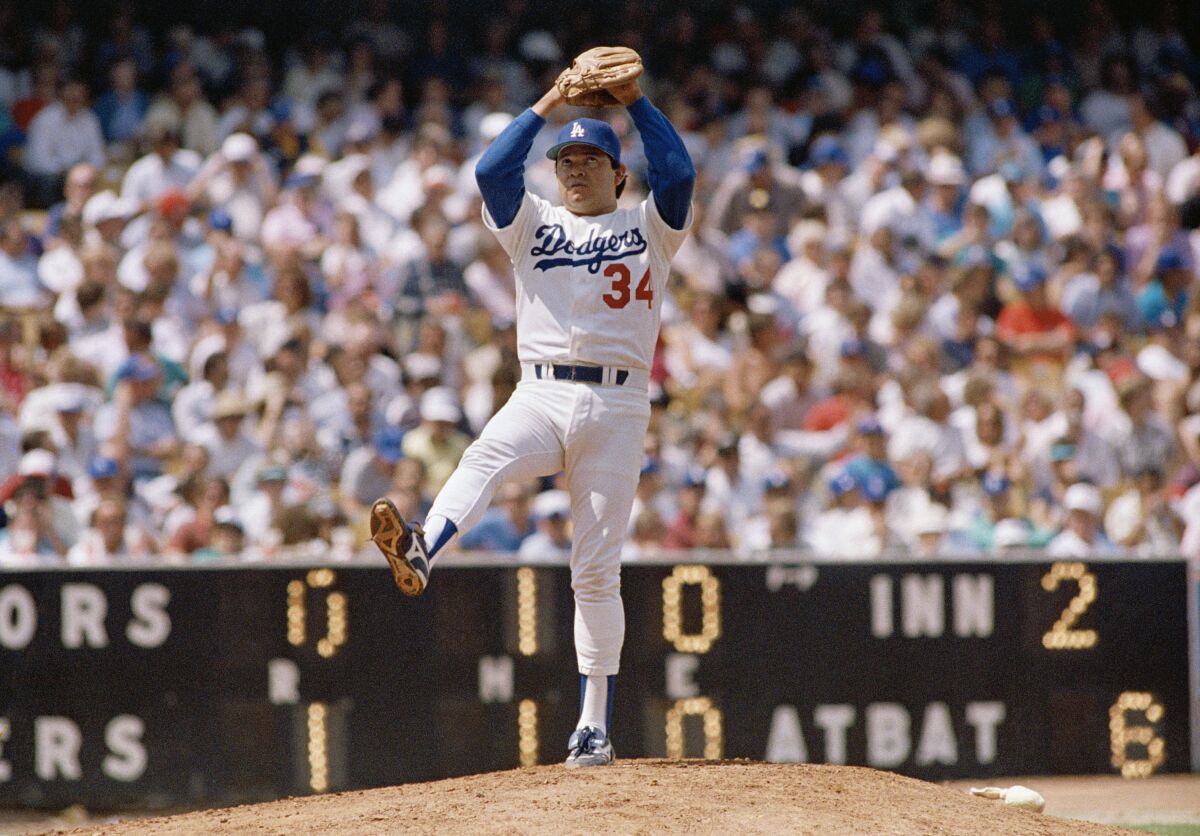 Hi, and welcome to another edition of Dodgers Dugout. My name is Houston Mitchell, and I wonder if anyone has investigated whether that spy balloon belonged to the Astros.
Get our Dodgers Dugout newsletter for insights, news and much more.
You may occasionally receive promotional content from the Los Angeles Times.
Last week I wrote that this could be the most exciting Dodgers season in recent memory. Here's what I meant.
This newsletter has been around since the start of the 2015 season, which seems hard to believe, but true. The Dodgers have made the postseason every year this newsletter has been in existence. Actually, they've made it every season since 2013. And, when each season began we have known that the Dodgers were going to make the playoffs. By the end of May, it was a virtual lock. That turned the six-month regular season into a waiting game. Oh sure, there were exciting moments during the season, but there weren't any butterflies in the stomach wondering if they were going to make the playoffs.
So, we would wait six months for a postseason that would often end in disappointment. Last season, the Dodgers were eliminated after four postseason games. "Six months of waiting just for that?"
It's totally different this season. The Dodgers do not appear to be the juggernaut they have been. Trea Turner is gone, without an equivalent replacement. There are going to be unproven kids playing frequently. Will Max Muncy rebound after hitting .196 last season? Will Chris Taylor return to form? How badly will the outfield defense suffer without Cody Bellinger? Is Trayce Thompson really a .268/.364/.537 hitter, or is he more like the hitter he was in previous seasons (.208/.283/.405)? Will Clayton Kershaw avoid injury? Has Dustin May fully recovered enough to hold down a permanent rotation spot? Who will pitch the late innings? Can Gavin Lux continue to improve as a hitter and play a solid shortstop? Can J.D. Martinez replace Justin Turner?
In previous seasons, there were few questions. There are a plethora of questions this season, the above representing just a few of many. The Dodgers aren't favored to win the division, the Padres are. But the Dodgers could still make the postseason. Even if they are 20 games worse than last season, that equals a 91-win season and puts them in the playoffs. But will they be worse than that? Better?
If the young players step up, it will be a joy to watch. It's a different kind of joy to watch a young player break out than to watch an acquired free agent do what is expected. If Miguel Vargas, James Outman and others become stars this season, the excitement will be palpable. They could also fail to live up to expectations, making the disappointment all the more real.
We don't know what is going to happen. And that is what is exciting, and that is what makes me look forward to this season more than any season in recent memory.
The shift
A lot of people are expecting an increase in offense now that the shift has been banned. The new rule states (you can read about this and all the rule changes here):
—The four infielders must be within the outer boundary of the infield when the pitcher is on the rubber.
—Infielders may not switch sides. In other words, a team cannot reposition its best defender on the side of the infield the batter is more likely to hit the ball.
—If the infielders are not aligned properly at the time of the pitch, the offense can choose an automatic ball or the result of the play.
—This rule does not preclude a team from positioning an outfielder in the infield or in the shallow outfield grass in certain situations. But it does prohibit four-outfielder alignments.
But will this really lead to an increase in offense? The shift was tested in the minors, and the results are surprising, according to Baseball America.
The shift ban went into effect in double A, low A and high A in 2022. Here are the batting averages for balls in play in 2021 and 2022:
League 2021 2022
double A .308 .311
high A .314 .307
low A .323 .317
As you can see, batting averages actually went down in two of the three leagues. Why? It all evens out. With the shift on, some hits became outs, but some balls that would have been outs became hits. We just pay attention more to the balls that became outs. With the shift banned, balls that may have been hits became outs, and balls that may have been outs became hits.
"Nothing really changed," Kevin Randel, manager of the Marlins' double-A affiliate at Pensacola, told Baseball America. "I didn't see any advantages or disadvantages to it at all. In the end it all kind of evened out … You steal some outs and you give up some cheap hits. I think it was pretty much all the same."
Fernando
Finally, the Dodgers have done the right thing and announced Saturday at FanFest that they will retire Fernando Valenzuela's No. 34 this season. There is no retired Dodger more deserving of the honor. There may be no player to have created more Dodger fans than Fernando, with the possible exception of Jackie Robinson.
"It's an amazing feeling," Valenzuela said. "I never thought it would happen. I thank the fans and the Dodgers for making it happen."
The Dodgers had an unofficial policy of retiring only the numbers of players who made the Hall of Fame, with the exception of longtime player and coach Jim Gilliam, who died just after the 1978 season.
"When we came here, we respected the history of the franchise, and that included respecting its policies," team president Stan Kasten told our Bill Plaschke. "But every now and then we also sit down and review those policies … and after all of the public clamor for Fernando … that is the single reason that pushed this decision way over the edge … it's about what this means to a great number of fans."
The retirement ceremony will turn into a number retirement weekend, Aug.11-13 against Colorado.
So, before we move on and start saying "Now retire this player's number!" let's just take a moment and let this moment sink in and enjoy it. It's long overdue.
In case you missed it
Plaschke: Dodgers are finally retiring Fernando Valenzuela's number
Fernando Valenzuela's number retirement celebrated by Jaime Jarrín and Julio Urías
Miguel Rojas agrees to two-year contract extension with Dodgers
Hernández: Julio Urías proved he can be the Dodgers' ace; now they must pay him like one
And finally
The Dodgers announce they will retire Fernando's number. Watch and listen here.
Get our Dodgers Dugout newsletter for insights, news and much more.
You may occasionally receive promotional content from the Los Angeles Times.