Dodgers fall to Giants as Walker Buehler leaves early because of elbow discomfort
SAN FRANCISCO —
Walker Buehler's season was already heading for another disappointing turn Friday night, after he gave up three runs in four innings against the San Francisco Giants.
By the end of the Dodgers' 7-2 loss, however, Buehler's underwhelming stat line was the least of his worries.
After he exited the game following just four innings and 70 pitches, the Dodgers announced that Buehler was experiencing right elbow discomfort. The team didn't immediately know the severity of the injury. Buehler said he was going to get tests Saturday morning.
Buehler said the issue first popped up after he threw a breaking ball in the third inning. He tried to pitch through it but left the game before the start of the fifth when the discomfort didn't subside.
Asked for his concern level, Buehler said he didn't want to speculate until he and the team's training staff had more information. He said ever since he underwent Tommy John surgery as a prospect in 2015, he has had various sensations in his elbow over the years. This one, however, "was just a little bit different and something we need to check out," he said.
The Dodgers will need pitcher Walker Buehler to pitch like the old Buehler if they want to win the World Series in October.
Added manager Dave Roberts: "I'm trying not to get too out ahead of myself. But anytime when you're talking about the elbow, you're talking about a guy like Walker who can't finish his start because of discomfort, it's certainly concerning."
Before his early exit, the right-hander had shown flashes of his old self during parts of Friday's game but still struggled to limit damage as his ERA rose to 4.02.
The Giants scored two runs in the second after Joc Pederson hit a full-count fastball for a leadoff single, Evan Longoria sneaked an RBI double inside the bag at third base and Brandon Crawford hammered a curveball for an RBI single, turning what had been an early one-run lead for the Dodgers into a 2-1 deficit.
The third inning was one of Buehler's best of the season. He hit his spots with his fastball, got swings-and-misses with his breaking pitches and struck out all three batters he faced.
However, it was also the inning in which his elbow discomfort surfaced.
"I threw a breaking ball in the third inning, and it kind of grabbed a little bit and kind of didn't go away," Buehler said.
On Friday, Deadspin asked a federal district court to toss what attorneys for the website called Trevor Bauer's "meritless defamation lawsuit [intended] to punish truthful commentary."
When he returned to the dugout, he alerted Roberts and the training staff but wanted to try to keep pitching. He began the fourth with a strikeout but then gave up a solo home run to Darin Ruf on a slider that stayed over the inner half of the plate. Later in the inning, Buehler exchanged words with plate umpire Chris Conroy after disagreeing with a ball call, prompting pitching coach Mark Prior to calm Buehler down.
Buehler ended the inning a few pitches later but didn't return to the mound again.
"Just talking to the trainers, talking to Mark, [we were] feeling like that was enough," Roberts said, adding: "Certain discomforts you can manage through. This one tonight, clearly he felt that any more could potentially be damaging."
The Giants quickly pulled away against Buehler's replacement, left-hander Justin Bruihl, in the fifth. They scored three runs in the inning to extend their lead to 6-2, including two on a single by former Dodger Pederson after the team elected to intentionally walk the batter in front of him to set up a left-hander-on-left-hander matchup.
The Dodgers' offense, which opened the scoring on Chris Taylor's RBI double in the second and got a solo home run from Gavin Lux in the fifth, couldn't muster anything else the rest of the night, even after Giants starter Jakob Janis left in the sixth because of a hamstring strain.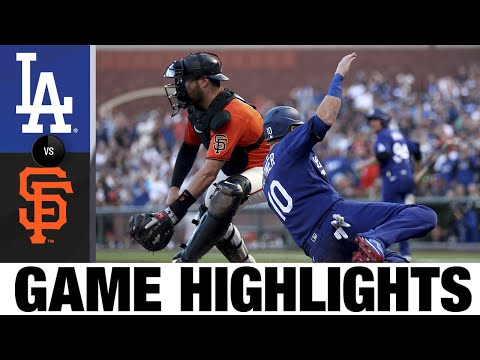 Ruf hit another home run in the eighth inning to put away the game. But by then, all attention was already turning to Buehler's status moving forward.
Buehler said the elbow issue wasn't to blame for any of his previous struggles this season. There weren't any noticeable signs of trouble Friday until his early exit either.
But now he and the Dodgers only can wait before determining how severe the injury is.
"I've had a Tommy John surgery, so I think [the concern is] a little bit heightened," Buehler said, before adding: "But before we kind of dive into that, we need to know what we're dealing with. … I don't really have a whole lot to say in terms of specifics on it just because I don't know what's going on yet."
A day after ordering a two-strike intentional walk that backfired against the Dodgers, White Sox manager Tony La Russa said he'd do it all over again.
Rotation reshuffled
Before Friday's game, Roberts announced the team's new rotation for the rest of this weekend, with Clayton Kershaw now slated to pitch Saturday and Julio Urías set to go Sunday.
Originally, those two were flipped. But Roberts said Kershaw felt ready to pitch Saturday, which will be six days removed from his minor league rehabilitation start this past Sunday, and that the team felt Urías would benefit from an extra day of rest.
Craig Kimbrel back
Closer Craig Kimbrel rejoined the Dodgers on Friday after missing the week's series at Chicago following the birth of his second child, Joseph Watson.
Get our Dodgers Dugout newsletter for insights, news and much more.
You may occasionally receive promotional content from the Los Angeles Times.