Pacquiao vs. Vargas: Round-by-round recap
Manny Pacquiao (59-6-2) defeated champion Jessie Vargas (27-2) to claim the World Boxing Organization welterweight title on Saturday night at Thomas and Mack Center in Las Vegas.
Bridget Gonzalez did double duty by singing both the Mexican and U.S. national anthems.The Word Choir sang the Philipine anthem.
The referee for the fight was Kenny Bayless and the judges were Dave Moretti, Glenn Feldman and Glenn Trowbridge.
Here is round-by-round recap of the fight (scoring is unofficial).
Round 1: Pacquiao seems to have good movement through the first part of the round although Vargas was the first to land a punch. Vargas seems to be planted in the center of the ring allowing Pacquiao to circle his opponent. Vargas and Pacquiao exchange lefts although no damage is done. A very close round but a late shot by Pacquiao might have been enough to win the round. Times card: Pacquaio 10, Vargas 9.
Round 2: A clinch about a minute into the round allows Pacquiao to land some body shots with no immediate damage but those add up. Still not much action. Pacquiao connects after some wild punches by Vargas. With 29 second left in the round Pacquiao connects on a solid left that sent Vargas to the canvas. The champion gets up but the momentum clearly has gone to Pacquaio. Times card: Pacquiao 10, Vargas 8. (Pacquiao 20, Vargas 17.)
Round 3: The third round started slowly until Pacquiao lands a combination about a minute into it. Pacquiao is definitely controlling the fight and showing no signs of his age of 37. Vargas is just appearing slower. The round is closer than the fans make it seem, but Pacquiao still takes it. Times card: Pacquiao 10, Vargas 9. (Pacquaio 30, Vargas 26.)
Round 4: If Vargas is going to have any chance he needs to get going before the scoring gets out of hand. Pacquaio is starting to stalk, looking to hit a spot. Vargas finally connects on a strong right that got Pacquaio's attention. Vargas is starting to connect with some good rights.Vargas gets the round on the strength of one punch. Times card: Vargas 10, Pacquiao 9. (Pacquiao 39, Vargas 36.)
Round 5: Pacquiao, appearing a little slower, lands a left but is doing little damage. The right side of Vargas' face is starting to get a little puffy. Vargas is starting to get energized but Pacquaio answers with some shots that excite the crowd but don't really connect. Another good round for Vargas. Times card: Vargas 10, Pacquaio 9. (Pacquaio 48, Vargas 46.)
Round 6: A lot of posturing through the first half of this round. Pacquiao is starting to connect on Vargas's right eye with his left. Pacquiao seems to have regained some of his momentum in a basically quiet round. Times card: Pacquaio 10, Vargas 9. (Pacquiao 58, Vargas 55.)
Round 7: Pacquiao is starting to land some big punches, including a good straight to the face about midway through the round. Pacquaio is controlling the ring and it's starting to be about rounds rather than punches. Times card: Pacquaio 10, Vargas 9. (Pacquiao 68, Vargas 64.)
Round 8: After a quiet first half of the round, the fighters got interested and started throwing punches with Pacquiao getting the advantage. The fighters banged heads, opening a cut over Vargas' nose. He did land a strong right but Pacquaio comes back. Closer than it seems but the crowd might influence the judges. Times card: Pacquiao 10, Vargas 9. (Pacquiao 78, Vargas 73.)
Round 9: Neither fighter seems to be hurt but both are starting to tire. No significant punches landed this round. It's as if both fighters were taking a breather. Ties go to the legend. Vargas is going to need to do something and soon. Times card: Pacquiao 10, Vargas 9. (Pacquiao 88, Vargas 82.)
Round 10: Pacquiao lands a combination early in the round that scrambles Vargas. A straight right to Vargas' face connects. The blood trickling from Vargas' face doesn't seem to be a problem. The fight is getting away from Vargas and he likely needs a knockout at this point. Times card: Pacquiao 10, Vargas 9. (Pacquiao 98, Vargas 91.)
Round 11: Pacquiao comes out with a lot of energy especially considering it's the penultimate round. Vargas catches Pacquiao coming in but doesn't do any appreciable damage. A right hook from Pacquiao sends Vargas to one knee but it was ruled a trip, something the replay backed up. Vargas needs a KO if he is to win this fight. Times card: Pacquiao 10, Vargas 9. (Pacquiao 108, Vargas 100.)
Round 12: Vargas needs a KO and it doesn't look like it's in the cards. Pacquiao still has plenty of energy and Vargas doesn't have the desperation of someone far behind in the last round. Pacquiao continues to control the action and has the look of a champion, albeit an old champion. Vargas does slip near the end of the round and goes to one knee but Bayless waved it off. A big win for Pacquiao. Times card: Pacquiao 10, Vargas 9. (Pacquiao 118, Vargas 109.)
The judges agreed with the fans, who were on Pacquaio's side. Judges Trowbridge and Feldman agreed with The Times' card and scored it 118-109 for Pacquiao. Moretti had it much closer at 114-113 for Pacquiao, who is the new WBO welterweight champion.
Slideshow: Photos from the Pacquiao-Vargas title fight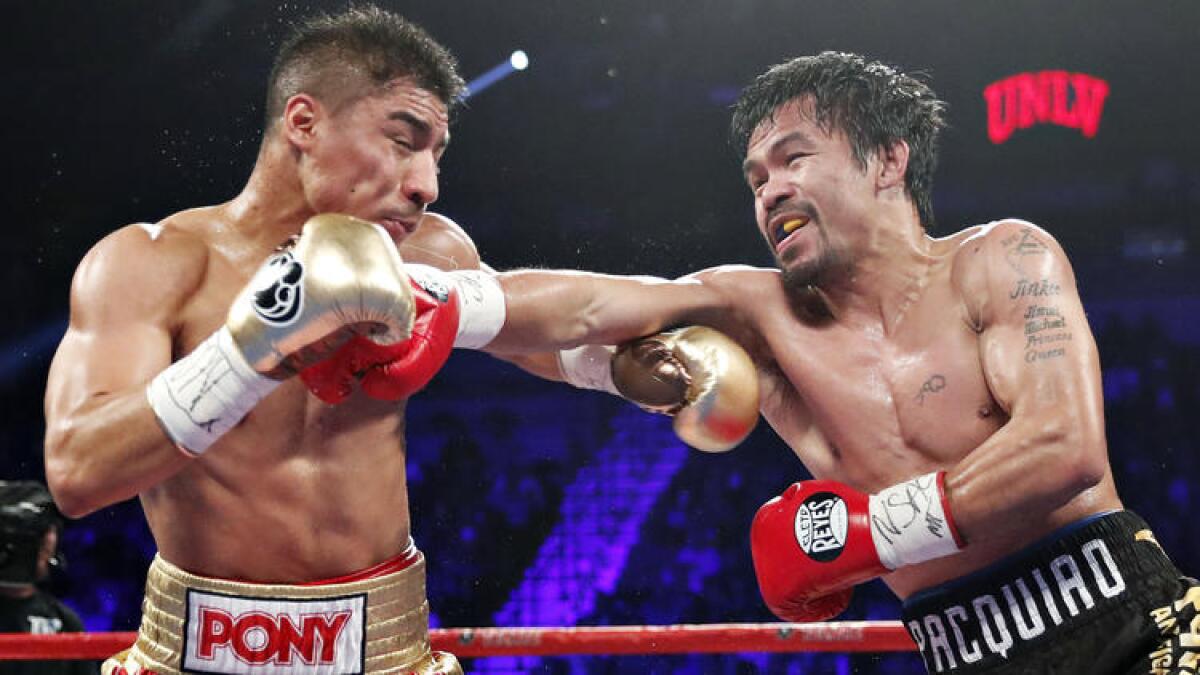 Why boxing pay-per-view events could become scarce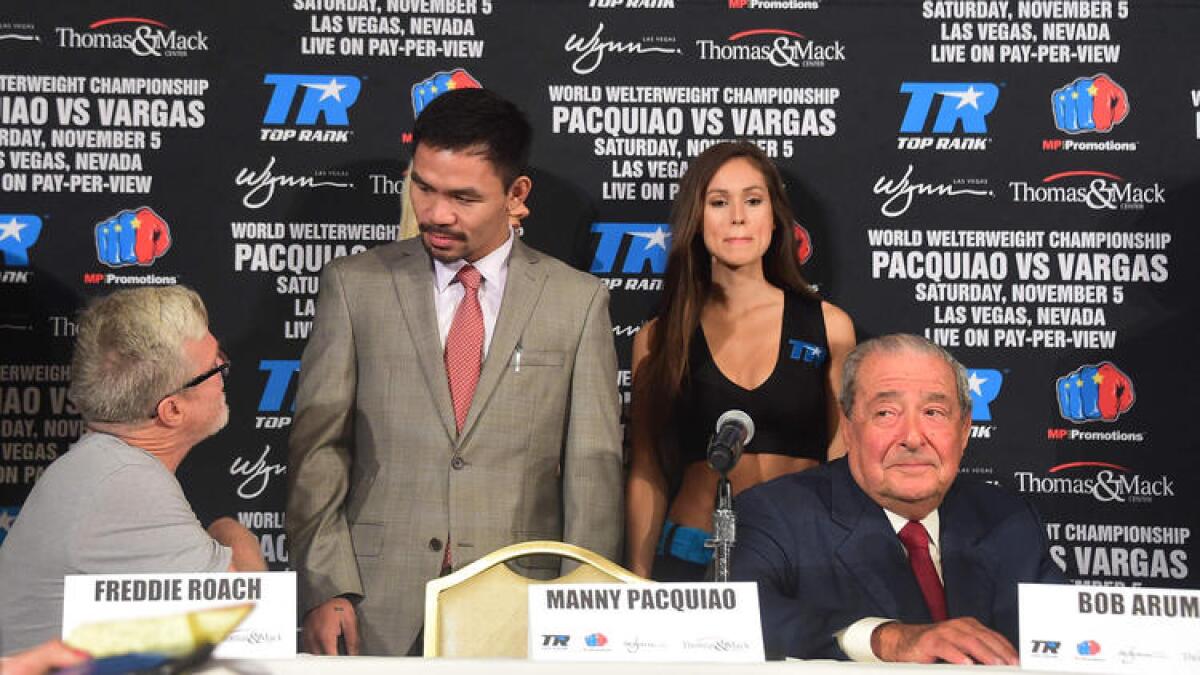 Manny Pacquiao's fight on Saturday will be shown on pay-per-view, but not with the usual involvement of HBO.
Don't be surprised, Pacquiao promoter Bob Arum says, if the new normal becomes a decreased interest by premium cable powers like HBO and Showtime in the pay-per-view format.
After last week's proposed $85-billion purchase of HBO's parent company Time Warnerby AT&T, Arum said he's come to theorize that the landscape for televising big fights will change.
"There's no reason for [premium cable providers] to be in the pay-per-view business," Arum said. "They don't make any money to speak of in pay-per-view. When you add in the staffing expenses, it's not a profit center.
"Take a good 500,000-buy pay-per-view. They make $1.25 million and pay a [replay] delay [cost] of $750,000. When you take into account the expenses — travel, hotels — if they make $250,000, it's a lot of money. It's not worth it; $250,000 is nothing. So I believe pay-per-view will be left to promoters, or a company who can do it. … There's no real role for a premium network to do pay-per-view anymore."
His passion for country and sport runs deep
Manny Pacquiao's subtle delivery when he's speaking can have as much impact as one of his punches to the jaw.
When asked why people will be interested in his latest fight — in which he'll try Saturday night to claim the World Boxing Organization welterweight belt from Jessie Vargas, who is 10 years his junior — Pacquiao delivered one right between the eyes.
"What I'm trying to do — being a senator and fighting for a world title — is history," Pacquiao said.
Pacquiao, who'll turn 38 next month, was so uncertain he could balance boxing with his work as a first-term senator in the Philippines before his May election that he announced his retirement after a two-knockdown victory by unanimous decision over Timothy Bradley Jr. in April.
That showing proved he'd recovered from a shoulder injury and effects of his disappointing showing against Floyd Mayweather Jr. in May 2015.
And after realizing his workload as a senator afforded some openings to fight again, Pacquiao had an undeniable itch to return.
Bring it on: Look for an action-packed fight between Pacquiao and Vargas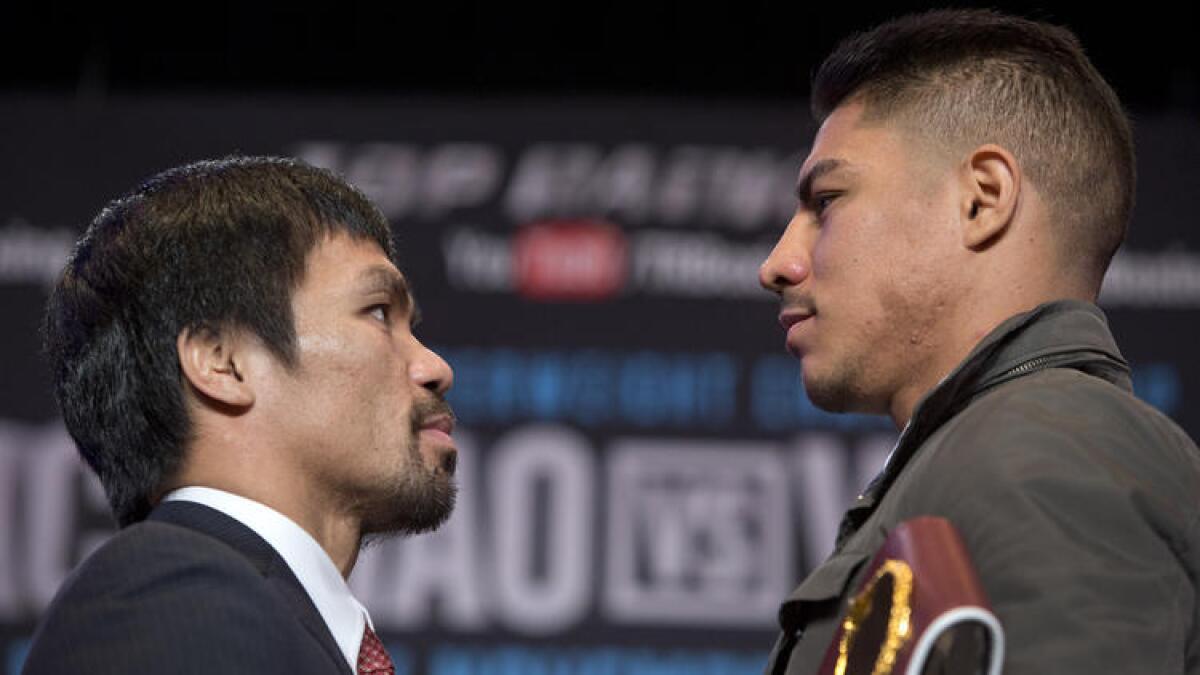 Manny Pacquiao's crusade to please people is a never-ending pursuit, evidenced by his generosity and his passion for an action-filled bout.
Pacquiao, 37, hopes to deliver on both in his return to the ring Saturday night at Thomas and Mack Center in his welterweight title fight against World Boxing Organization champion Jessie Vargas.
"I'm not a greedy person. I give tickets and money to the people and I give a good fight to the fans," Pacquiao said. "That's my mission."
The 27-year-old Vargas (27-1, 10 knockouts) has hinted strongly that he'll bring an aggressive fight style to Pacquiao.