Promoter says boxing pay-per-views will become few and far between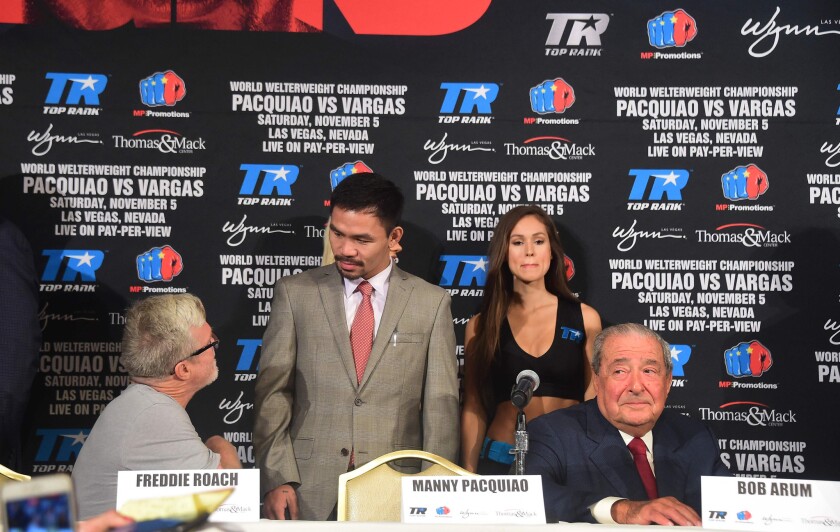 Manny Pacquiao's Saturday fight will be shown on pay-per-view, but not with the usual involvement of HBO.
Don't be surprised, Pacquiao promoter Bob Arum says, if the new normal becomes a decreased interest by premium cable powers like HBO and Showtime in the pay-per-view format.
After last week's proposed $85-billion purchase of HBO's parent company Time Warner by AT&T, Arum said he's come to theorize that the landscape for televising big fights will change.
"There's no reason for [premium cable providers] to be in the pay-per-view business," Arum said. "They don't make any money to speak of in pay-per-view. When you add in the staffing expenses, it's not a profit center.
"Take a good 500,000-buy pay-per-view. They make $1.25 million and pay a [replay] delay [cost] of $750,000. When you take into account the expenses — travel, hotels — if they make $250,000, it's a lot of money. It's not worth it; $250,000 is nothing. So I believe pay-per-view will be left to promoters, or a company who can do it. … There's no real role for a premium network to do pay-per-view anymore."
Pacquiao has been a constant on HBO since 2003, and the network's top pay-per-view draw since 2013, when Floyd Mayweather Jr. left for Showtime.
Showtime hasn't aired a pay-per-view since September 2015, Mayweather's farewell fight against Andre Berto.
Even the major March 4 welterweight title unification bout between Danny Garcia and Keith Thurman, both unbeaten, will be on either Showtime or CBS, with the network paying a license fee to cover purses.
The HBO absence was due to Pacquiao's work schedule as a senator in the Philippines. He was limited to two possible dates, settling on Saturday.
Because HBO is showing an anticipated light-heavyweight title fight between Russia's three-belt champion Sergey Kovalev and unbeaten former super-middleweight champion Andre Ward on Nov. 19, the network told Arum it couldn't do both within such a tight time frame.
So Arum, charging the standard $59.95, opted for his company, Top Rank Inc., to produce and distribute the pay-per-view, hiring Stephen A. Smith and Brian Kenny to call the bout and stacking the card with four world-title fights.
And instead of permitting a free replay one week later as HBO and Showtime do, Arum has said this is a one-time showing.
HBO typically airs one or two preview shows to hype a pay-per-view, drawing ratings Arum describes as "depressingly low."
"So we do our own shoulder programming — a series called 'All In' — and shoot it out on Facebook, Twitter and YouTube — something new every day," Arum said. "They're reporting more than 15 million hits. Do those hits translate to buys? I don't know. But the HBO shows that are so boring … we know they haven't. Nobody knows what this will do."
When asked if he expects Pacquiao's fight against World Boxing Organization welterweight champion Jessie Vargas to surpass the 250,000 who bought Canelo Alvarez's knockout of England's Liam Smith in September on HBO, Arum said, "Oh, yeah!"
He also said it will exceed the 300,000 for Pacquiao-Timothy Bradley III on HBO in April, citing increased commitments for closed-circuit showings at casinos, restaurant chains and local bars throughout the U.S.
"That I credit to Jessie Vargas, who speaks perfect Spanish," Arum said. "The Latino audience gravitates to Pacquiao when he's fighting a Hispanic," following his battles with Mexican fighters Erik Morales, Marco Antonio Barrera and Juan Manuel Marquez.
There's also interest in how Pacquiao, a month short of his 38th birthday, will look. If he shines again after beating Bradley, talk of a Mayweather rematch will reignite.
Showtime and HBO both are contractually aligned to televise that pay-per-view should it happen.
As Arum's awareness of the television business has increased, he speculates the proposed AT&T purchase of Time Warner will boost Turner Sports' standing in the fight game.
"My theory is Turner Sports will handle all sports activities for the new company, including HBO, with just three, four major fights on HBO and Turner [functioning] like ESPN to ABC.
"If [AT&T] feels boxing is important, fights that would be on [HBO's secondary boxing show] 'Boxing After Dark,' and other activities, will be on Turner, and they'll be out of the pay-per-view business," Arum said.
---
Get our high school sports newsletter
Prep Rally is devoted to the SoCal high school sports experience, bringing you scores, stories and a behind-the-scenes look at what makes prep sports so popular.
You may occasionally receive promotional content from the Los Angeles Times.