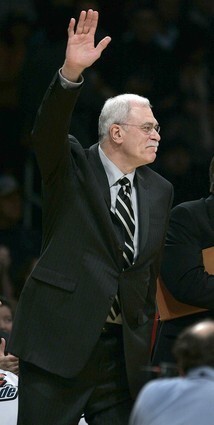 7 Images
Jackson through the years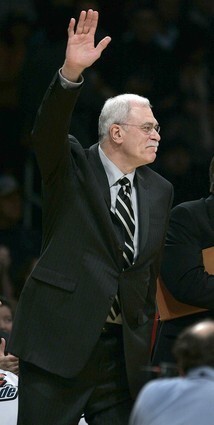 Lakers head coach Phil Jackson acknowledges the applause coming from the fans congratulating his Hall of Fame announcement Tuesday on Apr. 3, 2007.
(Alex Gallardo / Los Angeles Times)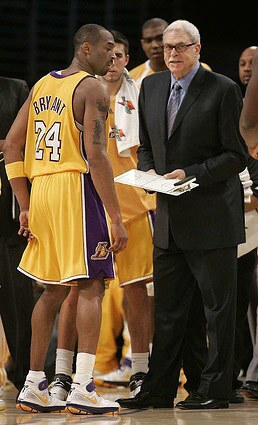 Lakers Kobe Bryant gets some instruction from coach Phil Jackson in the fourth quarter against Portland on his way to 65 points at Staples Center on March 16, 2007.
(Lori Shepler / Los Angeles Times)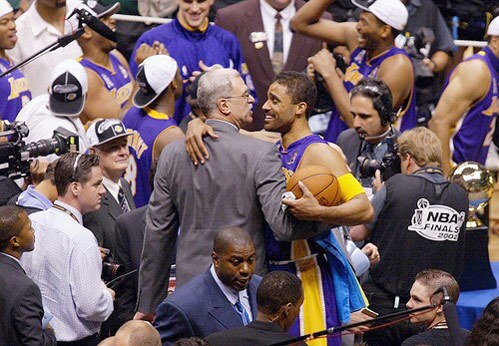 Phil Jackson hugs Rick Fox after the Lakers swept New Jersey in the finals for their third consecutive NBA title in 2002.
(GINA FERAZZI / Los Angeles Times)
Jackson waves to the crowd as the Lakers and thousands of their fans celebrate their 12th NBA Championship in downtown Los Angeles.
(REED SAXON / Associated Press)
Jackson screams at Pacers Reggie Miller in Game 6 of the NBA Finals in 2000.
(Paul Morse / Los Angeles Times)
Laker coach Phil Jackson makes a point as Shaquille O'Neal looks on during training camp in 2000.
(Vince Compagnone / Los Angeles Times)
The core of the Bulls dynasty, from left, Dennis Rodman, Scottie Pippen, Phil Jackson and Michael Jordan soak in the Bulls' title celebration.
(BETH A. KEISER / Associated Press)