Angels' Jered Weaver is finally at the point where stretching could enhance his career longevity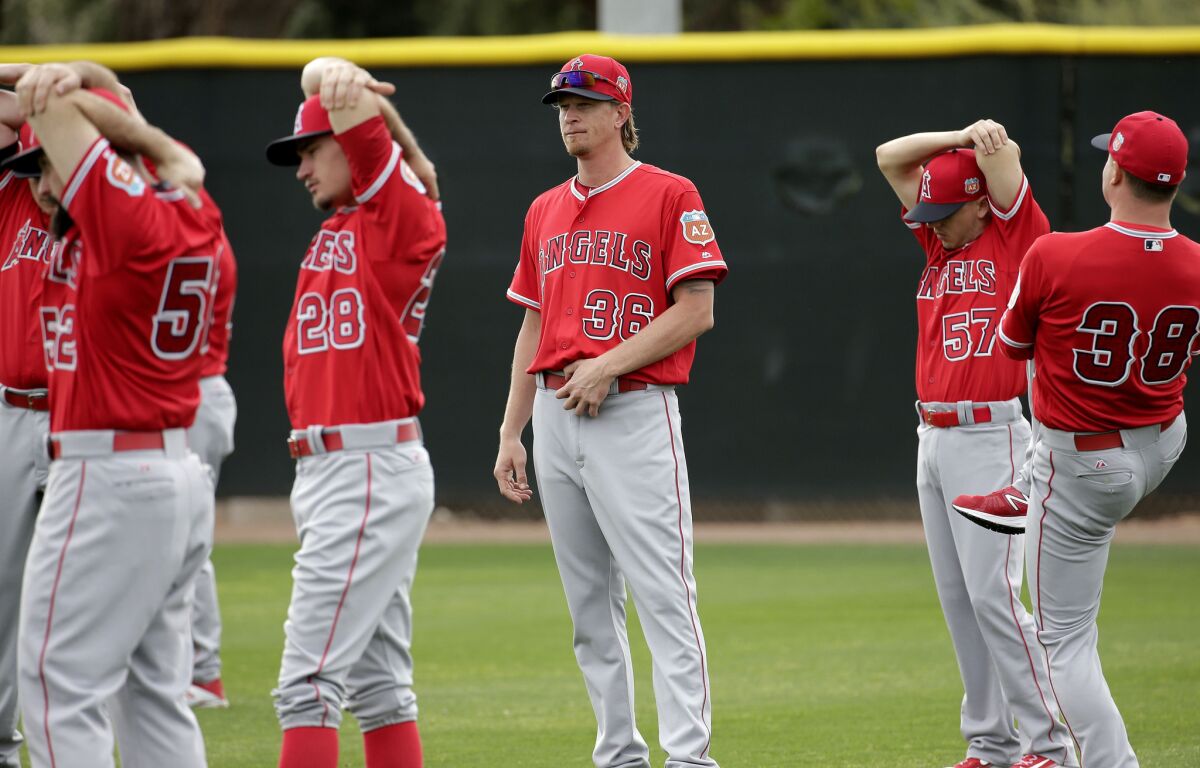 Reporting from TEMPE, Ariz. —
For the first decade of his professional baseball career, Jered Weaver abhorred stretching. Therefore, he didn't do it. He avoided all but the most cursory forms of it.
So what if it hurt his flexibility? The Angels right-hander was good enough, inherently lanky enough, to withstand the ensuing elasticity issues. He excelled to a 113-60 record and a 3.24 earned-run average over his first eight big league seasons.
After his eighth season, 2013, he realized that at age 31 he needed more adaptability and began to stretch more. But he stopped each exercise when it hurt and didn't produce many benefits.
And then, particularly last season, he began to struggle to pitch effectively, or pitch at all. Now, like an ancient fable, he must do the thing he hates if he wants to do the thing he loves: He must stretch to survive.
"It doesn't feel like your body's supposed to do that, but it needs to," Weaver said. "I just hated the feeling of it. It's like nails on a chalkboard to me. But, if you're gonna commit yourself to staying in this game, if your passion and love is still in it, you're gonna do what it takes to get through that. I'm well aware of what I need to do. I'm going to stay on top of it as much as possible."
Weaver, 33, spoke Sunday at Tempe Diablo Stadium, where the Angels are continuing spring-training exercises. He has thrown two bullpen sessions here and earned positive reviews from the team.
He worked hard at stretching this off-season, he said, and began throwing one month earlier than usual to see if the stretching was working. It was. Weaver said his stretching and massage work was primarily "old school," with "a lot of knees and elbows."
"Yoga was too intimate for me," he said.
This season will be Weaver's 11th, and the last under the five-year, $85-million contract extension he signed with the Angels at a below-market price. He left millions on the table then, saying he didn't care about any more money, and his perspective has not changed much since.
"I'd like to play for as long as I can," he said. "But if I go through another season like last year — with not just the frustration of the numbers but how my body felt — your heart and your mind can only do so much. Sometimes, your body pulls the reins back and tells you you need to slow down a little bit."
Weaver, 33, said that was what happened in 2015, when he posted a career-worst 4.64 ERA and his first losing record, 7-12. He still reveled in outsmarting hitters, but a sore left hip and overall tightness across his body often prevented him from doing so. There were nights he could not muster a fastball faster than his opponent's changeup. It was all frustrating and at times even embarrassing, he said.
Charlie Nagy is the Angels' new pitching coach, replacing Mike Butcher, who now works for the Arizona Diamondbacks. He pitched for 14 years in the major leagues on a similar trajectory, struggling to find success after turning 30. He then coached Weaver in 2006 with the Angels' triple-A affiliate in Salt Lake.
Nagy said the same things about Weaver that Butcher did: Because he is 6 feet 7 and throws across his body with a variety of pitches, he can survive with less velocity than most if he has command. Of course, Weaver must feel flexible to have command.
"If my body feels good, I'm gonna be good," he said Sunday. "If it doesn't feel good, then it's gonna be a struggle.
Angels Manager Mike Scioscia said he is excited by Weaver's self-reports.
"Hopefully, it's going to translate into what he needs to do on the mound," Scioscia said.
Weaver expressly said he was smart enough to be aware there exists a significant chance he won't pitch for the Angels beyond 2016.
"Who knows what unfolds after this year?" he said. "I'm concentrated on getting through this year and concentrated on committing myself to the Angels, which I have for the last 11 years."
One day in January, Weaver said, he finally crossed the relative pain threshold. What once caused him pain now elicited a feeling of weightlessness, a feeling he has come to find oddly awesome.
Weaver flashed a grin when asked if one year of correct, committed stretching could undo a decade of neglect.
"I hope so," he said. "I only got one more year to figure it out, right?"
Short hops
The Angels have hired former major leaguers Brendan Harris and Ben Francisco as pro scouts. Harris, an ex-infielder, played for the team for the majority of 2013. Francisco was a Yankee while Angels General Manager Billy Eppler worked in New York in 2013. . . . The team's position players must report for physicals by Tuesday. The Angels are expecting Albert Pujols, who's recovering from foot surgery, to arrive at camp Monday.
Twitter: @pedromoura
Get our high school sports newsletter
Prep Rally is devoted to the SoCal high school sports experience, bringing you scores, stories and a behind-the-scenes look at what makes prep sports so popular.
You may occasionally receive promotional content from the Los Angeles Times.