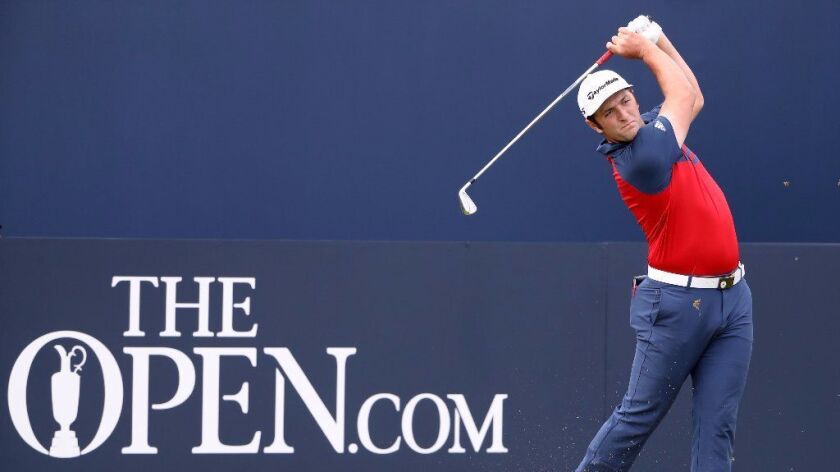 Reporting from Southport, England —
Jon Rahm was involved in a thorny rules situation that briefly cost him two strokes.
Walking up to his ball on No. 17, the Spaniard noticed a vine lying nearby that he wanted to move. Thinking the plant was dead, he pulled it away. That's when another player, Lee Westwood, came over and noticed the piece of plant was still connected to the ground.
"I got there and I thought it was a loose impediment because it looked dead, so I just moved it to the side," Rahm said. "And that's when Lee came and he realized it was attached."
The two summoned a rules official who asked Rahm if he had improved his lie, a two-shot penalty. Rahm insisted he had not.
Instead of clearing Rahm on the spot, the official tentatively assessed a two-shot penalty, with the caveat that the final decision would be made after the round. Rahm, who had been at par, finished his round at two over.
In the scoring trailer, after talking to the players, the chief referee decided not to assess a penalty.
"Lee explained his facts, I explained what happened from my point of view and they made the call," Rahm said.
Slow start
Mark O'Meara, who won the British Open here in 1998, was in the first group, teeing off in the drizzle at a brisk 6:35 a.m., and had the honor of hitting the first ball of the day.
He should have stayed in bed.
O'Meara sliced his opening drive out of bounds, then yanked his do-over into a bunker on the left side.
By the time he finished the 422-yard hole he had an eight — double the par.
In fairness, the first hole at Birkdale is pretty demanding and has been set up as the second most difficult hole on the course in the past two Opens here. Still, it was a stumbling start for O'Meara, who shot a 43 on the front before recovering with a 38 on the back for an 81.
O'Meara, 60, wasn't alone in his early morning struggles. At least one player in the first four groups double-bogeyed the first hole, and Stanford's Maverick McNealy, the world's No. 2 amateur, took a seven.
Remember me?
Sometimes, players have to reboot their careers and work their way back up. That's the case for Ian Poulter, who was runner-up at Birkdale in 2008 and climbed as high as No. 5 in the world rankings before his star faded.
Poulter was sidelined for four months because of a foot injury last year and, having dropped out of the top 50, had to play his way into the Open by winning one of three qualifying spots.
All that made it even sweeter for him that he shot 67 on Thursday to secure a spot on the leaderboard. Poulter said he had felt "a bit of pressure" to qualify.
After his injury, he dropped out of the top 200 last year and saw his string of consecutive Ryder Cup appearances end at five. He got a medical exemption to play on the PGA Tour but missed the cut in his first two events back and would have lost his tour card but for a rules change.
The PGA Tour decided its rules had "unintentionally made it more difficult" for injured players to come back. Therefore, Poulter was allowed to continue for the rest of the season.
"I've definitely had some low spots in the last 18 months," Poulter said. "And certainly 12 months, I was getting very down. It's easy to be down when you feel you're a great player and all of a sudden you're hampered with a bit of injury. You're not getting the results you want. It's very easy to slide away.
"So I'm proud of the way I've been able to refocus, get things back on the straight and narrow, clear away some of the noise in the background and get back to really focusing hard on what I need to do to get the level of golf back that I think I can play."
Sole man
Jason Day reportedly makes about $10 million a year from his Nike deal, so it's only right that he shine a spotlight on the company. He did that Thursday by wearing white Air Jordan high tops.
According to the Birkdale website, "Smart attire is essential, golf shoes are to be worn; smart tailored shorts may be worn with knee length socks or short socks; sports shorts and combat/cargo shorts are not permitted."
But Day said he had to wear the shoes because they were the ones that matched his black stovepipe pants.
"Got to wear the right pants and right shoe combo with it," said Day, ranked No. 6 in the world. "If you wear golf shoes with these pants, they don't look that great. So they look all right with these shoes. I'm happy with them. They look good on TV. I just watched it on replay."
Follow Sam Farmer on Twitter @LATimesfarmer
---