Luke Falk threw two touchdown passes to lead Washington State to a 20-14 victory over Miami in the snowy Sun Bowl on Saturday at El Paso, Texas.
Erik Powell kicked field goals of 30 and 25 yards to help the Cougars (9-4) win a bowl games for the first time since the 2003 Holiday Bowl.
Miami (8-5) lost its sixth consecutive bowl game.
Washington State led, 20-7, at the half and appeared to be in total control, limiting Miami to three first downs over the second and third quarters.
The Hurricanes rallied during a blizzard in the fourth. Braxton Berrios' 60-yard end-around run set up Mark Walton's five-yard scoring run that cut it to 20-14 with 13:10 left.
Miami had a three-yard touchdown pass from Brad Kaaya to Stacy Coley called back on a penalty with 5:14 to play. Two plays later, Washington State's Marcellus Pippins recovered Walton's fumble at five. After a Cougars punt, the Hurricanes were at the Washington State 28, but an end-over-end halfback pass from Joe Yearby was easily intercepted by Shalom Lunai with 2:58 to play.
Falk, voted the game's most valuable player, was 29 for 53 for 295 yards with no interceptions. His touchdown passes measured 31 yards to running back Jamal Morrow and 25 yards to receiver Gabe Marks.
Washington wins Heart of Dallas Bowl
Myles Gaskin broke a third-quarter tie with an 86-yard touchdown run and had a season-high 181 yards and four touchdowns rushing to help Washington beat Southern Mississippi, 44-31, in the Heart of Dallas Bowl.
The Huskies (7-6) won their last two regular-season games by a combined 97-17 over Oregon State and Washington State to become bowl eligible and then delivered Coach Chris Petersen's first postseason victory in his two seasons at Washington.
Gaskin's other scores came on two- and one-yard runs in the first quarter and a 13-yarder in the fourth. On the 86-yarder, the freshman took a handoff inside, broke to the left sideline and shook off one final defender at the Southern Miss 35.
Nick Mullens threw touchdowns passes of 56 and 27 yards by Michael Thomas for Southern Miss (9-5).
Hokies hang on in Beamer's last game
Michael Brewer threw for 344 yards, Isaiah Ford had 227 yards receiving and Coach Frank Beamer won his final game at Virginia Tech, 55-52 over Tulsa in the Independence Bowl at Shreveport, La.
The 69-year-old Beamer announced in November he would retire following the season. He finished with a 238-121-2 record at Virginia Tech over 29 seasons.
The Hokies (7-6) were playing in a bowl for the 23rd straight season. The first game of that streak also was in the Independence Bowl in 1993, when they beat Indiana, 45-20.
This trip to Shreveport was filled with plenty of offense, and drama. Tulsa (6-7) rallied from a three-touchdown deficit in the second half to pull to within 55-52 with 3:47 left. Virginia Tech's Dadi L'homme Nicolas ended the Golden Hurricane's final drive with a sack of Dane Evans on fourth down.
The 107 points were the most in Independence Bowl history. Ford's 227 yards receiving on 12 catches set an Independence Bowl record.
Duke outlasts Indiana in Pinstripe Bowl
Ross Martin kicked a 36-yard field goal in overtime, and Duke won a bowl game for the first time in 54 years with a 44-41 victory over Indiana in the Pinstripe Bowl at Yankee Stadium in New York.
After Martin made his kick on the first possession of the extra period, the Hoosiers' Griffin Oakes missed a 38-yard attempt to hand the Blue Devils their first bowl victory since the 1961 Cotton Bowl. Oakes' try sailed over the right upright and was ruled wide. He protested that it was good, but the kick could not be reviewed.
Shaun Wilson had 282 all-purpose yards and two touchdowns for the Blue Devils (8-5), including a 98-yard kickoff return. Quarterback Thomas Sirk accounted for 318 total yards and three touchdowns before getting hurt in overtime. His five-yard TD run tied it with 41 seconds left.
Indiana finished 6-7.
Marshall wins St. Petersburg Bowl
Chase Litton completed 23 of 34 passes for 218 yards and a touchdown in Marshall's 16-10 victory over Connecticut in the St. Petersburg Bowl at St. Petersburg, Fla.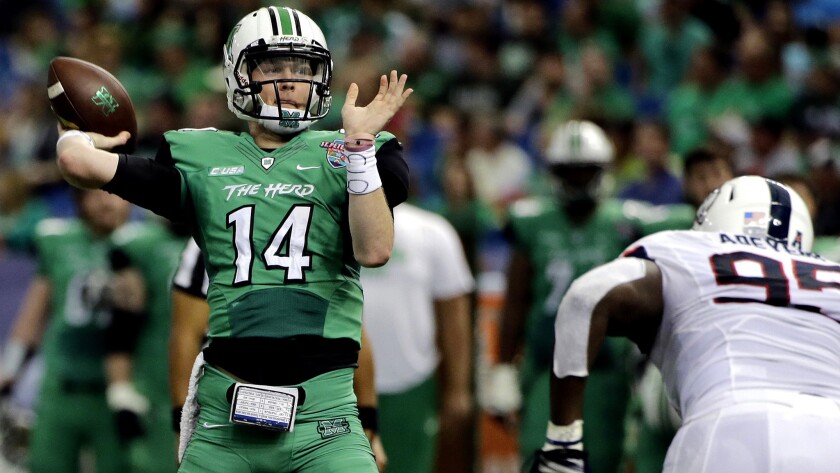 Nick Smith made three field goals for Marshall (10-3), the last a 32-yarder with 1:44 to play that capped a 13-play, 80-yard drive that lasted 6:35.
The Huskies (6-7) failed in their bid to have a winning record for the first time since 2010.
Etc.
Florida State quarterback Everett Golson did not make the trip to Atlanta for the Peach Bowl, ending the Notre Dame transfer's college career. Coach Jimbo Fisher said after the No. 9 Seminoles' first practice in preparation for the Dec. 31 game against No. 18 Houston that Golson had stayed behind for personal reasons. Golson, who lost the starting job in November, also missed last week's practices on campus, which Fisher said at the time was due to the death of Golson's grandmother.
---