Column: Tennis icon Billie Jean King has been a Dodgers fan for years. Now she'll own a piece of the team
When she wasn't playing tennis, she was dreaming of Dodgers.
As a kid in Long Beach in the mid-1950s, Billie Jean King would sit across from her father at the kitchen table and excitedly listen to him reading newspaper accounts of a blue-clad squad that could soon be moving from Brooklyn to Los Angeles.
"I was like, 'Oh my God, we're going to get a major-league team, we're going to get a major-league team!''' she remembered.
Yet just as the Dodgers were showing up to play baseball, King was leaving town to pursue her tennis career, and the two powerful entities spent the next 60 years mirroring each other from afar.
The Dodgers became known as a model for inclusion and equality, from Jackie Robinson to Hideo Nomo to Jaime Jarrin and Major League Baseball's first Spanish-language broadcast.
King became known as not only one of the greatest women's tennis players ever, but as a gay athlete fearlessly challenging social injustice and intolerance, tearing down stereotypes while creating the global business of women's tennis.
It was almost as if the Dodgers and Billie Jean King were destined to one day find their way back to each other, and so they will.
It will happen Friday at Dodger Stadium, on a night representing both a perfect ending and powerful beginning.
Billie Jean King is finally coming home, where she and her life partner, Ilana Kloss, will be announced as new minority owners of the Dodgers.
"I'm totally going to pinch myself … I'm pinching myself already,'' she told the Los Angeles Times in an exclusive phone interview from her New York home. "When you're born and raised a Southern California kid, you dream your dreams of coming back, but how could I have ever dreamed of something like this? Joining the Dodgers is my life coming full circle.''
The couple will join a Guggenheim Baseball Management Group led by Chairman Mark Walter and including another iconic athlete in Magic Johnson. Pending WNBA approval, the couple will also become part of the ownership group of the WNBA's Sparks, which are also run by Guggenheim.
"I know it's real, but it's not real,'' King said. "This is such a gift. I'm incredibly grateful that Mark saw the value that we can bring, and I hope we can make a difference.''
The reality will hit on Friday when King, 74, makes her first appearance at Chavez Ravine as an owner. She says she wants to meet everyone from the manager, Dave Roberts, to the bat boys to the ushers, but the Dodgers have their own special welcome planned.
They are going to give her a personalized jersey, her first piece of memorabilia from the team that once existed only in faraway notions over breakfast.
"I can have a jersey, a Dodgers jersey?'' King said. "Whoa. Thank you!''
In the coming months, the Dodgers will be providing her with more than souvenirs. She and Kloss will have a place at the table for discussions about the organization's future. The Dodgers will lean on them for guidance on a wide range of social issues, from gender equity to sexual inclusion.
Walter said King's relentlessness is something he has long admired, and hopes she can be an inspiration to athletes on both of her new teams.
"I think everyone at the Dodgers and the Sparks could learn something from her,'' Walter said. "She can help shape and expand how we promote inclusion and empowerment at both teams and throughout the Los Angeles area.''
Joining the Dodgers is my life coming full circle.
Long before Guggenheim bought the team in 2012, the Dodgers had the most diverse and representative fan base of any Los Angeles professional team. Since then, the Dodgers office directory has become equally as diverse, with women and minorities holding down several key positions, including Janet Marie Smith as a senior vice president for planning and development, Naomi Rodriguez as the vice president for community relations, and Nichol Whiteman as an executive director for the Dodgers Foundation.
The Dodgers were also one of the first teams to stage an LGBT Night, and, a couple of years ago, Erik Braverman, senior vice president of marketing, communications and broadcasting, came out as gay.
King took note of this enlightened environment, and when Walter first broached the ownership idea at the end of last year, she figured she and Kloss would fit right in.
"The thing I love about the Dodgers is that they're concerned with inclusion and they want to do good,'' King said. "It's so good to have different voices, different cultures, more ideas, better ideas."
Walter said King's mere presence at that table will have an effect not only front-office attitudes, but also those of the athletes on both the Sparks and Dodgers.
"We believe all professions, and professional sports, need to be more inclusive and equitable,'' Walter said. "It's going to be wonderful to have a role model like her in both clubhouses from time to time.''
King emphasized that she will not be a full-time presence at Dodger Stadium, as she still has a job making public appearances, serving as a consultant for her foundation, and working as the owner of the Philadelphia Freedoms of World TeamTennis.
"I can't just bop in whenever I want, but I'm going to do a lot of listening and learning, and we're going to help in any way we can,'' King said. "Sports is the last place where women are getting any opportunities; this is such a gift, and I'm really excited to get reconnected in my home element.''
In more than just geography, the Dodgers are indeed King's home element.
Long before she won 39 Grand Slam titles, defeated Bobby Riggs in the "Battle of the Sexes'' — whose 45th anniversary is appropriately today — and created the Women's Tennis Assn., King played some serious softball.
"Actually, I tried to play baseball, but I was a girl, so they pushed me over to softball,'' she said.
She was a nifty shortstop for several youth teams in the Long Beach area. As a 10-year-old, she led her team to a 15-and-under championship with a smooth style that, if her description is accurate, would make her a younger version of Manny Machado.
"I would love to pick up that ball and just fling it to first, that was so fun,'' she said. "I had a good arm, and I was quick off the dime, and tennis taught me the importance of not making any mental errors.''
She said the swinging motion in tennis and baseball is so similar, she found herself hitting with powerful ease.
"In both sports it's all about the back leg,'' she said. "I think I just came by it naturally.''
Her family was so embedded in baseball that they would regularly watch softball's legendary Long Beach Nitehawks at Joe Rodgers Field, and also attend games of the minor-league Los Angeles Angels at Wrigley Field.
"My dad would read me every box score every day,'' she said. "Until my tennis career took me away from home, it was a big part of my life.''
Baseball remained in her family after her brother, right-handed pitcher Randy Moffitt, became a first-round draft pick in 1970 out of Long Beach State.
One problem: Moffitt was drafted by the San Francisco Giants, where he spent parts of 10 seasons as a star in their bullpen.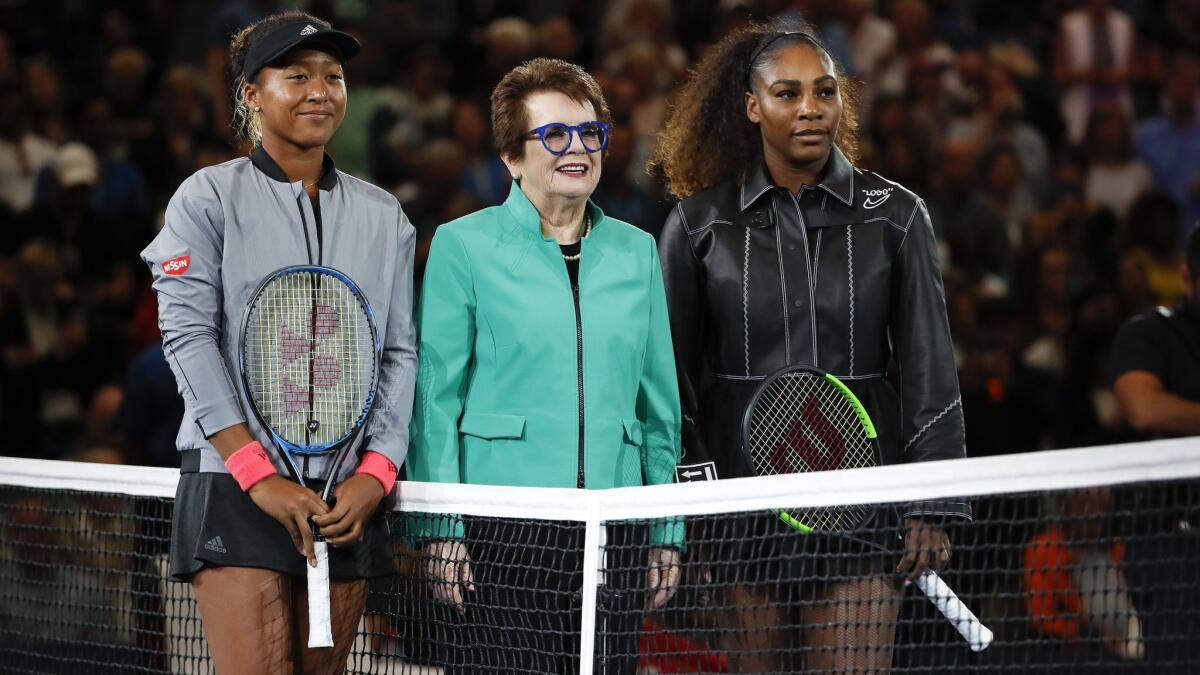 "I know, it's too bad he didn't play for the Dodgers," King said with a laugh. "But he's excited. He thinks this is great.''
King won't be recruiting another reliever like Moffitt for her bullpen-needy team. But she is friendly with a big star who could show up one day and shake the building.
The last time she was at Dodger Stadium, she was singing backup for her buddy Elton John, and she is going to invite him back.
"I remember standing up on the stage, dancing, looking down at the field; it was amazing,'' she said.
Don't be surprised if she has the same reaction on Friday, the kid shortstop from Long Beach looking down on a Chavez Ravine field in which she now has an ownership stake. Amazing indeed.
Yeah, she'll probably pinch herself, and who can blame her? Billie Jean King is coming home.
Get more of Bill Plaschke's work and follow him on Twitter @BillPlaschke
Get our high school sports newsletter
Prep Rally is devoted to the SoCal high school sports experience, bringing you scores, stories and a behind-the-scenes look at what makes prep sports so popular.
You may occasionally receive promotional content from the Los Angeles Times.