Morning briefing: Flyers' removal of Kate Smith statue angers the singer's niece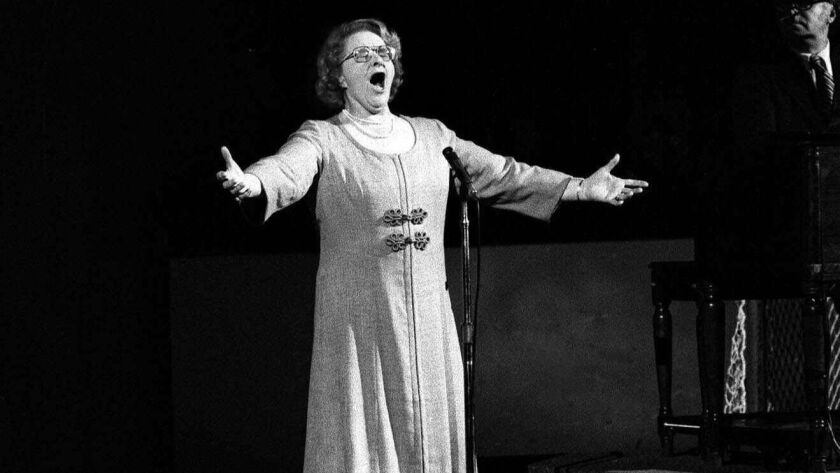 Kate Smith's niece said she is "appalled" by the decision of the Philadelphia Flyers to remove a statue of the singer after the team learned that she performed racially insensitive songs nearly 90 years ago.
"Aunt Katherine was probably one of the kindest people I've ever met," Suzy Andron told CBS Philly. "She was certainly anything but a prejudice person. She loved everybody."
The Flyers said Sunday in a statement that the songs "Pickaninny Heaven" and "That's Why Darkies Were Born," recorded by Smith in the 1930s, "include lyrics and sentiments that are incompatible with the values of our organization, and evoke painful and unacceptable themes."
Defenders of the second song — which includes the lyrics, "Someone had to pick the cotton … that's why darkies were born" — describe it as a satire and point out that Paul Robeson, an African American singer, also recorded it.
The Flyers started playing Smith's "God Bless America" instead of "The Star-Spangled Banner" in 1969, and she performed the song before several games during the next two decades, including the team's Stanley Cup-clinching victory over the Boston Bruins in 1974. The Flyers said they will no longer play the singer's version before games.
Smith died in 1986, and the Flyers erected a statue in her honor the following year, which will now be removed from outside the Wells Fargo Center.
Fighting birds
Philadelphia Eagles offensive tackle Lane Johnson thinks Donovan McNabb is the greatest quarterback in team history. He also thinks the man is a snake.
Johnson offered both opinions Sunday afterMcNabb basically gave current quarterback Carson Wentz a two-year window to get the Eagles into the NFC championship game.
Appearing on CBS Sports Radio this weekend, McNabb said of the oft-injured Wentz: "I think in the next two, three … two years or so, he has to find a way to get in the second round, or out of the second round of the playoffs. … He hasn't been healthy. If he can't get out of the second round, they should look to possibly draft another quarterback, because they just don't know about his durability."
Johnson lashed out at the six-time Pro Bowl player on Twitter with no fewer than six snake emojis.
Johnson lashed out at the six-time Pro Bowl player on Twitter with no fewer than six snake emojis.
"You would think the best quarterback in franchise history would try to build up a young man that looks up to him instead of always criticizing him, critiquing him and wishing he would fail so he could be the missing link and feel better about himself," Johnson said later on a radio show.
McNabb insists it was nothing personal.
"My comments were strictly based off of experience and understanding of how The Business of football works," he tweeted Monday. "You are consistently evaluated everyday, every game [on] if you are reliable or healthy enough to play. … It's the nature of the game."
Gourmand Pop
Gregg Popovich is one of the greatest coaches in NBA history. But the San Antonio coach once told reporters: "What's my legacy? Food and wine. This is just a job."
Apparently, he wasn't totally kidding. A recent ESPN article reveals Popovich as a culinary connoisseur, someone who is well known and whose opinion is respected in the best restaurants.
"I don't know that he doesn't know more about wine than he does about basketball," former Spurs assistant P.J. Carlesimo said.
Said former Cleveland Cavaliers general manager David Griffin: "If Pop recommends a restaurant, you go to it."
Popovich always picks up the tab for everyone in his party and sometimes leaves tips of up to $10,000. It's not far-fetched to suggest he spends more than $1 million a year on food and drink, the article states.
"He's spent more on wine and dinners than my whole salary," former NBA coach Don Nelson said.
.
Sign up for our daily sports newsletter »
Twitter: @chewkiii
---
Get our high school sports newsletter
Prep Rally is devoted to the SoCal high school sports experience, bringing you scores, stories and a behind-the-scenes look at what makes prep sports so popular.
You may occasionally receive promotional content from the Los Angeles Times.